Almost 100 years since it first opened its doors to downtown Long Beach, the historic Breakers building will soon be back in business as a hotel. Purchased in November 2017 by Pacific6, an investment group made up of six Long Beach entrepreneurs, the hotel is slated to open in 2020.
"It's the quintessential Long Beach hotel," John Molina, founding partner of Pacific6, told the Business Journal. The former chief financial officer of Molina Healthcare and son of its founder, C. David Molina, John Molina is a longtime city resident. In addition to serving on the Long Beach Community Foundation's board, he also serves on the boards of the Long Beach Area Convention & Visitors Bureau and the Aquarium of the Pacific.
With Pacific6, Molina said, he and his fellow partners want to make investments in the city that are not only profitable but also offer a social return. "It's got to benefit the community," he explained.
The Breakers Reborn
Throughout its history, the Breakers has alternated through periods of fortune and disfavor.
Shortly after its developer, Long Beach banker Fred B. Dunn, sold the building to local investors, the country entered the Great Depression. The Breakers sat closed for years until it was purchased by Conrad Hilton as the eighth hotel in his Hilton chain in 1938. It changed owners many times over the ensuing decades before it was converted into an assisted living facility from 1991 to 2015. That era came to an end when its license to operate was revoked by the state.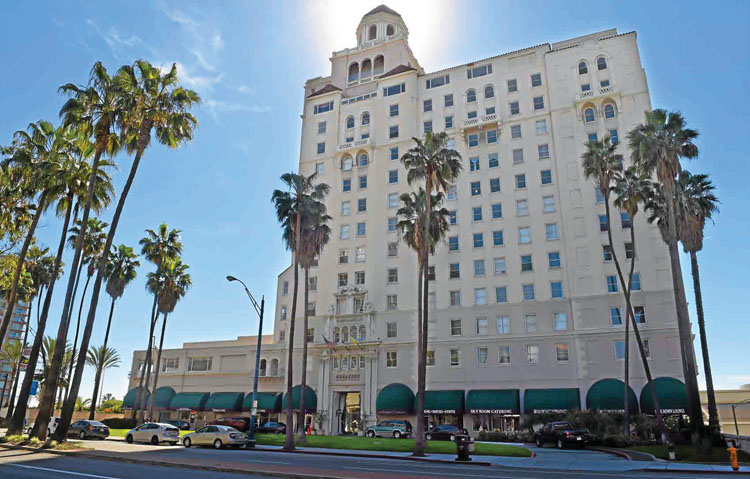 By reopening the Breakers as a hotel, Pacific6 wants to give the city, its residents and visitors a building they can enjoy. Following its grand opening, the hotel will offer locals and tourists alike luxurious accommodations, delicious cuisine, music, entertainment and a fun place to hang out, as described by Molina.
"Hopefully we make it so, when you show up here, you say, 'I don't have to go anywhere,'" Jon Heiman, another founding partner of Pacific6, told the Journal. "Make it like a staycation. Get your Instagram moments."
While the interior of the hotel is undergoing modernization and refurbishment, the exterior is remaining largely untouched. This is not only an aesthetic decision, Molina explained, but a necessity.
Changes to historic landmarks, as the Breakers was so designated in 1989, need to be approved by the Long Beach Cultural Heritage Commission (CHC), which reviews all design changes to Long Beach's historic neighborhoods. The commission has worked with Pacific6 to approve the hotel's biggest exterior change: an additional elevator on the eastern side of the building.
"None of the elevators currently are big enough to put a gurney in," and thus do not comply with the standards of the Americans with Disabilities Act, Molina explained.
"[The CHC] wants some sort of visual separation so that you can look at the building and see that there's a slight difference between the new elevator area and what was the old building," Molina said. "So our job is to make sure that the look is similar enough that there's a nice flow to things."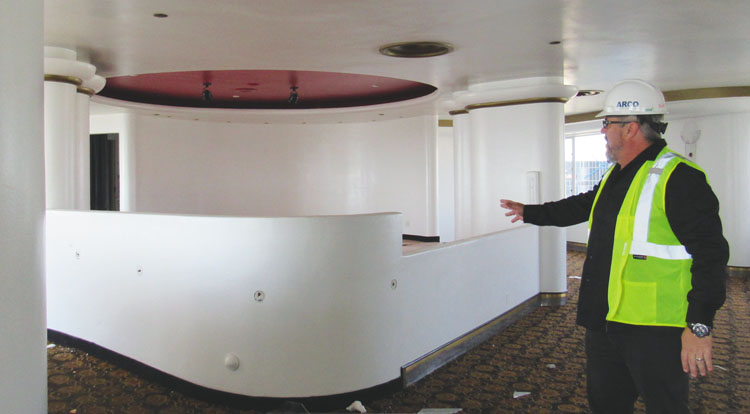 When the Breakers Hotel first opened in 1925, its 13-story tower held 330 rooms. Some of those rooms were consolidated during the building's tenure as a senior care facility, Heiman said. Pacific6 plans to further consolidate the rooms into about 185. "They'll be much bigger," he said. One floor will be composed of suites.
Some seismic upgrades need to be made to the building, Heiman said, but some seismic updates were already made by previous operators over the last 30 years. Fortunately, the Breakers was built strong, he added. "The engineers keep saying, 'This building, when it was built, is better than most buildings today.' They over-engineered everything," he noted.
The Breakers and the nearby Ocean Center Building, located across Pine Avenue at 110 W. Ocean Blvd., were two of the buildings that survived the 1933 Long Beach earthquake. Ocean Center was also recently purchased by Pacific6. "We envision that being about 80 apartment units," Molina said. "The management of the hotel will also be the management of the apartments. So people living in the apartments can use the spa, they can use the pool."
The pool will be located on the roof of the Breakers' base structure overlooking the convention center and a future apartment building currently under construction.
Downstairs and adjacent to the lobby, an area that was once used as a wine bar for weddings is being converted into a jazz club. Heiman said Pacific6 is currently in talks with KJAZZ, the Southern California public radio station, to do weekly broadcasts from the club. "They want to do one night a week here," Heiman said. "We're going to put a sound system here where you can do live streaming."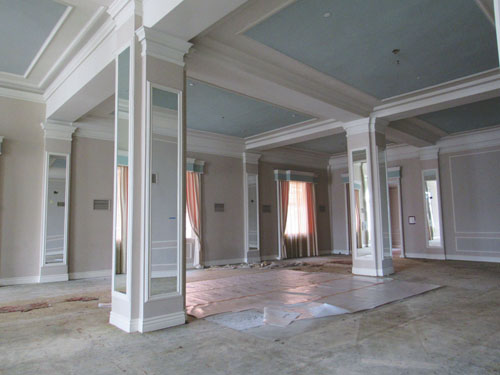 A bar and restaurant are being added to the lobby, which will be opened up by removing an interior wall and installing glass doors facing the building's exterior to let more light in. The area that was once used for the ballroom is being converted into a spa and gym, and the floor below the lobby is being turned into conference rooms, offices and two event spaces for weddings.
The Sky Room, a popular restaurant throughout the hotel's history, is being redesigned but will retain its name. The rooftop bar, Cielo, is slated to be completely revamped and enlarged, with a deck leading out onto the roof and a new, second bar for music and dancing.
Hotel Staff
Pacific6 has hired David Coleman, formerly of Michael's Restaurant Group, to be the Breakers' head chef. Molina credited Coleman as a prime figure for setting "the pace for the foodie culture in Long Beach."
But with the Breakers still undergoing construction, Molina and Pacific6 were left with a pressing question: "What do you do with a chef when you don't have a place for him to be a chef for two years?" Molina asked. ". . . What about a food truck?"
Every Wednesday, Molina said, Coleman hosts "The Breakers Roadshow" from his food truck in front of the building. Currently, the menu offers street cuisine like burgers and fries, eloté (a grilled corn dish) and salads.
When asked if the Breakers' hotel staff will be unionized, Molina responded that the decision rests partly on whether Measure WW passes on the November 6 Long Beach ballot.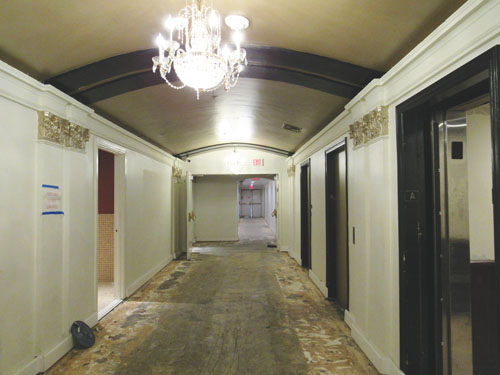 If passed, the Hotel Workplace Requirements and Restrictions Initiative Ordinance would require hotels with more than 50 rooms to implement workload restrictions for staff, among other items. The measure exempts hotels with collective bargaining agreements from the provision that limits the amount of square footage that staff can clean in a day.
"Our philosophy is this," Molina said. "We want this to be a place where people go and then want to come back. In order to do that, you've got to have people working [here] who are gracious, who are hardworking, who have hospitality in their soul. We want our employees to want to come to work every day. If the best way to do that is to bring a union in, then that's what we'll do. If we can accomplish our goals without a union? At this point I don't know. It's too early.
"The issue's not the union, it's the employees," Molina concluded. "How do we make them be happy and prosperous, and be able to move up the ladder if they want to, and be great to our guests?"
In describing the Breakers, Molina likened it to the City of Long Beach itself. "It's not a South Beach Miami hotel, it's not a West Hollywood hotel, but it's got elements of all those things in it," he said. "That's what Long Beach is. Long Beach has elements of everywhere here."
By restoring the hotel's grandeur with new entertainment and dining options, Molina hopes that cosmopolitan flavor will beckon visitors from near and far. "We want the local folks to use the hotel just as much as folks coming from Dubuque, Iowa," he said.