Long Beach has arrived – at least that's how Toliver and Catherine Morris, Downtown Long Beach office and retail professionals and partners in William Morris Commercial, see it.
Not everybody has had this realization yet, but those who have – creative firms and the Millennial generation – are making their mark and changing the commercial real estate environment of the city's once stigmatized downtown, the couple told the Business Journal.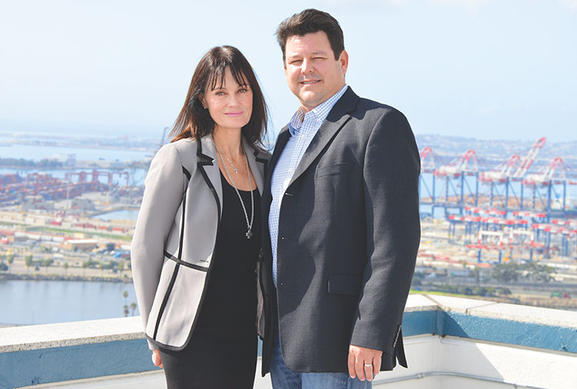 Husband and wife duo Catherine and Toliver Morris are partners in William Morris Commercial, a Long Beach real estate firm specializing in retail and office in Downtown Long Beach. The two often give prospective clients sky-high tours of Long Beach atop Landmark Square, which Toliver manages and where they are pictured. (Photograph by the Business Journal's Larry Duncan)hotograph by the Business Journal's Larry Duncan)
The so-called old guard of downtown's office market – like Merrill Lynch and other national professional firms – "all go home at the end of the day at 5 o'clock," Toliver said in an interview with his wife, Catherine, and the Business Journal at the Downtown Long Beach Alliance's offices. Toliver recently took over as the business improvement organization's chair.
Such is not the case for the creative firms moving into the city, he said. Take Glu Mobile, for example. The firm purchased Cie Games in 2014 and moved into the company's full floor at Landmark Square, a Class A office building managed by Toliver. "When the whole [Cie Games] group moved into the building way back when, 10% of their workforce lived in downtown. Now 70% of the workforce lives in downtown," he said.
"The creatives have figured it out. They have figured out, hey, I can be in a coastal environment in an urban core that's cool and funky and gritty and authentic, at a price point that's attractive," Toliver said. "And I can live, work and play in the same environment – when I'm being priced out of West L.A. and maybe parts of Orange County that are not so cool anyway."
Long Beach's appeal to creative firms is part of a growing national trend toward urbanism, a concept of urban lifestyle in downtown environments where you can live, work and play all in one place, according to Toliver. "The creatives and the millennials have figured it out, and they're coming here in droves," he said.
Don't believe it? Toliver pointed out that the building he was speaking in at 100 W. Broadway, now known as The Hubb, is undergoing a remodel to appeal to creative firms – and it's working. WeWork, a national creative workspace provider, is set to take up two whole floors of the building, he noted. Multiple other firms have also signed leases, he said.
The entirety of office space at nearby 130 Pine Ave. is now occupied by creative firms, Toliver pointed out. Tenants include Pelican Products, which makes waterproof cases for mobile phones; SET Creative, an experiential advertising firm; and the nonprofit Human IT, he said.
"In the last six months, downtown has seen over 100,000 square feet of creative office tenants move in," Toliver said. "That's the trend. You know, Long Beach has been discovered."
Creative firms tend to invest in their offices, Toliver noted. So, while Long Beach has seen about 70% of its downtown office space change hands over the last three to four years, new investments from these firms might change that turnover rate, he explained, going so far as to say downtown's office market is experiencing a renaissance.
Currently, downtown's office market is about 85% occupied and has seen a reduction in vacancy of about 5% over the past few years, Toliver noted. "I think that, as we continue to see that migration come in, we can get in the fairly near future toward a single-digit vacancy," he said. He pointed out that some office buildings in the downtown area have been or are going to be converted to residential, which also impacts those projections.
While creative firms are increasingly moving to downtown, large corporations still play a major role in the downtown office market. In Landmark Square, for example, California Resources Corporation takes up 100,000 square feet of office space, and Wells Fargo has 70,000 square feet, Toliver pointed out. His firm manages about 1 million square feet of office space downtown, he added.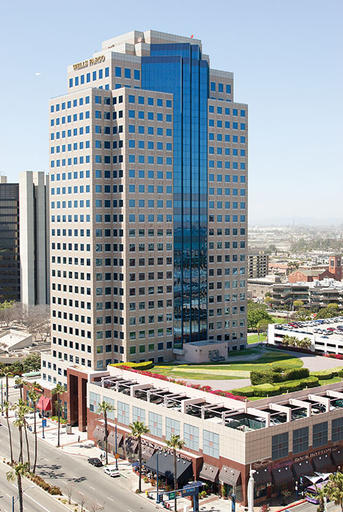 Open in 1992 on Ocean Boulevard, Landmark Square is the last major office building built in Downtown Long Beach.
The retail environment in downtown is also changing, according to Catherine, who manages the City Place shopping center's retail pads that are smaller than 7,500 square feet. When she took over leasing for the center, the part of Pine Avenue it touches to the north of 4th Street was essentially without retailers, she said. But seeing retail activity just to the south, Catherine was convinced the momentum could move northward. So she took her client, Laurie Gray of The Pie Bar, to see a retail pad at 450 Pine Ave.
"We stood there, and it's like that movie, 'Build it and they shall come,'" Catherine said, referencing "Field of Dreams." She recalled, "I said, 'Trust me. I'll bring you the tenant mix. Just trust me.'"
Since then, The Pie Bar has "had an unbelievably successful first quarter," and JetBlue even recently ordered 250 jarred mini pies from the business for its inaugural flight from the Long Beach Airport to Reno, Catherine said. Now, Catherine has signed on Romeo Chocolates – a Long Beach business opening its first storefront location – to the same block, plus a florist and a creperie called Crepe Crafters.
Other businesses that have already signed leases or are in the process of doing so at City Place – which is undergoing renovations to become more contemporary – include a raw food business called Planet Junkie, plus eateries Poke Cat and Party Monkey. National burger brands and make-your-own pizza joints are also looking into leasing space at City Place near 3rd Street and The Promenade North, Catherine said.
Thousands of new residential units planned for the downtown area are driving interest from restaurants and fast casual dining establishments, according to Catherine.
Catherine has also recently gotten interest from a church group looking for a downtown space, experiential retailers like escape room groups, and supermarkets, she noted.
Getting high-end retailers in any downtown seems to be increasingly difficult, according to Toliver, who recently attended a national symposium of downtowns held in Atlanta. Part of the issue is that large high-end retailers are compressing their brick-and-mortar retail presence due to more activity in online sales, he explained.
"I think people are looking for value," Toliver said. "That's why The Pike is doing so well from a retail perspective. It continues to kill it out there, as it relates to Restoration Hardware, H&M, Nike, Forever 21."
Catherine has been talking to representatives of The Pike's management team about bringing in higher-end value retailers like Saks Fifth Avenue OFF 5th and Neiman Marcus Last Call. "If we can support Restoration Hardware, we can certainly support Neiman's and Saks' outlets," she said.
For companies and businesses that don't know about the momentum in Downtown Long Beach, it can be difficult to get them to come see it and talk about leasing space, Toliver said. But when they do come out, Toliver and Catherine take them to the roof of Landmark Square to get a bird's-eye view of what's going on in the city. "By the end of these tours, they're like, OK, tell us which location. Let's pick one," he said.
The couple has learned to avoid the roof during certain times of the year, however. "The only month we don't tour people on the rooftop is the month of April, when the peregrine falcon is guarding her nest and decides to take off people's toupees and attack their heads and kill pigeons midair," Catherine said with a laugh. Toliver added, "Our security system is in full force in April."
In the future, the Morrises expect Downtown Long Beach to become more densely populated and each of its neighborhoods to develop more defined identities. Toliver reflected, "You know, urbanism has become this kind of new buzzword across the country. And I think Long Beach is embracing that."