Walking along Atlantic Avenue in North Long Beach, it's easy to see why 8th District Councilmember Al Austin felt compelled to start a conversation about commercial vacancies in the city. Storefronts line the busy thoroughfare, yet few pedestrians wander about. There are only a few active stores and restaurants along the corridor, their 'Open' signs surrounded by boarded up windows and facades bearing the marks of removed neon signage.
Fielding complaints about blight and vandalism from his constituents, Austin began searching for solutions, and discovered a concept currently under consideration in several cities across the country: vacancy fees. "We have a lot of absentee property owners who are not invested or vested in our community, and that's really where the challenge is," Austin explained. "These are property owners who – for one reason or another – have not been motivated to do anything with their properties and their spaces," he said. "We've got to find motivation for them."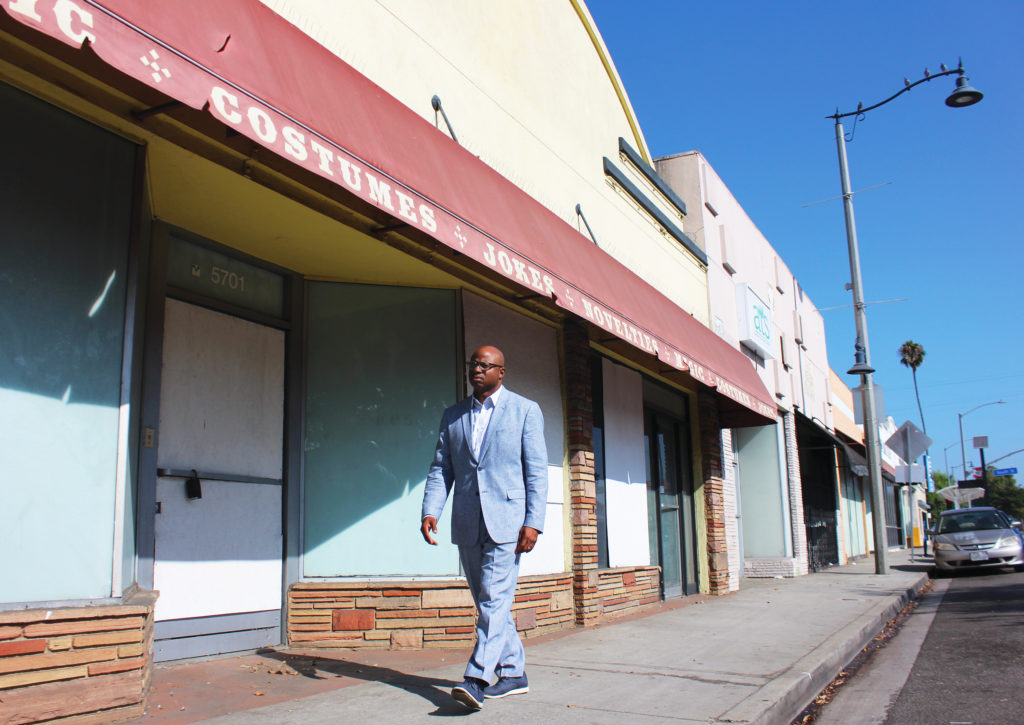 As a first step, Austin asked city staff to find out whether a vacancy fee or tax would be feasible in Long Beach by researching policies in other cities and assessing the current level of commercial vacancies in the city's different neighborhoods. The item sparked a lively discussion during its first hearing in front of the city's economic development commission on July 30, was eventually laid over to the commission's meeting on August 27 and will be discussed again on September 24.
Paul Forman, president of Forman Associates Realty, told commissioners at the July 30 meeting that a vacancy fee or tax would be counterproductive to the goals set forth in the city's Economic Blueprint, a document designed to guide economic policy and development. "I don't think this vacant property tax is what you envisioned when you developed this plan, I really don't," Forman told the commission, which had been tasked by the mayor to develop the 10-year economic policy plan in 2015.
Instead, Forman argued, the city should amp up business recruitment efforts, including the formation of a business recruitment commission, which he volunteered to be a part of. "Business recruitment is tough, and I think we can all agree that we can do a better job with it," Forman told commissioners.
During the meeting, commissioners asked city staff to expand their research on incentives, rather than punitive measures like vacant property fees. Since the dissolution of redevelopment agencies across the state starting in 2012, the city has had limited funds to incentivize the revitalization of businesses, Deputy Director of Economic & Property Development Sergio Ramirez told the Business Journal.
"When we lost that in 2012, we lost the biggest source of funding we had for those types of programs: revitalization, redevelopment efforts. So unfortunately, right now, our toolbox is very limited," Ramirez noted. The city currently offers property owners up to $2,000 for facade improvements and to fix code violations in certain corridors, a program financed by federal Community Development Block Grant (CDBG) funds. An additional $2,000 is available for window repairs and replacements.
Adam Carrillo, past president and current boardmember of the Long Beach Commercial Real Estate Council, said there was no configuration of a vacancy fee or tax that his organization could support. "What we do see is the opportunity for the city to provide more opportunities for small businesses to open," Carrillo told the Business Journal. This could be achieved by easing restrictions on tenant density and parking requirements placed on commercial properties, and by allowing for a wider range of property uses, Carrillo noted.
A similar approach has been pursued through the city's UPLAN initiative, which seeks to revitalize North Long Beach through a rezoning process based on priorities voiced by local residents and business owners in a series of community workshops. "I know for a fact that they're looking at some of the best practices that come from that plan and are already making that a part of the [city's] overall general plan," Austin said, suggesting that city staff is pursuing a similar strategy in the design of the 2040 General Plan, which is currently underway.
Cities like Washington D.C., which has adopted punitive measures for vacant commercial properties, offer substantially larger incentives for property improvements in return, according to research conducted by Long Beach Development Services staff. In the case of D.C., the city funds up to 75% of $50,000 in renovation costs, an incentive also funded through the federal CDBG program, Ramirez explained.
As for existing punitive measures, staff's research found that the city has already implemented ordinances to guide the monitoring of empty lots and buildings, and penalizes owners of properties considered a threat to public safety.
In 2016, the city council approved an ordinance designed to limit blight, requiring property owners to maintain and secure vacant buildings. In 2017, a similar ordinance was adopted for vacant lots. The existing ordinances bear some resemblance to the vacant property policies currently under consideration. However, they are designed to prevent criminal activity and safety threats posed by unkempt properties, rather than incentivize commercial activation, Ramirez explained.
At this point, it is unlikely that the commission will recommend a vacant property fee or tax as a feasible option to the city council, Ramirez noted. "The economic development commission has worked really hard on creating a business-friendly environment, and I think a tax, or any type of punitive fees, would be perceived as a step backwards," he explained.
A vacant property fee, Ramirez noted, may even have an adverse effect on the economic development of a community or business corridor. "We want to make sure we don't put property owners in a bind to say: if I don't lease this [space] up to the first available tenant, I'm going to see a fee or a tax," he pointed out. "We want to make sure the right tenants are brought in, because that leads to economic development, that leads to growth."
Incentives and punitive measures don't have to be mutually exclusive, local business owner Aaron Tofani told commissioners on July 30. Tofani, who co-owns Rance's Chicago Pizza in Belmont Shore, serves as a commissioner for the Belmont Shore Parking and Business Improvement Area and is currently in the process of purchasing a vacant commercial building, said he supports a vacant property tax as well as an expansion of incentive programs.
Any punitive measure should carve out exceptions for property owners who have made documented efforts to market and fill their property, Tofani noted, but should penalize those who haven't. "There are some [property owners] that are just not paying attention, don't care, and they need to be penalized for not being a good neighbor," Tofani told commissioners. "Just being a resident and a business owner in the area, when you're trying really hard and the person next to you is just not there – it's not fair to everyone else, not fair to the community."
Over the past two months, the discussion about a potential vacant property fee or tax has zeroed in on one major question: what is the city's responsibility or authority in filling vacant storefronts, and how should it be exercised?
Blair Cohn, economic development commissioner and executive director of the Bixby Knolls Business Improvement District, said this was among the major questions raised by leaders of the city's business improvement districts (BIDs). "If somebody is holding onto an empty building, is it the city's responsibility to fill that space?" Cohn asked at the commission's August 27 meeting, questioning the city's obligation to procure tenants for property owners. Ramirez argued that it's not within the city's right to tell owners what they should do with their property by imposing a fee on vacancies either. "At the end of the day, it's a free market," he told the Business Journal.
Commissioners and property owners have suggested that BIDs and the city's economic development department could act as a conduit between interested tenants and owners of available properties. "I think this process has made everyone realize there's a lot more nuance to why properties are vacant for a long time," Austin Metoyer, economic development and policy manager at the Downtown Long Beach Alliance, told the Business Journal. "I think that's where the BIDs role is: identifying those nuances and, if possible, directing the [city's] resources or other communitywide organizations to address that particular issue."
The challenge of engaging absentee or disinterested properties owner remains unsolved as of yet, Metoyer noted. "You need to make property owners realize that they have a responsibility towards the vibrancy of an area. And how do you get them to have some stake in the game or a level of commitment? I don't have an answer for that," he said. "But I think everyone's trying to figure that out and that's why the conversation came up."
Austin said the conversation that has been sparked by his item already constitutes an achievement and is an important part of the process. "I'm glad that I brought this item, because I'm really pleased with the engagement of our economic development commission, our staff, our commercial property owners, brokers. They're all at the table, talking about solutions that will benefit not only my district, but the entire city," Austin said. "There might have been a bit of an overreaction to this issue, but a little bit of conflict or controversy can really push us in the right direction."
The item is due to return to the commission for a final round of discussion on September 24, before commissioners finalize their recommendations to the city council. Austin said he's not insistent on the implementation of a vacant property tax or fee. "But I did ask staff to give us a feasibility [assessment of] what a vacancy tax would look like," he noted. "I hear the frustrations from my constituents about ongoing blight in their neighborhoods, in their communities. They're fed up about it and I think it's incumbent upon myself and my colleagues on the city council to find direction and motivation for property owners to activate those spaces."