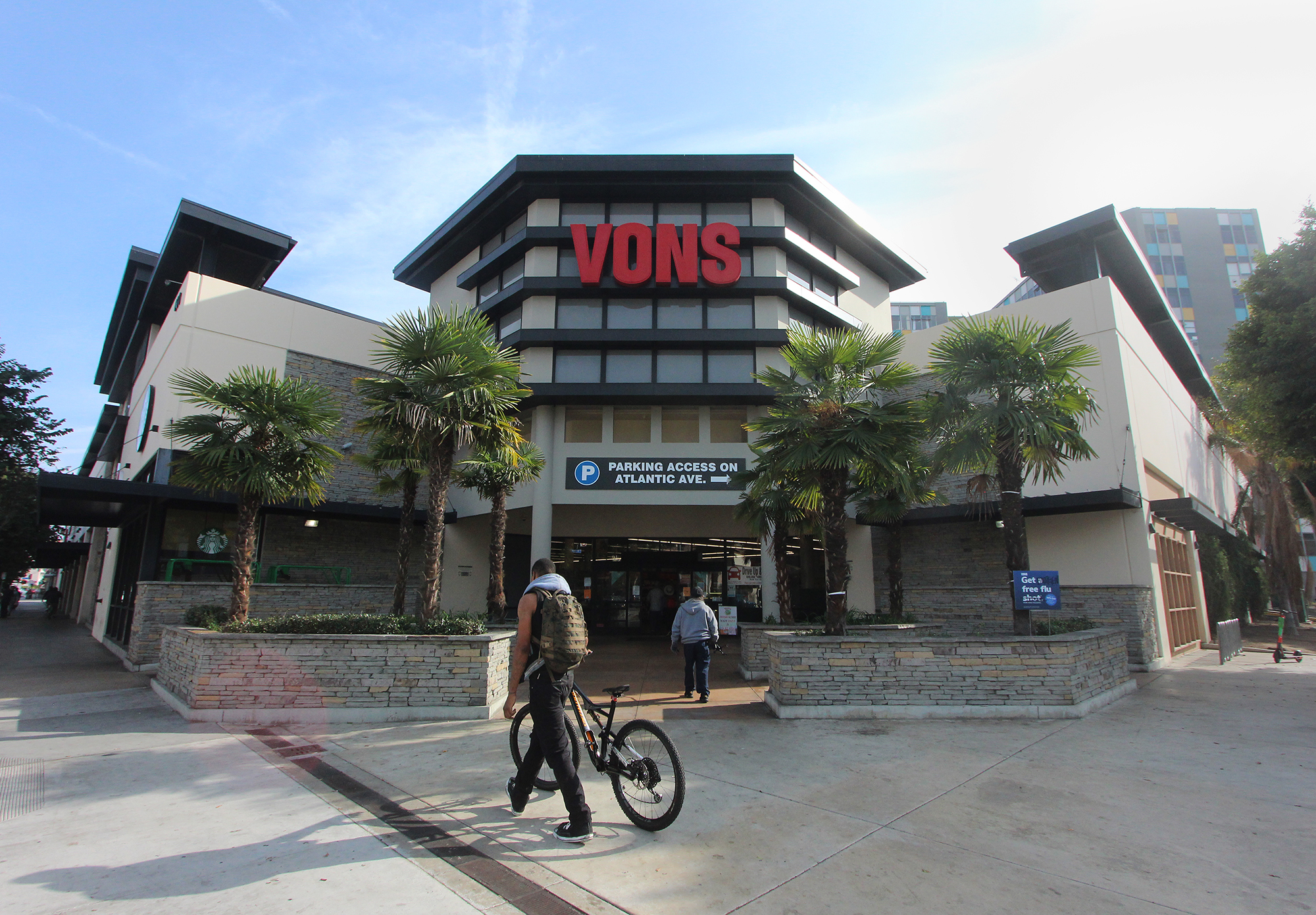 The Vons supermarket on the corner of East Broadway and Atlantic Avenue is for sale, with a price tag of $43.3 million, according to the listing on Loopnet.
The listing price is substantially higher than what the property fetched just two years ago when current owner, Newport Beach-based private equity firm Fort Ashford Funds, bought it for $29 million from New York-based Fortress Investment Group.
Located at 600 E. Broadway, the 47,570-square-foot building with 127 rooftop parking spaces was constructed in 2010 for the grocery giant. Vons, a subsidiary of Albertson's, has 16 years remaining on its lease with eight five-year extension options, according to SRS Real Estate Partners Vice President Pat Weibel.
The grocery store falls under Long Beach's Downtown Plan PD-30, which outlines development standards, land-use and building heights, among other things. The Vons parcel falls into the area where the most density is allowed in the city—builds up to 240 feet, or 500 with incentives such as the inclusion of public open space.
Weibel said prospective buyers could be looking at the property as a "covered land play"—a strategy investors use when they think there is a better use of land than the current one. The "better use" often is a residential or mixed-use development with high density.
"In 16 years or whenever Vons is not a tenant anymore, this is certainly a ripe redevelopment property given the location, the zoning and the size," Weibel said. "It's really hard to find an acre and a half in Los Angeles County to develop."
If an investor wanted to redevelop the land sooner, they would need to buy Vons out of its lease, which would be "really costly," Weibel said.
But redevelopment may not be the goal due to the success of the grocery store, Weibel noted. This particular Vons is the most visited supermarket in Long Beach, he said, with nearly 875,000 customers in 2020.
Grocery stores and grocery-anchored retail centers have always been popular among real estate investors, Weibel said. But the COVID-19 pandemic made the product type even more appealing, with grocery stores performing extremely well while other types of retail suffered.
"They were always open and operating—people needed to buy food and groceries," Weibel said. "And these grocery operators have turned some of these very dense locations like the Long Beach one into kind of a quasi-distribution center for their delivery business, which has just taken off in the last 18 to 24 months."
Vons currently pays $1.5 million, or $2.62 per square foot per month, in rent for the space. Rent will increase 7.5% in 2027 and every five years thereafter, according to Weibel.
The listing has already garnered a lot of "good" interest, Weibel said. The activity has been from a variety of groups, he said, including 1031 investors, family offices, institutional groups and some foreign groups.
"Investors are looking at this as a generational opportunity," Weibel said. "A lot of folks that buy in Los Angeles County are very high-net-worth individuals or other private entities that look at these as like generational assets they can pass through the family for decades. It's really, truly a long term trophy property that somebody can hold for a long, long time."
SRS Managing Principals Matthew Mousavi and Patrick Luther are Weibel's listing partners on the property.