Much like the rest of the city, Westside Long Beach commercial real estate continues to experience vacancy rates that are next to nothing.
"From what we're seeing from the second quarter numbers, it's still below 1%," Brandon Carrillo, a principal at Lee & Associates Commercial Real Estate Services, said. "It's anemic right now with little product to chase after, especially on the industrial side."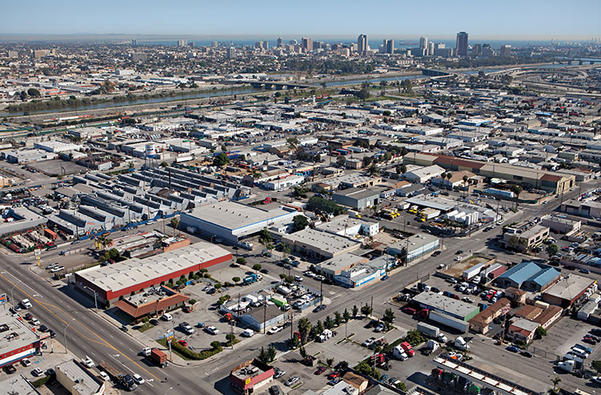 With the Downtown Long Beach skyline in the background, the Westside industrial area encompasses the Westside Industrial Project Area in the foreground and the Magnolia Industrial Group at upper left, east of the L.A. River and Long Beach Freeway. (Business Journal photograph)
Carrillo explained that for new businesses wanting to move into the Westside area, and even established businesses looking to expand, it is tough to find space due to a strong demand and a lack of product on the market. For his clients, Carrillo said his only course of action is to have a list of their requirements for a property and then to wait until something opens up. But he warns them that when it does, they will be facing a lot of competition for the space.
When asked why the demand for the area was so high, Bill Townsend, president of INCO Commercial Realty Inc. and president of the Magnolia Industrial Group, said, "The port. These businesses need to be close to the port, so there's always that strong market. There are trucking companies looking for places to park and places to buy, so trucking and port related businesses want to be close."
In the wake of the former Long Beach Redevelopment Agency, Lee & Associates was chosen to represent the city on the Westside in the bidding process for parcels at 1545 Santa Fe Ave., 2136 16th St. and 2021 Gaylord St, all of which are now in escrow, according to Carrillo.
Lee & Associates was in charge of mass exposing these properties to the marketplace, showing the properties to potential buyers and collecting all offers to be given to the oversight committee that made the final decision on which offer to propose to councilmembers.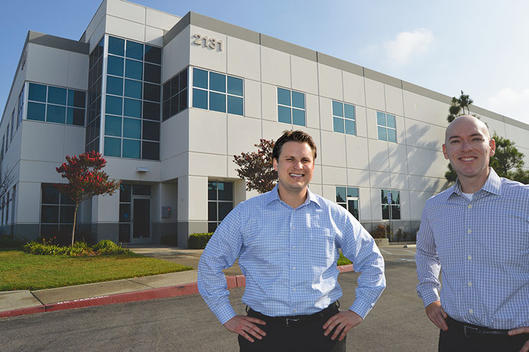 Commercial real estate on the Westside of Long Beach cannot keep up with demand while vacancy rates sit below 1%, according to Brandon Carrillo, right, of Lee & Associates Commercial Real Estate Services. Garrett Massaro and Carrillo, principals at Lee & Associates, are pictured at the company's 49,723-square-foot listing at 2131 Technology Pl. in the Cal State Long Beach Technology Park. Carrillo said the building has several interested parties, but is still available. (Photograph by the Business Journal's Larry Duncan)
"It's not your traditional way of doing it, but the city needs to be transparent so if there are any questions, or anyone questions the city's motives, the city can then show it's all been public," Carrillo said.
The Cal State University Long Beach Technology Park – former site of the now-defunct Corinthian Colleges and WyoTech, which filed for bankruptcy in May – left Lee & Associates with two buildings for lease: 2131 and 2161 Technology Place, which are 49,723 and 42,712 square feet, respectively. After dealing with the bankruptcy process in court, the company began marketing the buildings.
"We have one lease that we're pretty much wrapped up on with one of the buildings, and we have interested parties for our other building, 2131 Technology, which is available," Carrillo explained.
A major issue that is making property sales more difficult in the area, according to Carrillo, is that the city is cracking down and cutting back on general industrial (IG) zones, making it more difficult to move in. Carrillo explained that this has a major impact on trucking companies that want to be located adjacent to the port, who now have to go through a conditional use permit process to get site approval which was not required in the past.
Some of these zones being located near residential areas could be a reason the city is being so restrictive, according to Carrillo. However, he points out that residents who purchase homes near these industrial areas should realize what they are getting themselves into.
"You're in an IG zone area and you're able to get a house at a great price, but these are the challenges you deal with," Carrillo said. "I understand the city is trying to walk that fine line and make everyone happy, but at some point there's a discussion of common sense that needs to be had with some of these residents.
"Trying to balance that housing, because that's really what's helped exacerbate the vacancy rate being lower – a lot of industrial product has been downzoned to try to accommodate more housing in the area," Carrillo continued. "As we take much-needed industrial properties off the market and put residential there, these are the types of problems we create."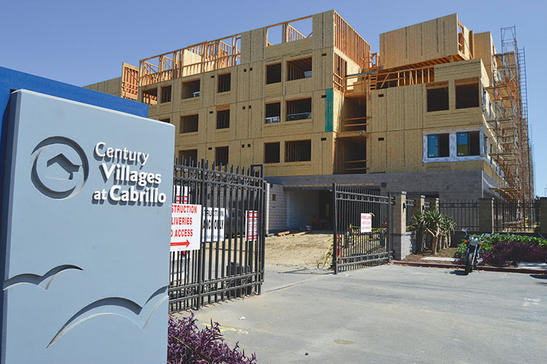 Five months after breaking ground, construction is underway on the fifth story of Anchor Place located at 2000 River Ave. on the Westside of Long Beach. The project is the fifth phase of the Century Villages at Cabrillo, which offers support housing for homeless families and veterans. When completed, Anchor Place will contain 75 units reserved for homeless veterans and 45 units for extremely low-income residents. The complex will have one-, two-, and three-bedroom units, extensive open space and courtyard recreational areas. Residents will also have access to support services such as case management, physical and mental health services, employment services, life skills training and counseling. Brian D'Andrea, president of Century Villages at Cabrillo, said, "Century is pleased to partner with the city to deliver permanent supportive homes for our veterans and other families in need and to continue the public partnership that is the Villages at Cabrillo." The three-acre project is expected to open in late fall 2017. (Photograph by the Business Journal's Larry Duncan)
Another challenge affecting the Westside, according to Carrillo, is the ever-changing environmental laws that do not grandfather properties that had already been given clean phase ones, meaning it had been determined that they meet environmental standards in regards to contamination and environmental impact.
Carrillo explained that some people buy properties with their retirement fund and can face serious financial problems if they believe they are buying a clean property but get derailed when a law changes and they are stuck with the bill to clean up the land.
"As the consumer, the line keeps being moved," Carrillo said. "Being green and everything else is a good thing, but . . . you could be buying a property and, even though you think it's clean today, you might be buying a contaminated property without even knowing it. Especially in Westside Long Beach, you see a lot of these heavy industrial users, and I think it's something very concerning for people's investments, especially when they're putting their retirement into these properties, not knowing if the rules of the game are going to be changed on them in the future."
Despite these challenges, Carrillo and Townsend remain confident that the Westside commercial real estate market will continue to thrive with high demand keeping vacancy rates low and prices high.
"I think we have a healthy real estate market. Business seems to be improving in the city, and we're getting investment from outside the Long Beach area," Townsend said. "I think people are coming from out of the area to invest in Long Beach and finding value here. Maybe we have opportunities here that you may not find elsewhere."