The residential real estate industry in general – and Long Beach in particular – have undergone huge changes over the past few decades. The Business Journal is profiling five women realtors who, as some of the longest-practicing agents in town, can attest to these changes. This edition features Q&As with Pam Luckey and Loree Scarborough of Coldwell Banker Coastal Alliance, Maggie Shapiro of Keller Williams Coastal Properties, Judy Sharp of Keller Williams Pacific Estates and Pam Weston of Main Street Realtors.
Throughout their time in real estate, these women have experienced many changes in the industry and have witnessed the City of Long Beach evolve. The rise of technology has led to increased visibility of homes online, significantly changing the house-hunting process and the relationship between realtors and prospective buyers. These five women entered into real estate on the advice of a friend, or happened upon the career by accident. Each expressed pride in the city where they have chosen to establish their careers and help others find homes. And, although Long Beach has grown and evolved over the years, several reported that the city still maintains the charm of a small town by the sea.
Pam Luckey, REALTOR®, Broker/Agent
Coldwell Banker Coastal Alliance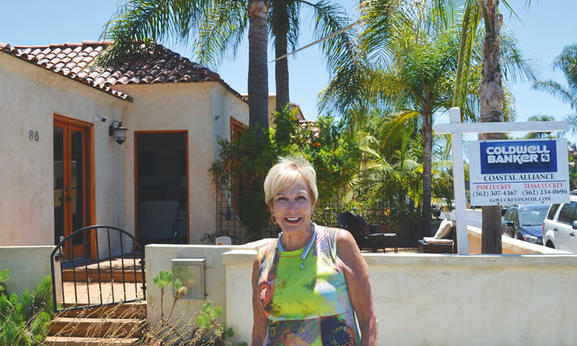 Pam Luckey, who has been in the real estate industry for almost 40 years, said she fell into it by circumstance. "A girlfriend of mine was taking some real estate classes and she wanted someone to go with her," she explained. "I had small children, so I said, 'Ok, I'll go, my husband's home in the evenings.' So, I got my license and started working. I had no plan, it was really an accident." Luckey had spent her childhood primarily in Lancaster, California, and Ohio before attending California State University, Long Beach (CSULB). "My dad was with McDonnell Douglas, so we were transferred a lot," she said. CSULB was Luckey's introduction to the city that would later become her home. "They used to have The Pike downtown where all the sailors were and they had the wooden roller coaster," she recollected.
How has real estate changed since you entered the business?
It's changed drastically. When I first got into the business, we had books with pictures of houses for sale that came out every two weeks. It was hard to get appointments. Now, social media and computers allow for transparency. We're able to talk to people about real estate and they know what's going on. It's really become a better business, for both the buyers and sellers.
Many times, when you have an open house, buyers will come in who have already been "through it" on the computer. They already know what it looks like, and they'll say, "Oh, this room looks bigger than it does on the Internet." They do their shopping prior to even coming to see the house. It's probably good for the elimination of properties that they're not interested in. Now, they have the possibility of just seeing the ones they really want to buy. People are looking at property in a completely different way than ever before.
How has Long Beach changed?
It's really been cleaned up. The neighborhoods are so diverse and cute. There's a neighborhood for everyone no matter what you like to do. It's has the feel of a small town. You can go anyplace, and you'll meet someone from Long Beach. You'll see someone wearing a Cal State Long Beach jacket. It's a friendly community. I just showed some people from New York a property this weekend. They said, "Everybody's so friendly in Long Beach." They were shocked.
Do you have any memorable stories selling homes?
You learn to knock loudly on doors to make sure nobody is there. You never know how you might catch somebody. I walked into one house that I was showing, and a little boy outside said, "If you go in and find my snake, I'll be really happy. It's loose in the house." I'm not a snake lover!
Is there anything else you'd like to add?
The best thing [I've gotten] out of [real estate] is that it's become my life, because I've grown up with it. I've made so many dear friends. I have acquaintances all over town and in other cities too. It's become all-encompassing, and I love it. How else would I have met so many other people?
Business is good. The people we meet are always really nice. Very seldom does a bad situation happen. There's good people out there, especially in Long Beach.
Loree Scarborough, REALTOR®
Coldwell Banker Coastal Alliance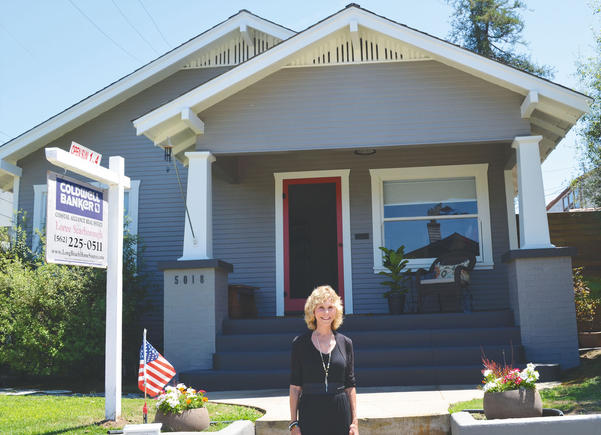 Before Loree Scarborough entered the real estate industry about 23 years ago, she owned a line of three high-end clothing stores called G.Nonni. When she sold them, her friends and family who worked in real estate thought real estate would be a good fit for her because she loved to talk to people. The transition stuck and Scarborough said she loves the creative aspect of selling homes.
How has real estate changed since you entered the business?
When I started out in the business, I was on the tail end of having to go through notebooks to locate properties. Then technology took over, and everything was at everyone's fingertips. That was the biggest change of all. Because of that transition, I think everyone involved in the sales transaction is so much more knowledgeable, both the buyers and the sellers. We as agents have to be sure that we're on top of it and impart as much knowledge as we can to our clients. What that means for us is that we have to always know what the stats are, and we have to go to classes to learn more technology.
How has Long Beach changed?
I've lived in Long Beach for most of my life. When I got into real estate, what I noticed about the city that I hadn't before is how eclectic and diverse it was. And now that's even more the case with new neighborhoods forming. We've got so many neighborhoods in Long Beach, and they've become more gentrified. There are more shops and restaurants in each and every neighborhood. It's been a wonderful transition to witness. The people in Long Beach are so great. We're still known as 'Iowa by the Sea.' There's still an Iowa Picnic in Recreation Park every year because so many Iowans came to live in Long Beach. When I'm telling people about how great our city is, I always say that everyone can walk down the street and say hello to one another. It doesn't matter how old, how young, how rich or how poor you are, everyone is friendly. That part hasn't changed, it's just that the neighborhoods have formed a little bit more and the whole city has really grown up.
Do you have any memorable stories selling homes?
I was selling a condo in Huntington Beach to a client who was pretty straight-laced. We had an appointment scheduled at the house. We walked in and it was dark. We were walking through the rooms when we came to a bedroom. The door was closed and when we opened it there was a very big, hairy man in bed without his clothes on. Another time I walked into the wrong house. I asked the son who lived there if we should come back later because his parents weren't there. He said, 'I didn't know the house was for sale.' We didn't even realize until later that the house that was actually for sale was across the street. I also sold a house that Snoop Dogg lived in. He had to move because his neighbors complained that he was too loud, even though he had soundproofed one of the rooms to use as a recording studio.
Is there anything else you'd like to add?
I take real estate very, very seriously. It's a 24/7 job for me and I love it. It's a challenge. I love the negotiation part. It's the best thing for me to see clients happy in their new home or to sell their home for the best price. It's not for everyone because it's stressful sometimes – but it's very rewarding in the end.
Maggie Shapiro, REALTOR®
Keller Williams Coastal Properties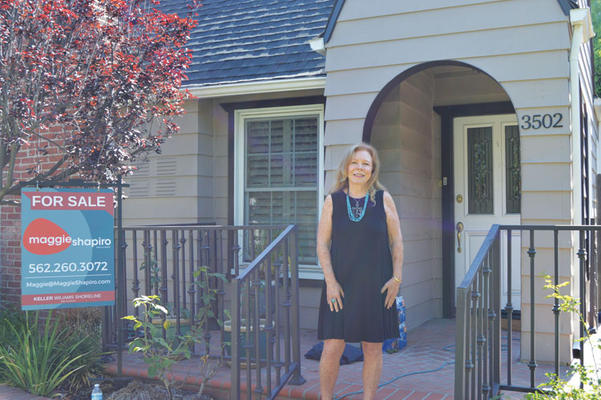 Maggie Shapiro entered the real estate industry about 18 years ago on the advice of her husband. "He suggested I go into it because women end up doing much better than men because we're emotion-based," she said. "It's a relationship business. I consider myself an educator, not a salesperson." Her husband had been flipping properties, purchasing real estate at a discount price to resell at a higher rate, about a year before Shapiro got into the business. "He had sold a company and I had the gift of time," she explained.
How has real estate changed since you entered the business?
When I entered it, it was a buyer's market with lots of homes available. I could show people 20 homes and let them pick what they wanted. Pricing was way down, but interest rates were up. Then, we had the big bubble, we had the depression, and now we're still in a seller's market. There's less inventory so buyers have to work a lot harder to get an offer accepted. Sellers are at the top of the food chain. There's not enough property. There are more people who want to purchase than there are homes available. When you look at how high the prices are, you can see that there are a lot of people who maybe should downsize. But they have such great interest rates that they choose not to do that yet, so there's not as much turnover. I work with both buyers and sellers while other agents specialize in just one. To me, I think it's important to know the mindset of both to be able to best work with your client.
How has Long Beach changed?
Because of all the new units being built, we certainly have a lot more people. Our streets definitely need more work. But Long Beach is such a wonderful area. It's a great mix of people. We have lovely, tree-lined neighborhoods. We have a nice suburban area, and a downtown, which still could use some vitality. We need more nightlife down there.
The biggest change is affordability. When the market was crazy and you could get a half-million-dollar loan if you could fog a mirror, people were buying houses when they should've been buying condominiums. Normally, you work your way up. Usually, your third home is the one you really want. Now, I'm seeing people being more conservative. They can afford more and they're not pushing it to the extreme, which I think is how it should be. I think a lot more people are realizing that Long Beach is a wonderful area to live in. We have Naples on the water, we have Belmont Shore. We have lovely neighborhoods with big trees. We've always been the least expensive beach area.
Do you have any memorable stories selling homes?
A realtor friend of mine went into a house to sell it and a large pet parrot hooked onto her head. She's very prim and proper and also afraid of dogs. She went into another house and jumped on her client's back because there was a dog there. I'm not very dramatic so I usually don't have a lot of things like that happen to me.
Is there anything else you'd like to add?
I think Long Beach is a wonderful area and I feel very blessed to do my job because I've met so many people who have become friends. Some of them I've now sold three or four properties to. Maybe they were just married when I met them, and now they've got children, so it's fun to watch their families grow.
Judy Sharp, REALTOR®
Productivity Coach/Broker, Keller Williams Pacific Estates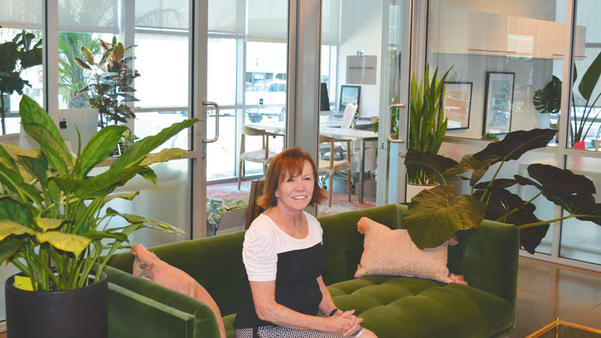 Before she began her real estate career in 1982, broker Judy Sharp worked in what she called a "heavy" industry, recycling metals for factory production. "The opportunities for women were not as plentiful as they are today," she said. "I knew if I didn't get out of the business I was in, I would be stuck. I saw an ad for a real estate license for $99 and decided to try it. I liked it much better than I ever dreamed I would." Sharp was drawn to Long Beach from Norfolk, Virginia, because of its waterfront location and affordability. From her years working in the city, she recounts how it has changed, as well as the developments in the real estate industry.
How has real estate changed since you entered the business?
I've been in the business for such a long time. When I got in in 1982, there was no technology of any kind, not even fax machines. Technology and the Internet have changed our business and it's changing faster than it ever has. The pace has really quickened. Now it's possible to purchase a house when you're in another country, sign the contract and pay for the house without ever meeting all of the people.
How has Long Beach changed?
When I got my license and came to work in Long Beach, they were in the process of closing up a lot of businesses downtown. It was really suffering. We didn't have very high hopes for it at that time. But thankfully, the people just kept right on working to build it. The downtown has changed the most. All the change is really good. It's now become the place to live when there was a time when people were headed to Orange County. Now, I hear about the O.C. people heading back.
As brokers, we want to have agents who speak multiple languages because of our diverse population. There's so much happening here that we have to always stay on top, reading all the publications to keep up with developments and the new businesses. We're proud of our city; we want to make sure we let everyone know about that.
Do you have any memorable stories selling homes?
There are certain things that happen, and I think they happen to most real estate agents. For instance, I was showing a house one day and they didn't answer the door. I had an appointment to show it, so I used the lockbox to open the door. When we got in and went upstairs, the people were taking a shower. Things like that can happen. They didn't check their voicemail. In those days, there was no text messaging. Mostly, we have to hope we don't let out the cats. Sometimes clients bring their children: we don't want the children running around picking up stuff, or art, or anything like that. Most of the time, it's a good experience. Usually, the worst that ever happens is that you get lost. But now with maps on our phones, we're not going to get lost.
Is there anything else you'd like to add?
As the real estate [agent] population in Long Beach seems to be growing, we want to make sure they know about all the benefits of living here. As a realtor, I would encourage other realtors to be active in the communities they serve and pay attention to what's going on at city hall. I think Long Beach is one of the best-kept secrets.
Pam Weston, REALTOR®
Main Street Realtors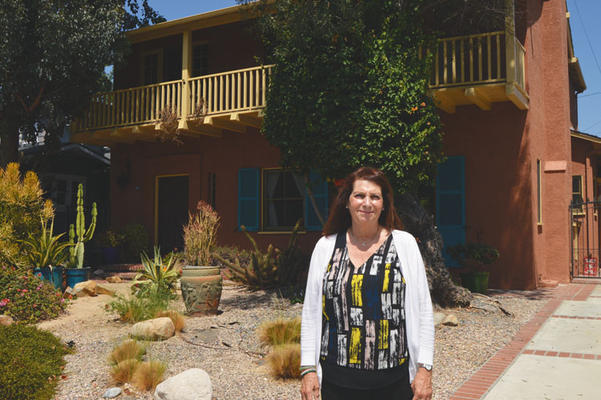 Before Pam Weston entered the real estate world 32 years ago, she owned an art business that specialized in screen printing and design for T-shirt companies. "I got into real estate through my husband," Weston said. "He thought it would be more enjoyable. We don't partner in real estate; that's how we've stayed married so long."
How has real estate changed since you entered the business?
It's changed tremendously. We have the Internet, social media, and more consumer protection. We also have different ways that we communicate with our clients. Before, it was always in person; you met them at an open house. I've been really lucky since a lot of mine are repeat and referral business. I do have stuff on the Internet, and social media is very, very strong. A lot of times, people will go online and pick an agent. But people don't understand what you get when you hire a realtor, the level of expertise. How someone like me can guide you through a process and make it fun and easy. People go online and they think they're going to get their lender that way. They come to you and they already have their lender. Nobody's talked to them about finding an accountant or about planning their finances ahead of time before buying. The way you market has also changed. I have professional photos, videos and flyers. You have one chance to make a first impression on the Internet.
How has Long Beach changed?
It's still the same, friendly open community it's always been. We haven't had a lot of new construction, but we've gotten some new rules. For example, in certain areas when you sell a property, you have to get a garage inspection. The city doesn't want it turned into a rental. Now, on Ocean Boulevard, [the city] is turning over some of the public parking lots for locals to park. They just need to get their cars out by morning so the beachgoers can park. Before, parking wasn't an issue. It just comes with the change in times.
Do you have any memorable stories selling homes?
There was one, a young couple. She was pregnant and they wanted to buy a house before she had the baby. We had been looking for about a year. They picked one that they kind of liked. I always say you shouldn't have to look too hard. You're either in love, or you're making yourself love it. They were coming in to write an offer, and a new listing came out. I said, 'Before you come in, let's go look at this.' They walked in, and the husband said, 'Now I know what you're talking about.' That was 26 years ago. Sometimes, real estate isn't just about making a sale, it's about making sure that the property is right for your client. I tell that story to new clients to show them that it's just not a number on a paper, it's a feeling that you have. It's like when you met the love of your life or when you bought the first car that you wanted. You have to have an emotional connection.
Is there anything else you'd like to add?
I would recommend finding an agent that you're comfortable with and who you trust. Make sure they're not just interested in their next meal but are in it for the long haul. I tell my clients, "If you hear a horror story, before you freak out, call me." Their friends will all tell them all of their worst nightmares. I usually say, "Well, they weren't working with me."