When most people think of hospitals, they imagine large, looming buildings like MemorialCare's Long Beach Medical Center, its red cross visible from the 405 Freeway, signaling: if you need medical attention, this is where to find it. But recently, hospitals in the Long Beach area have sought to spread out their presence in the community. The reason: a shift in perspective toward the larger goal of improving population health.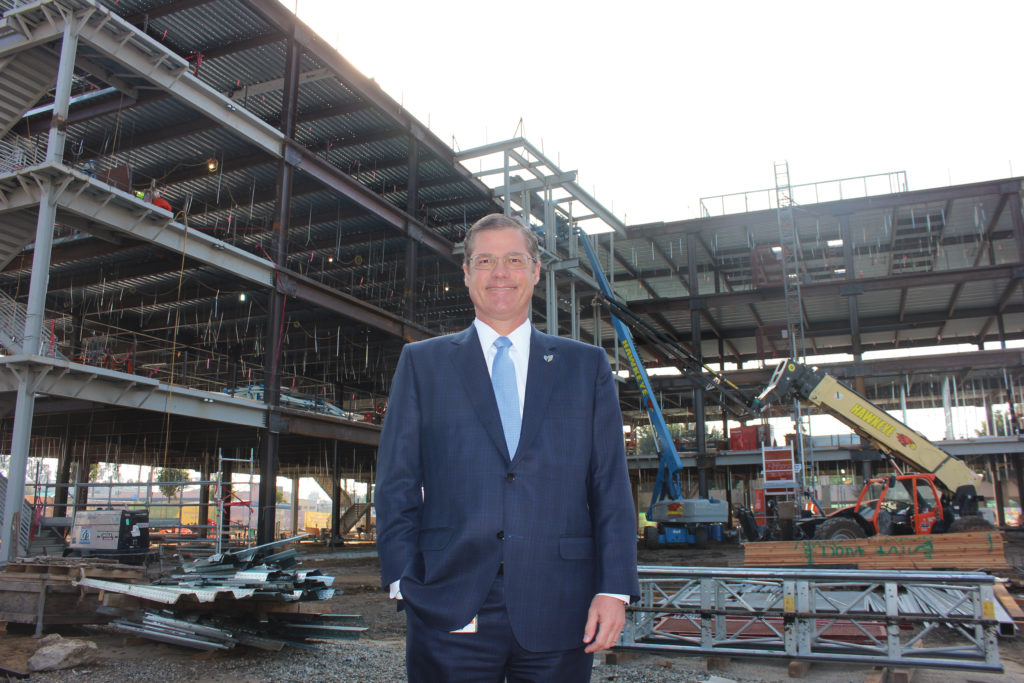 Long Beach Medical Center CEO John Bishop put it plain and simple: "Keeping people healthy is better than being able to treat them when they're sick." Carolyn Caldwell, CEO of Dignity Health's St. Mary Medical Center agreed. "Usually, in a community like the Long Beach area, we look at the social determinants of health," Caldwell explained. "That's why it's so important for an organization like ours to not just look at the care that we provide inside our four walls, but also the care that we provide outside in the community." Early childhood education, hunger and housing are some examples of those social determinants.
St. Mary Medical Center has partnered with other organizations and agencies in the community to address some of the underlying factors impacting population health. "Our mayor, police, fire and health department, everyone really works together to try to make sure that we are addressing all the potential challenges that are occurring here in our community, to make sure that we can keep people as healthy and as strong as we can," she explained.
Homelessness is one significant factor influencing overall population health, especially as the number of homeless seniors in Long Beach continues to increase. To improve the health outcomes of homeless patients after they are discharged from St. Mary, the hospital provides funding for recuperative housing. The financial value of St. Mary's investment in recuperative care from July to December 2019 was $574,813, according to Dignity Health Southern California Communications Manager Megan Martinez, who said annual investments likely exceed $1 million.
Outpatient care is another vehicle for spreading health care resources across the community. "More and more health care is moving to the outpatient arena," Caldwell said. "We want to try to provide as much care as we can outside of the hospital."
Long Beach Medical Center is currently building a new center for outpatient pediatric care on its campus, which is scheduled to be completed in spring 2021, according to Bishop. The center will offer a centralized venue for children to receive care outside of the hospital. "We have a significant population of very sick children where transportation can often be a challenge. [The planned center] is a significant improvement, not just for the children, but for the families and for the physicians as well," Bishop explained.
For patients with less severe care needs, urgent care centers offer an outpatient alternative to overcrowded emergency rooms. "A significant portion of our emergency room visits could be treated in urgent care," Bishop said. "It's a more efficient and lower cost venue, so we continue to invest in those."
Lakewood Regional Medical Center recently formalized a system that fast-tracks patients who arrive at the hospital's emergency room from an urgent care center. "The idea is: the work has already been done on the patient, so we may not need to spend as much time on that patient in the emergency room as a result," Lakewood Regional CEO John Grah explained. "These are the patients that tend to take a lot less resources, so let's get them in and out quicker."
Urgent care centers can provide a faster alternative to emergency rooms, and often offer a clear list of prices for their services, which can be challenging for hospitals given the variety of factors that play into each patient's individual cost of care.
For example, even insured patients may face sticker shock if the doctor that treated them did not have a contract with their health insurance company, Grah explained. Coined 'surprise billing,' this occurs when doctors and insurance companies can't come to an agreement on the cost of a specific service.
Insurance companies then try to steer their patients towards hospitals serviced by doctors they do have a contract with, but in an emergency setting, that's not always an option. While all hospitals have contracts with insurance providers, the doctors who work there are independent entities in the State of California. "I can't negotiate on behalf of doctors. They're not my employees, they're free agents, they're independent businesses," Grah said.
This is one of the many factors making it difficult to calculate and communicate the final cost of services for each patient, an issue that has garnered the attention of lawmakers. "You're seeing a lot of noise on both the state and the federal level on that," Grah pointed out.
A federal law that took effect on January 1, 2019, now requires hospitals to publicly post the self-pay prices for 50 conditions that yield the most revenue from Medicare. Another proposal currently under consideration would mandate set prices for certain treatments on a federal level, Grah noted, with potentially grave consequences. "If we let the federal government dictate what you can get paid, we're going to see dramatic problems in physicians' willingness to even see patients, and you'll see tremendous losses on the hospital and urgent care center side," he pointed out.
The increasing cost of health care has outpaced general inflation, a phenomenon that is largely due to an aging population, rising labor costs and innovation in the pharmaceutical industry, according to Bishop explained.
While the pharmaceutical industry has made some impressive advances, Bishop noted, that innovation came at a high cost. "Prescription drug costs will remain a topic of much discussion in the year ahead," Chris Wing, CEO of SCAN Health Plan, which specializes in providing health insurance to seniors, told the Business Journal. "Though SCAN strives to deliver low cost prescription drugs to our members, lowering costs starts with lower list prices from pharmaceutical companies. We believe federal legislation that reduces the cost of prescription drugs for all seniors is the best path forward."
Over 131 million Americans are enrolled in the federally-funded Medicaid, Medicare and Children's Health Insurance (CHIP) programs, according to data collected by the Kaiser Family Foundation and the Centers for Medicare & Medicaid Services. Paying for their health care is costly. "These costs are becoming more and more of a burden on the federal and state budgets," Grah explained.
As a result, the federal government has implemented incentives as well as penalties for providers, such as medical groups, who fall below or above a certain threshold of cost per patient. "What you're seeing is the [federal government] trying to save money and asking the health care community to be the ones to manage it," Grah noted. "If we don't do well and costs go up, then we're on the hook for those additional costs." This has led to a shift of resources away from patient care and toward the administrative task of complying with federal cost management programs, he added.
Another process hospital executives are watching closely is the federal government's effort to unravel the Affordable Care Act. "We're concerned and we're monitoring very closely what's going to happen with the Affordable Care Act," Caldwell said. Her colleagues at area hospitals echoed that concern. With the recent repeal of the individual mandate, a tax penalty for those foregoing insurance, Grah and Bishop said they've seen a significant increase in uninsured patients, as young and generally healthy people drop their insurance.
On the flipside, a continued economic expansion has enabled more patients to purchase insurance in the commercial market, Bishop noted. "A thriving economy not only increases our volume of commercially insured patients, but it also reduces the number of uninsured patients that we have," he said.