Dyzzy on Vynyl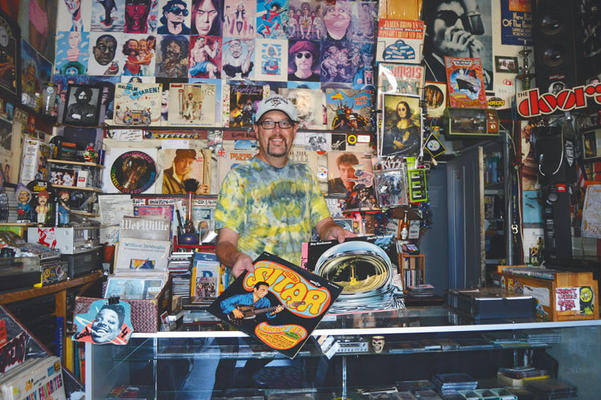 After schlepping jewelry at a kiosk in the Lakewood Center Mall for seven years and selling records at swap meets on weekends, Kevin "Dizzy" Diehm opened Dyzzy on Vynyl on May 22, 1999, at 3004 E. 7th St. "Customers come in and they'll see something on the wall – a record or a poster – and, boom, they just start reminiscing with me or whoever they're with," Diehm said. "Just reminiscing with people about bands and music, in general, or shows that happened way back when. That's my favorite part. No doubt about it." The record store focuses on used records at a fair price, Diehm explained. He said he favors classic rock bands from around the '70s, including Wet Willy, Neil Young, Bob Dylan and Funkadelic when he's feeling funky. He said he is not into new, commercial music but that the Long Beach music scene is oozing with talent. Diehm said one service that sets him apart is his ability to transfer vinyl records onto CDs for customers. "The atmosphere when you walk in, it's almost like walking back in time. It's just comfortable, it makes you feel good. I'm not a hard sell person, I'm not shoving anything down your throat," Diehm said. "My goal is never to gouge anybody, which is why I'll never be rich. But I'm happy." For more information, call 562/438-8928.
Long Beach Guitar Repair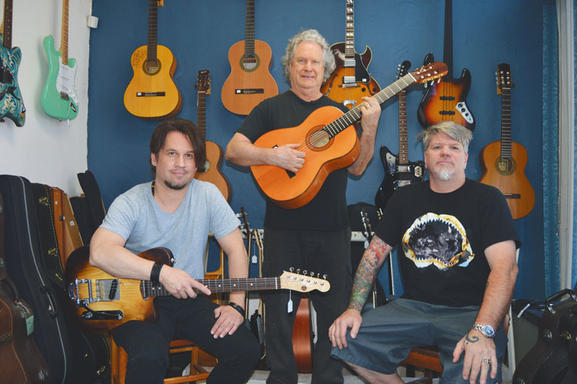 Brian Stewart, Guillermo Rios and Chris Baird (pictured from left) met while working at World of Strings, a guitar repair shop that was in business in Long Beach for around 50 years. When the business closed, the three men decided to continue their instrument repair careers by opening Long Beach Guitar Repair at 2930 E. 7th St. in May 2013. "It might sound corny. But when you help a player who has a problem and they have a gig that night and you can save the day and save the gig by making sure they can go and perform up to their potential and please the adoring crowd, then we've done our job and everything is right with the world," Stewart said. He explained that unlike other instrument shops in the area, Long Beach Guitar Repair focuses on repair, while others focus on retail sales. With the exception of pianos, Stewart said the shop can perform complex repairs on almost anything with strings, including orchestral instruments. "We're here to try and help people get out of their guitar what they want to get out of it," Stewart said. "Sometimes that's difficult if their expectations outweigh the ability of the instrument, but we're just here to try and get them what they want." For more information, visit www.longbeachguitarrepair.com.
The Good Bar and Eatery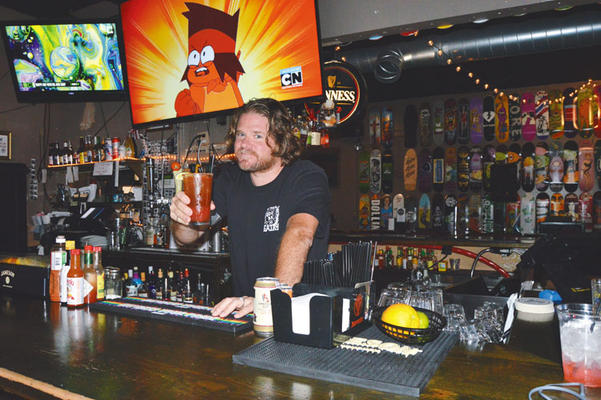 In December 2015, Blake Whytock received the keys to the defunct Bull Bar at 3316 E. 7th St., which he would quickly transform and reopen as The Good Bar and Eatery later that same month. The location has served as a bar and restaurant since the 1960s when Dick & Faye's Cafe Bistro opened. "We went back and forth with ourselves on if we could do it at all. It's kind of a dead zone in a sense – there's not a lot of businesses around here," Whytock said. "We thought we could be the ones that could kind of bring people back to this neighborhood." Whytock ran and managed The Red Room on 4th Street for 14 years, which is where he really honed his skills for operating a bar. The Good Bar has a full kitchen that utilizes fresh, local ingredients and 20 rotating craft beers. The bar features live music or DJs most nights and premieres skateboard videos on a big screen. "There's something for everybody. We've got video games in the front for the kids, a pool table, the food. I just love the community part of it. It's something I always enjoyed when I bartended. I love to talk to people and find out about their lives," Whytock said. "We love people, and we want people to have a good time." For more information, call 562/433-6282.
PJ's Pet Cafe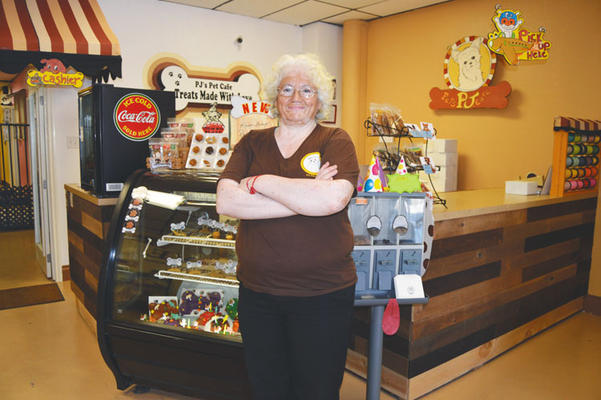 Rossana Estravides opened PJ's Pet Cafe on September 25, 2009, on the corner of Linden Avenue and Broadway. She relocated the business to its current location at 3412 E. 7th St. when her landlord sold the building and issued a 60-day notice to vacate the property. After months of searching with the help of her sister, Fiorella Rios, Estravides reopened with more space to care for dogs and make them special treats. "It's much better for my doggies – more space to run and to stay free because I don't put them in kennels during the day. All my doggies can stay together – different size, different mind, different personalities," Estravides said. "My passion is my doggies, and I run this business with compassion." Estravides specializes in birthday cakes, jerky and other specialty treats for dogs. She said each item is sold frozen to ensure the 100% natural ingredients remain fresh. She said the business would not have been possible if it were not for her sister who built everything in the shop, from shelves to displays. "We are a team. She is in charge of the construction to make everything cute. But it's my responsibility to make the treats, the meals, the birthday cakes," Estravides said. "Honestly, I enjoy doggies now more than people. My day passes so fast with these crazies." For more information, visit pjs-pet-cafe.local-cafes.com.
Long Beach Skate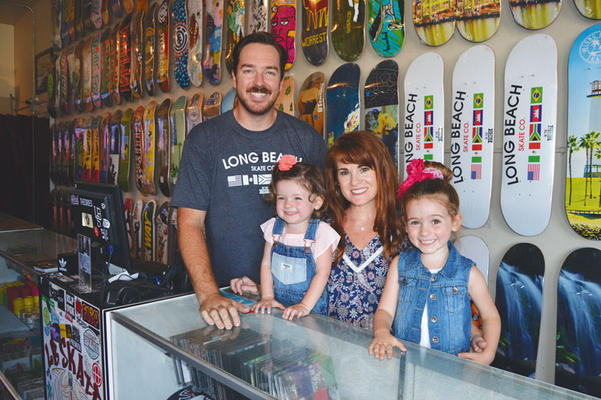 After living in Long Beach for several years, Tim and Carrie Scanlan, pictured with their daughters Ireland, 4, and Hazel, 2, opened Long Beach Skate at 3142 E. 7th St. "There seemed to be a void in the style of shop that I grew up in the '90s and 2000s going to, which were community-first skate shops that were involved with the lives of the skateboarders and the lives of those in their neighborhoods," Tim said. "Our tag line is 'It's not my shop, it's not your shop, it's our shop.' I think that's important." Tim said being a community-first shop goes beyond the skate world, which is why he is very involved with the community, including serving as the treasurer for the Rose Park Neighborhood Association. This year, the shop hosted its 3rd annual Big heART show for local artists. "My favorite thing is setting up a complete for someone for the first time – a complete being a customized skateboard from all the different components," Tim said. "When we cut out the grip tape, there are scraps. We put that all in a big grip tape ball that we keep in the front of the store. All these scraps are from first completes. I think it's the largest grip tape scrap ball probably in the world. It shows just how many people have set up first completes here. It's a huge deal." For more information, visit www.lbskate.com.
Stanley Shade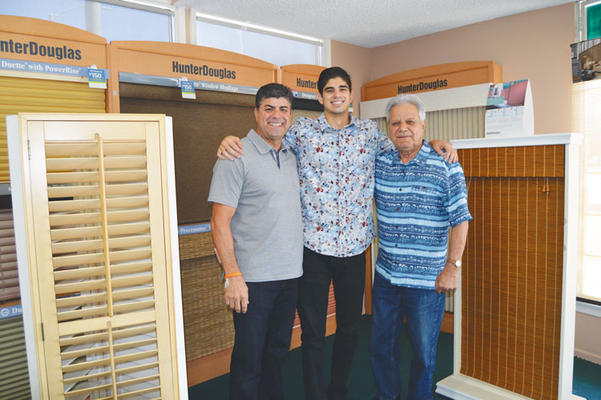 Ryan LaFerrara's grandfather, Sam, has owned Stanley Shade for more than 40 years; however, the business celebrated its 90th year in Long Beach this year. Sam immigrated to the United States from Italy when he was 12 years old and continues to work in the shop six days per week at 82 years old. He is just the third owner since the store opened, and he moved the business to its current location at 3265 E. 7th St. around 20 years ago. "Shades, blinds, shutters, drapes – I would say we have just about any type of indoor window covering there is," Ryan said. "We do a lot of install work ourselves, but if we need extra help, we have other installers that we can call." Ryan explained that the company works with many property management companies, as well as with the Port of Long Beach providing blinds for offices. When asked what sets their business apart, Ryan said, "I would say the personalized and customer service. Because my grandpa has been here for so long, people have been coming in here for 40 years and still know him by name and come in to see him, whether it's for a small part or a new house they're moving into. You won't get service like that many places anymore." For more information, visit www.stanleyshade.com.
Haskell's Prospector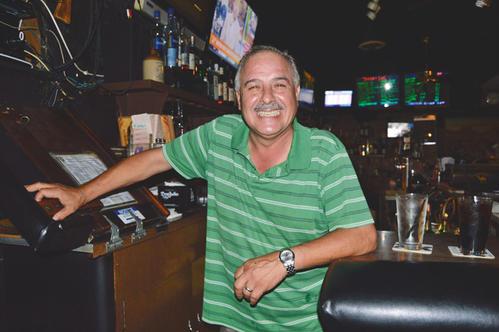 In July 1979, Jose Luis Lemus, aka Louie, began working as a cook at Haskell's Prospector at 2400 E. 7th St., where the bar and restaurant has been located since 1965. "It was kind of an accident. I brought a brother of mine here to apply for a dishwashing job, but he didn't speak any English at all," Lemus said. "So I left my name and phone number. About a week later, they called . . . and she needed me as a cook. And the rest is history. I'm here still." Within months, Lemus was restaurant manager at age 19, and in 1992, Lemus purchased the business. For the next decade, he struggled with high rents until he purchased the property in 1999. After a couple of years, he said business was back up and he was comfortable. Today, the restaurant and bar has around 20 employees and features live music, DJs or karaoke most nights of the week. "You have to stay up with the times. People change. I've been here for so many years, I've been through three generations already. And what was popular 10 years ago, it might be dead today. So you have to keep up with what's going on. That's all I've been doing." For more information, visit www.prospectorlongbeach.com.