Dutch's Brewhouse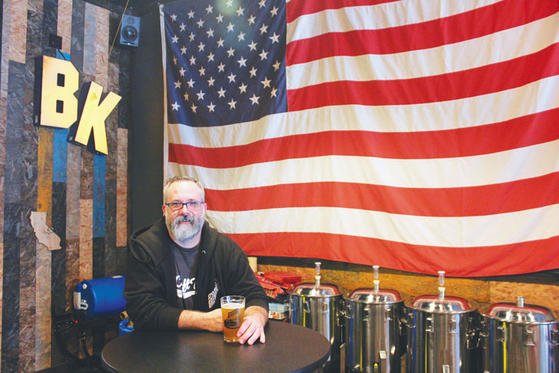 Just over one year ago, Jason "Dutch" Van Fleet opened Dutch's Brewhouse at 4244 Atlantic Ave. Originally from the Dallas area, Van Fleet moved to Southern California in the early 1990s and then to Long Beach around 1997. He was in and out of home-brewing beer for more than 20 years, eventually frequenting Brewbakers in Huntington Beach where he made his own beer until he decided he could open a similar spot closer to home. "We provide a brewing experience. You come in, you pick a recipe and we'll walk you through making that beer," Van Fleet said. The mini-lesson runs between $255 and $285 and includes all time, ingredients and culminates in about seventy-two 22-ounce bombers of beer. Van Fleet said the business will eventually offer a craft soda-making experience for kids. The small brewery and bar has eight employees and recently applied to extend its hours and for an outdoor seating area for customers to enjoy its food, such as its popular pizzas, in addition to its beer selection. "Shiner Bock is a consistent tap always because we stay tried and true to Texas. Our own house beers we're always going to try and keep four taps on and then the rest we're going to be constantly rotating guest taps because there are just so many great beers out there and I don't want to drink the same stuff all the time." For more information, call 562/336-1326 or visit www.dutchsbrewhouse.com.
Sweet and Saucy Shop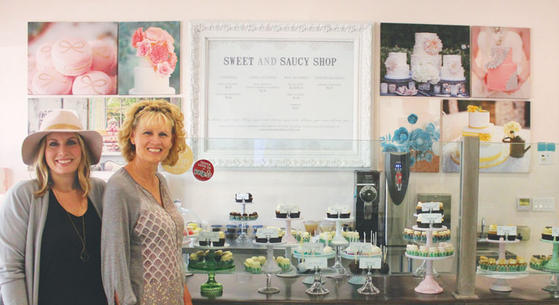 After pursuing a career as a teacher, Melody Brandon decided to change paths and began baking. Sweet and Saucy Shop started out of her apartment kitchen about 10 years ago, moved to a rented kitchen space in Los Angeles for a couple years, relocated near Long Beach State University and then ultimately took up permanent residence at 3722 Atlantic Ave. in Bixby Knolls.  "I always loved watching the cooking shows but I didn't think of cooking as a job. I didn't think about it at all," Brandon said. "I would just throw lots of little parties and events nonstop and I really enjoyed it but still never really thought of it as a job or career. Then, one time, I catered my husband's college event. I was cooking for 12 hours straight and I loved it. That was sort of a lightbulb moment." Today, the bakery has more than 30 employees and specializes in custom parties and events, including being dialed into the wedding scene. Brandon's parents are co-owners of the business, and her mother, Eileen Francabandera, oversees much of the day-to-day business nowadays. "I've chosen to homeschool my kids. I do a lot of the social media, I check in with employees to make sure things are running smoothly, and make sure the customers are happy," Brandon said. "I actually bake way more at home with my kids because I'm with them. I'll teach them the ropes of the business at home." For more information, call 562/595-1100 or visit www.sweetandsaucyshop.com.
FreeSpirit Yoga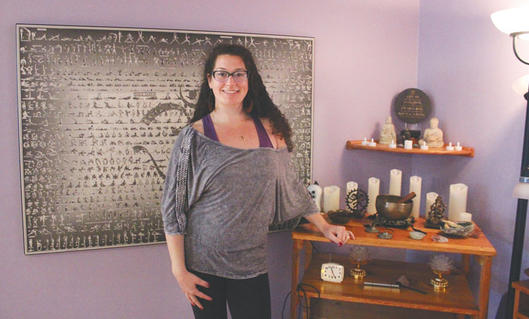 FreeSpirit Yoga has been a Bixby Knolls staple for the last 16 years, when Andrea Testa, a local realtor, opened the space. A second owner operated the space for about five years before Cassandra Vitale took over the business in February. "I was an anthropology major at Cal State Long Beach and I was really excited about and interested in Eastern philosophy and Eastern religions, and somebody suggested that I try yoga," Vitale said. "A friend of mine actually told me to try a class at FreeSpirit Yoga, so the first class I ever took was here 10 years ago. I just love it." Located at 3910 Atlantic Ave., currently about 10 instructors work out of the space. Vitale said she is not a fan of the pretensions that can sometimes surround yoga, and promotes the fact that the practice is for literally anyone and everyone. FreeSpirit is family oriented, according to Vitale, and offers both prenatal and mommy-and-me classes. "Yoga promotes wellness in all aspects of a person's life. I think it's important for communities because it's something that one does for themselves on an individual level but that creates a ripple effect. They are bringing that goodness out into the world. So it really is an inside-out practice and experience." For more information, call 562/989-9959 or visit www.freespirityoga.com.
Lucy's Boudoir Lingerie & Bra Boutique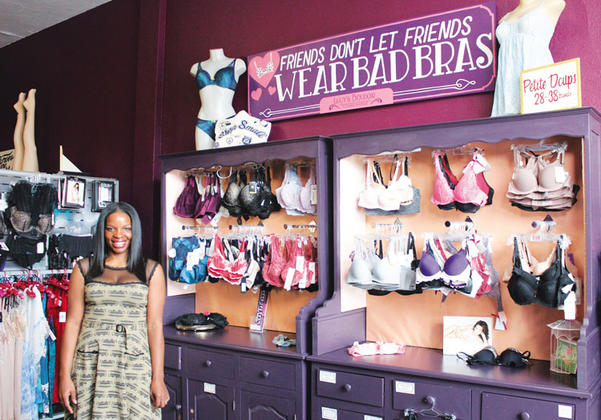 Crystal Rogers took over ownership of Lucy's Boudoir Lingerie & Bra Boutique in January, a specialty store originally opened by Michelle Jouvence in 2012 at 3925 Long Beach Blvd. "A bra itself, I think, takes on this very odd connotation in this country. We view it as a sexualized item. But what a bra really is, is a supportive tool that women need," Rogers said. "Every woman wants to feel good about herself, and when you walk into a place and you see that there is something there for you in the exact size that you are, it sends a very positive message that there is nothing abnormal about you or your size." Aside from stocking bra sizes from AAA to O, the shop specializes in bra fittings to get women into the proper bra size, which Rogers says is critical, despite the fact that many women have worn the wrong size for years without knowing it. The store also addresses needs for women who have undergone mastectomies, have physical deformities and breast asymmetry, by offering an on-call alteration specialist. "When I was in college I could never figure out what I wanted to do in life. I always remember mentioning that, whatever I do, I want to work with women and I want to be in a place where I can encourage them and lift them up," Rogers said. "Ironically, we're in the business of bras where I'm encouraging them and lifting them up literally." For more information, call 562/997-8786 or visit www.lucysboudoir.com.
Long Beach Clothing Co.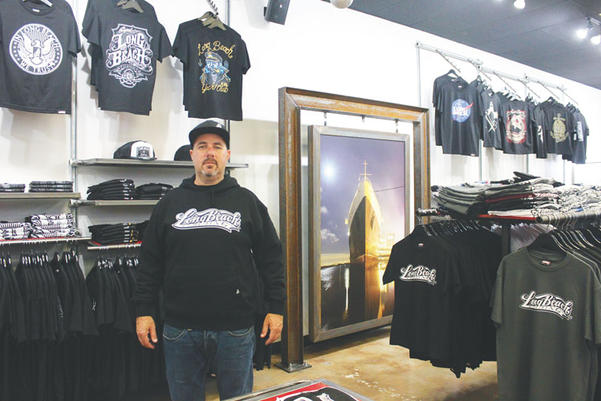 In 2004, KROQ personality Jay Tilles opened Long Beach Clothing Co. at The Pike during grand prix weekend. Tilles said the location was good to get eyes on his shop at first but that its success was actually in spite of the then-underutilized downtown location. In 2010, Tilles had to choose between relocating to Belmont Shore or Bixby Knolls. Ultimately, the shop found a new home at 4218 Atlantic Ave. in Bixby Knolls. "We wanted a smaller feel. We wanted to do business with other owner-operator businesses. We didn't want to be next to big-box retailers," Tilles said. "It's a small-town feel that we really enjoy and is key to our business because we're not making clothing for tourists, although some perceive it that way. That was never the business plan. The plan was to create something like Joe Jost's. If locals want something, do it for locals. Tourists were never a factor." The store currently has four employees and, though it started as a West Coast clothing hub, featuring Blink-182 drummer Travis Barker's Famous Stars and Straps, now only carries its in-store brand. "It's not fair to call it a side project or a hobby; it's a passion project and it remains that way today," Tilles said. "It's designed to do what it does, which is cater to locals and have credibility among the community." For more information, call 562/988-5900 or visit www.longbeachclothing.com.
Giltcomplex Antiques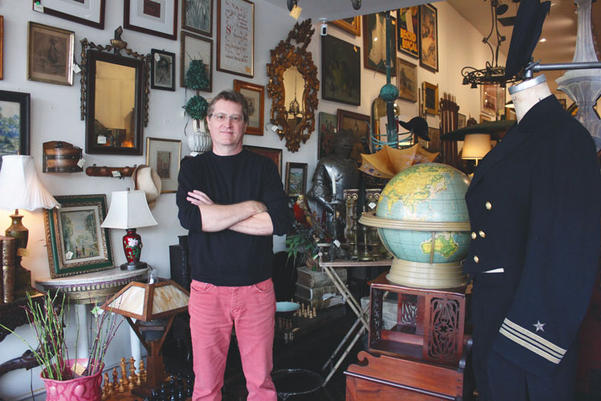 Growing up in rural Nebraska, Brent Baden said he has always loved antiques and going with his mother to farm auctions, sales and watching her refinish furniture. On February 2, 2010, Baden opened Giltcomplex Antiques at 4270 Atlantic Ave. "This is my second profession. I was a high school principal at a private school in South Gate," Baden said. "It was a very positive shift for me. I asked myself one day what I would really love to do and there were a few options that were not practical. But this one was, so I started my own business." He explained that most of his merchandise comes from private sellers who contact him, while small amounts come from estate sales and auctions. He said he is quite particular about what he purchases for the store, saying he would rather have one $500 item to sell than 10 $50 items. The store carries everything from jewelry to Persian rugs to fine art to furniture. Recently, Baden started overseeing estate sales, where he staffs, prices items and sells them for the owners. "We do free appraisals and we try to be helpful in recommending other people who might be interested in buying something if we don't want it," Baden said. "We're always looking for stuff to buy. Finding treasures is better than selling." For more information, call 562/427-2299 or visit www.giltcomplexantiques.com.