DG Boxing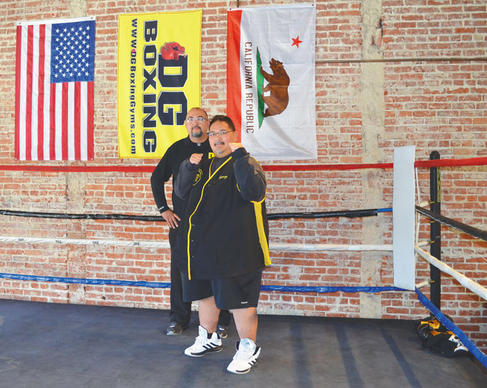 Ever since he was a kid, David "DG" Gonzalez (pictured in back back) has been boxing. He explained that he always thought boxing coaches had the best job and that, after years of seeing how gyms operated, he decided he could do better. "When I was getting older I was seeing other gyms and they'd hurt the guys – it was just for fighters," DG said. "But there are some people who just want to learn to fight to defend themselves so I thought I need a gym that just teaches the average person. You don't have to fight to come to this gym." In 2000, George Orduna (also pictured) and DG opened the original location near Cal State Long Beach. About five years ago, they opened the downtown location at 745 Pine Ave. The gyms teach boxing at a variety of skill levels and classes include boxing for fitness, low-contact boxing and a kids' program that DG takes special pride in. "It's one of the best things for the kids. Even if you're not fighting, just hit bags, you can learn how to fight," DG said. "It was one of the best things for me and kept me out of trouble. If it weren't for boxing I don't know where I'd be. But I'll be here until I die." DG said that anyone who presents this story at one of his gyms will receive one free month of kids' classes. For more information, call 562/606-2665 or visit www.dgboxinggyms.com.
Buono's Authentic Pizzeria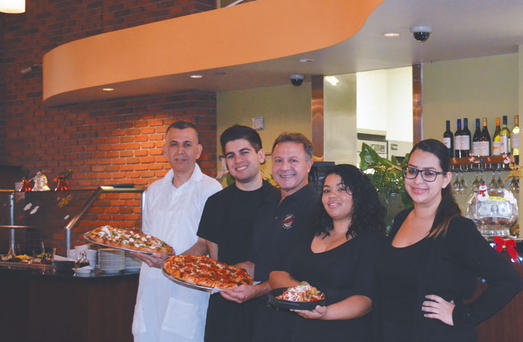 The Buono family has owned and operated a food-based business since 1965 when the family opened a market and Italian deli. The family opened the pizzeria 45 years ago in San Pedro. The first Buono's Authentic Pizzeria in Long Beach opened in the Wrigley area in 1980 with the downtown location at 250 W. Ocean Blvd. opening in 2004. "At the time [Wrigley opened] I was 14 years old and my brother George was 11 and we worked in the restaurant with our dad," owner Frank Buono said. "We have been in business so long that we have generations of families that we know. We have grandparents, parents and grandkids." The downtown location has 20 employees and continues serving up fresh pies and other Italian classics. No matter how many gourmet pizzas the brick-oven-using restaurant introduces, such as the Pizza Giorgio or Buona Lisa, Frank said pepperoni remains the best-selling pizza. Other customer favorites include lasagna with meat sauce and the eggplant parmesan sandwich, among others. Frank said he is proud his family has utilized practices such as farm to table, dishes from scratch, artisan breads, fresh spices and buying local produce for more than 50 years. "I like the friendships that we make and just wowing people. It's gratifying," Frank said. "My favorite part is making our customers happy and being an integral part of the neighborhood. We love being part of the growth that is occurring downtown. That is very exciting to us." For more information, call 562/432-2211 or visit www.buonospizza.com. (Pictured from left: Carlos Ruiz, Matthew Juarez, Frank Buono, Alyssa Reed and Clarivel Huizar.)
Garnica Interiors Inc.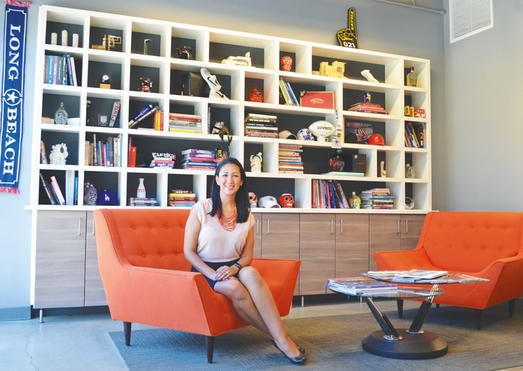 Joen Garnica will celebrate the 15th anniversary of Garnica Interiors next April. "I've always been in the creative visual industry and, as a very young person, I didn't think that I could make money off the thing that I was really passionate about, that I really loved, which was interior design," Garnica said. "At the corporate job I had in the visual industry, I was being sexually harassed. I decided that's not the environment for me. I did not want to be there." The shift led her to open her interior design business at 216 The Promenade N. The goal of Garnica Interiors is to take the stress of designing a space away from clients, Garnica said. She explained that about 70% of business comes from residential clients, with the remaining 30% being commercial spaces. She noted that she does not have a signature style of design. "That's by design. When I leave a client's space, whether it's commercial or residential,  I don't want me to be left at that project. I want my client to be left in that project," Garnica said. "We really take care in custom-tailoring our design to what the client is. I want the client to feel like that's their space, their home, not leave my fingerprint all over it. I'm actually proud of that." For more information, call 562/242-9122 or visit www.garnicainteriors.com.
La Traviata Bar and Lounge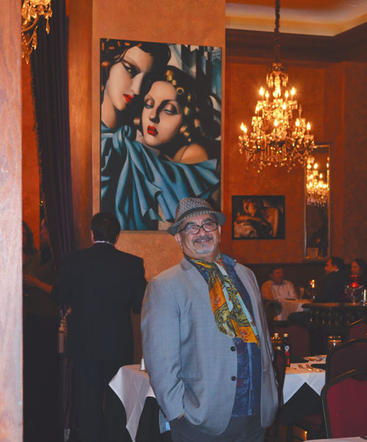 For nearly 21 years, La Traviata Bar and Lounge has operated at 301 N. Cedar Ave. Owner Mario Nasab previously owned The House of Madame Jojo on East Broadway but said he was always drawn to his current location in the downtown core. "I always liked this location. There was another restaurant here, but it wasn't very well looked after and I had big dreams for it," Nasab said. "So I did it and turned it into a very nice corner and what it is today. It shows very beautifully." Today, the restaurant has about 15 employees and serves up Italian cuisine with pastas and sauces made from scratch with ingredients imported from Italy. To create a fun and memorable atmosphere, Nasab said there is always some kind of music, whether it is live jazz performances, pianos, singers or DJs. Early next year, Nasab said he is opening a dog-friendly outdoor patio for dining. "I'm always around myself, asking how customers are and people tell me they like that. I like it too. I like to be around and have fun with people. The interaction with people – with happy people – is my favorite," Nasab said. "We're always sharing moments and time with people who are happy and content. That is very pleasant. We're lucky – people come to eat and drink and celebrate." For more information, call 562/432-8022 or visit www.latraviata301.com.
Bark! Bark! Daycare & Grooming
Vivian Dominguez (left) established Bark! Bark! as a dog walking service in 1999. A decade later, she and business partner Danielle Portillo (right) opened Bark! Bark! Daycare and Grooming at 325 Atlantic Ave. followed by a second location in Signal Hill in 2012. "I've always loved dogs. I grew up with dogs – we both have, actually. And there was a demand. We were the first dog daycare in Downtown Long Beach when we opened," Portillo said. "There was a high demand because Long Beach has a ton of dogs and the dog beach. Long Beach in general is just very dog friendly. It just made sense to open up here." The business has about 25 employees and offers daycare, grooming, walking and overnight boarding for dogs only. Being located downtown, Portillo said much of the business comes from pet owners living in high rises who don't want to leave their pups at home all day. She added that conventioneers also generate business. "We're really involved in the community, too. We just did the Belmont Shore Christmas Parade. We really try to help the downtown area. We are doing the Santa Paws, which is donations and stuff," Portillo said. "We really are a business that tries to be involved in the community and not just go to work every day and go home." For more information, call 562/437-3655 or visit www.barkbarkdaycare.com.
ReCircle Home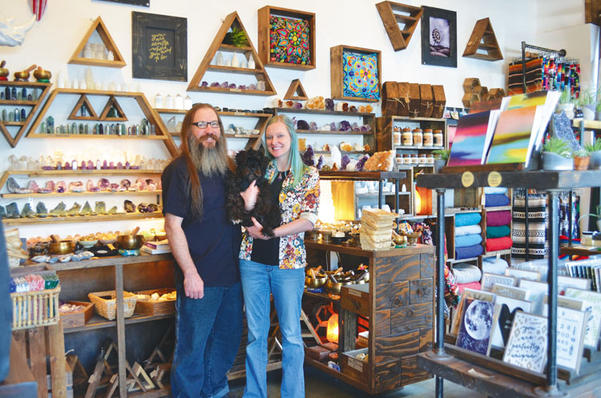 Christine and Darian Parsley opened ReCircle Home at 501 E. Broadway in August 2016. The couple worked as bartenders before turning Darian's woodworking hobby into a source of income several years before opening up shop. Working out of their home workshop, Darian handcrafts all the wood products and shelving in the store. "He's always been super crafty, super talented and just always enjoyed making things," Christine said. "We both were just looking for a change in our lives and we wanted to make things, so we started to do it together." Once focusing on small furniture in his woodworking, Darian now specializes in shaped shelves to complement and showcase the various crystals and home decor items also for sale in the store. Christine explained that the couple moved to Long Beach several years ago, instantly fell in love with the vibe and culture of the East Village and wanted to be a part of it. "Downtown everybody has expensive rent and apartments are small. And I feel like, even with those restrictions, we can still love where we live, and be surrounded by things that are beautiful and that make us happy," Christine said. "So I feel fulfilled about being able to help people with that. And, you know, being able to make things ourselves is very rewarding and it always has been." For more information, call 562/822-6026 or visit www.recirclehome.com.
Kress Market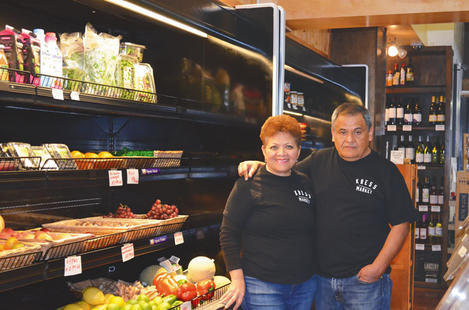 Javier and Hilda Ortiz opened Kress Market in the historic Kress Building at 443 Pine Ave.in August 2010 to bring healthy food options to surrounding residents. "We believe in eating healthy and that's why my wife and I wanted to open a business," Javier said. "People are eating healthier and healthier. That's good because our culture eats big portions and gets full but they don't pay much attention to quality. It's just important for people to understand and learn. I'm happy that younger and younger kids are starting to eat healthier and realize how important that is." Kress Market includes a separate market and deli. On the deli side, Hilda created the menu including the best-selling turkey-avocado sandwich with her homemade chipotle aioli. Javier said Hilda's salads are "awesome" and another customer favorite. In the market, Javier said the focus is keeping a small inventory of a wide variety of organic food, as well as craft beers and organic wines. "Being a mom and pop shop, the community is very responsive. Whenever they can support us they come by. We have made so many friends," Javier said. "We work very close with the community. We love that part. We love that support." For more information, call 562/436-8300 or visit www.kressmarket.com.