Electric Construction Company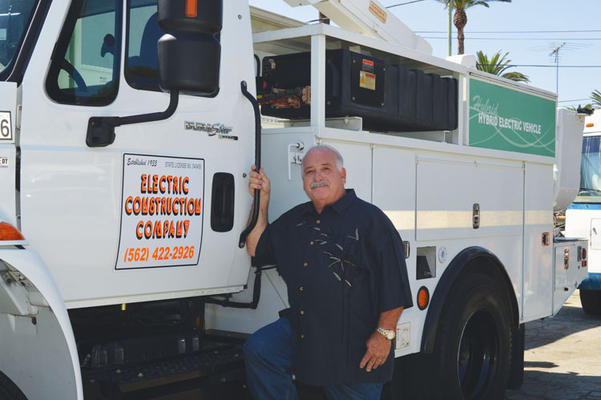 In 1933, Electric Construction Company was established by Patrick Sullivan's grandfather on South Street in Long Beach. Patrick said his grandfather got into the electric business in Kansas but moved to California during the Dust Bowl of the 1930s and started the company. The business moved up the street to its current location at 1709 E. South St. in 1945. Patrick became president of the family business in 1977. "We're an electric contractor, and we have a lighting maintenance division that has aerial trucks and crews that go out and maintain commercial industrial [complexes]," Patrick said. "And we have new installations that we do – full electric design and build. The majority of our projects are our design and we build them." He said he currently has more than 30 employees, most of which work in the field. Patrick explained that aside from designing and building new electrical projects, the company contracts with property management companies, including Watson Land Company and CBRE Group to maintain lighting and electrical at commercial buildings and centers. "Most of our customers are long-term customers," Patrick said. "We've done big projects, from performing arts centers and churches and lots of big commercial industrial stuff, especially getting involved in the Carson and Rancho Dominguez areas." For more information, visit www.a1ecco.com.
Jovino's Pizza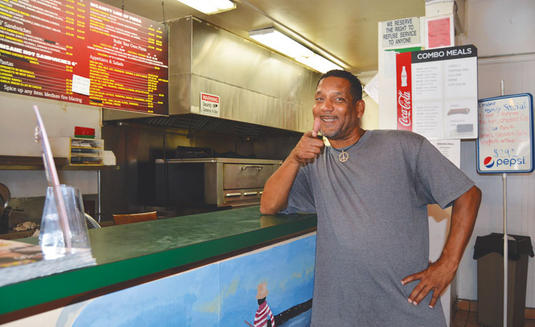 Twenty-eight years ago, Jovino's Pizza opened in Long Beach at 1002 E. South St. Three years ago, after the second owner allowed the business to deteriorate, Kristopher Cotledge and his brother, Big Jeff, purchased the business. "Number one, we're mom and pop – hiring neighborhood kids so this can be their first job, learn something and move on," Kris said. "We're not corporate. We're not big. We're not bossy. We're not strict." He admitted to having no knowledge of the industry before taking over the business, relying on his brother who had worked up the ranks of Pizza Hut and Domino's Pizza to teach him. Jovino's pizza is bigger and better than the competition, according to Kris, who said the shop's rib tips are world famous. Kris said he has three employees, with plans to hire a fourth by the end of summer, and that he enjoys interacting with customers and making kids happy. After three years, Kris said there is still work to be done and challenges to overcome. "Getting the building together itself and getting the neighborhood around us to understand it's new people here, it's not the same person," Kris said. "He had a bad rapport with the neighbors and the neighborhood, so I had to get their confidence back first." For more information, visit www.jovinospizza.com.
Blue Ribbon Drapery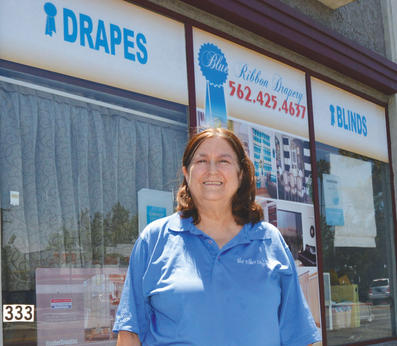 Barbara Gilbert opened Blue Ribbon Drapery at 638 E. South St. in 1980 as a complementary business to her husband's work as a drapery installer. Gilbert explained that she worked with someone in the drapery business and ultimately bought her machines to open Blue Ribbon. Prior to opening the business, Gilbert said she was a substitute teacher, utilizing skills she enjoys putting to use at her business. "I guess I really enjoy the bookkeeping more than anything – invoicing and computer stuff," Gilbert said. "I have a degree in math, so I like figuring quotes out for people." Aside from quotes and invoicing, Gilbert said still sews drapes and helps with sales, though she now employs two seamstresses, three installers and two full-time salespeople. Throughout its 37 years, Blue Ribbon has always specialized in drapes, blinds, shutters and shades but recently expanded to include awnings, which Gilbert said has been a profitable addition to the business. Currently, Blue Ribbon is the window covering specialist for three Costco locations – Signal Hill, Lakewood and Norwalk – providing and installing window coverings for kiosks and displays. For more information, call 562/425-4637.
Miller's Wheel Alignment & Brake Service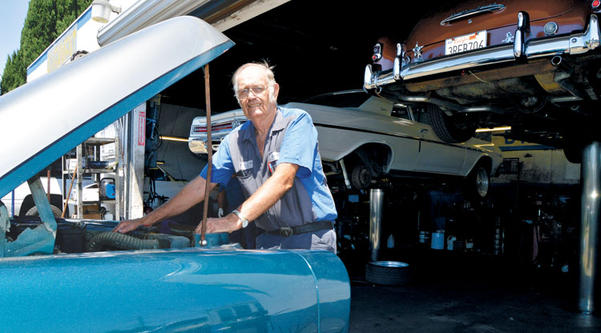 Growing up on a farm, Dean Starks began mechanic work at a very young age fixing tractors and other equipment. His knowledge got him a job at a service station before serving in the military repairing aircraft at Marine Corps Air Station El Toro in Orange County from 1961 to 1965. He went back to work at a service station before being hired at Miller's Wheel Alignment & Brake Services, which opened at 1601 E. South St. in 1946. "I just fell into it," Starks said. "I started working at a service station, worked on aircraft in the military, worked service stations out of that and here I am." In 1991, Starks took over the auto shop, where he currently has three employees and continues his work as a mechanic. Miller's specializes in alignment, brakes and suspension repair, in addition to other services such as tuneups, timing valves and water pumps. When asked what he enjoys most about the business, Starks said, "Taking care of the customers and getting things done. Making people happy. If people are satisfied with what you do, it gives you a good feeling." Outside of the shop, Starks enjoys restoring old cars and is currently working on the restoration of a 1956 Dodge pickup truck. For more information, call 562/422-9037.