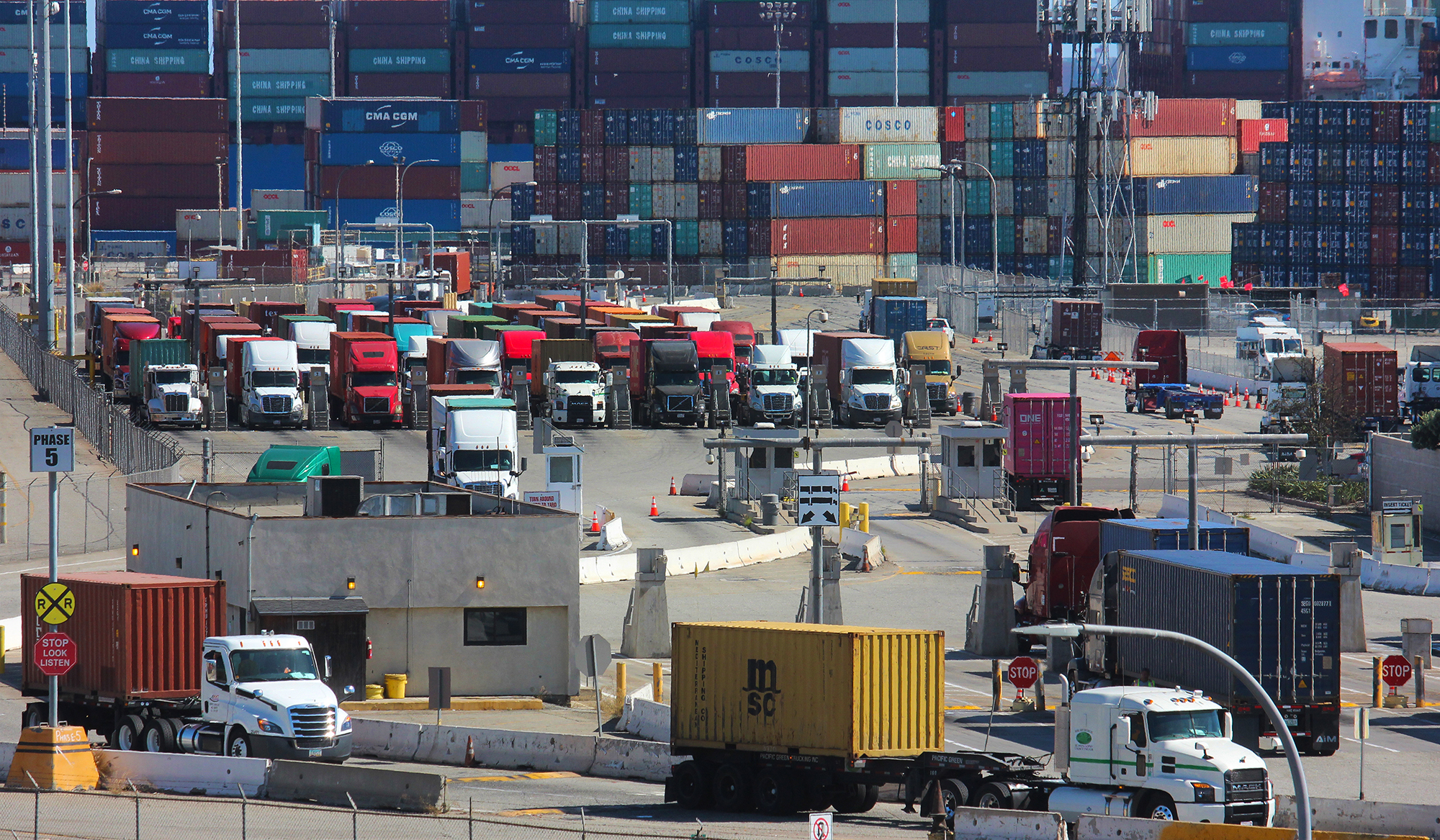 Supply chain issues impact businesses and consumers alike. Businesses experience higher costs and shipping delays that could lead to product shortages. Mirroring those hurdles, consumers see more "out of stock" notices, higher prices and must wait longer for their online purchases to arrive.
Continued supply chain challenges at the San Pedro Bay ports, the busiest port complex in the United States, has spawned such issues for businesses—and individuals—forcing some like Levi Strauss to reevaluate their freight movement.
"We're now shipping most of our product into the U.S. through the East Coast," Levi CEO Chip Bergh said during a July 8 earnings call, specifically citing ongoing challenges at the Port of Long Beach. "Only about 20% of our U.S. freight is coming through the West Coast right now and we've built the delays into our lead-times."
Levi Strauss declined to comment on the specific issues and the reduction level at the Port of Long Beach. The port did not respond to request for comment.
For the past year, cargo volumes at the Port of Long Beach have been record-setting. Month after Month, the port was processing more containers than ever before in its 110-year history. The volumes, coupled with a shortage in containers, chassis, rail cars and other supply chain issues, caused a backlog of vessels.
"Everyone has felt the delays," Pacific Merchant Shipping Association Manager of Government Affairs Jessica Alvarenga said in an email. "Loose Leaf Boba apologized to their customers recently for using a different type of boba because the one they normally use has been stuck at the ports and Peloton purchasers had to wait months to receive them upon ordering."
Container dwell times, the amount of time cargo remains within a port, for Los Angeles and Long Beach have been elevated since last July. Prior to the pandemic, the average dwell time was about two and a half days. After steadily climbing for months, dwell times peaked in January at just over five days with 27.4% of containers staying longer, according to data from the PMSA.
After a brief reprieve that saw dwell times fall to just over three and a half days, the ports' dwell times are back up to about 4.8 days, with 23.6% of containers waiting longer within the complex.
"The pandemic has definitely played a role in the congestion—there was a drop in volumes in Q1 2020 when the pandemic began affecting Asia and operations came to a halt," Alvarenga said. "It resulted with blank sailings, vessels stranded in the middle of the ocean with nowhere to go, items stuck in warehouses that weren't being purchased, etc."
The second quarter of last year saw demand skyrocket for various items due the pandemic, including personal protective equipment, home office equipment and supplies, home gym equipment, home improvement items and more, Alvarenga said. Wave after wave of uncertainty kept the supply chain struggling. Now that volumes have begun to stabilize, the industry is preparing for the back-to-school and holiday surges, she added.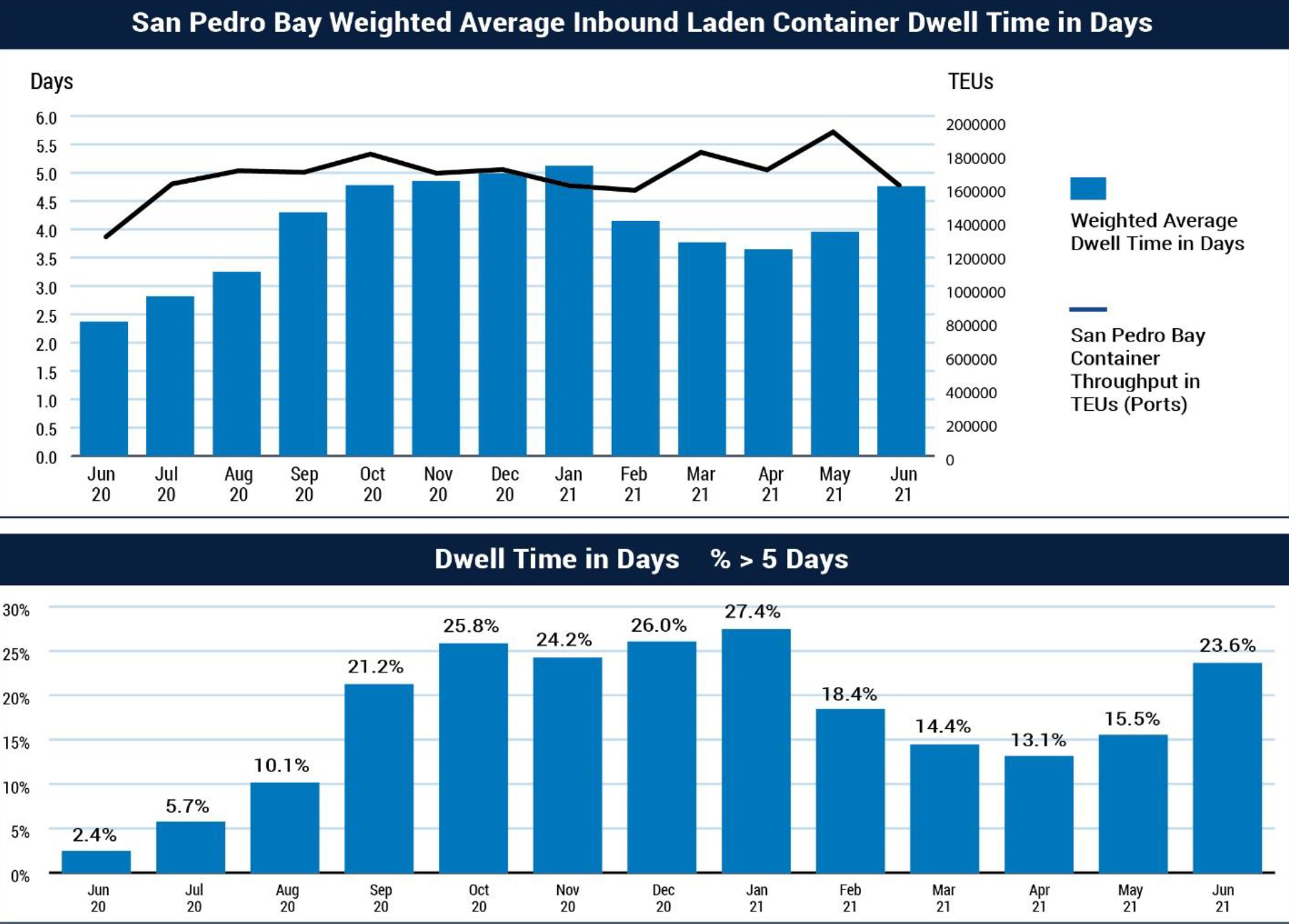 "Our expectation for the second half [of 2021] is there will continue to be challenges, but we're going to be airfreighting more," Bergh said.
Airfreight is significantly more expensive than shipping by sea due to the capacity limitations of aircraft and the volume a ship can carry. But sea freight prices from Asia to the U.S. and Europe have soared over the past year, now $9,733 per 40-foot container from Shanghai to Los Angeles—a 236% increase from a year ago—according to a Bloomberg report.
Beneficial cargo owners (companies such as Levi Stauss) don't typically publicly announce when they leave ports or regions but Alvarenga said it is likely others have pulled back out of West Coast ports due to the delays, opting instead for East Coast ports and more expensive air freight.
Despite the loss or reduction of some freight, the San Pedro Bay ports have been the first choice for many shippers since they are the most direct route from the Asia markets, according to Jennifer Sargent Bokaie, a spokeswoman for the International Longshore and Warehouse Union. While Levi and others may have pulled back on their LA and Long Beach freight, the ports have actually gained market share over the past year, she said.
ILWU Coast Committeeman Frank Ponce De Leon said the union workers stepped up every day during the pandemic and continue to ensure the continued flow of cargo into West Coast ports as fast as possible despite the shortages within the supply chain.
"Not only did we work day and night while taking steps to protect ourselves from COVID-19, but we broke all-time cargo-handling records for several months in a row," Ponce de Leon said in an email. "We are proud of ILWU workers' hard work in difficult times to get American consumers, health care professionals and grocery stores the goods they needed to get through the pandemic."
The union represents more than 20,000 workers up and down the West Coast, including more than 14,000 at the San Pedro Bay ports. Since the onset of the pandemic, 18 ILWU workers have died of the virus.