Long Beach businesses that commit to environmental and sustainable practices are not only being recognized by their community, they're now certifiably green. This year, the Long Beach Office of Sustainability launched its Green Business Certification and Recognition Program to enroll local businesses in the California Green Business Program.
"The goal of the program is to change the business culture so that sustainable practices become the standard practices," Courtney Chatterson, communications specialist at the sustainability office, told the Business Journal.
The statewide Green Business Program helps local businesses to conserve energy and water, minimize waste and reduce their carbon footprints. Those businesses that are certified green exceed environmental regulations and implement specific practices to reduce pollution and protect the health of their communities. At present, the network includes over 4,000 businesses in cities and counties across California.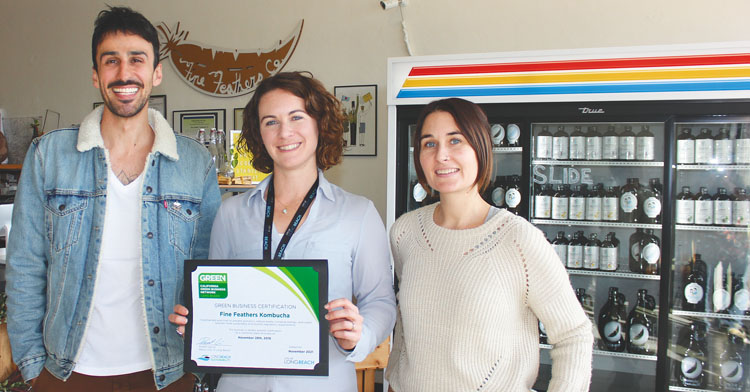 In Long Beach, 50 businesses have begun or completed the steps to certification, according to the office of sustainability. Nineteen have signed up for the program, 21 have initiated the technical process and 10 are now certified green.
Long Beach business owners interested in becoming certified are guided through each step of the process by the office of sustainability. "There's nothing that is a huge barrier," Chatterson said. No major remodels are required by the program, apart from replacing lightbulbs with LEDs and water fixtures with more efficient models. In both cases, the office of sustainability helps businesses find rebates to offset the costs.
Practices that qualify for green certification include reducing water use, conserving energy, preventing pollution, using non-toxic cleaners, avoiding waste and commuting sustainably – which can be accomplished by hiring locally to cut down on vehicle use.
Installing double-paned windows or solar panels are significant steps toward energy conservation, but these are non-essential procedures to qualify for official green status. "We're not trying to put a big burden on businesses to reach this, because a lot of businesses are in rented spaces," Chatterson explained.
One of the first steps to apply for the certification program is to submit an environmental policy statement. Then, a representative of the office of sustainability goes over to discuss ways to reduce energy and water use, and implement waste disposal and recycling. Composting is considered a definite plus. "Sometimes composting isn't quite available yet, but we want to see that they're doing everything they can," Chatterson said.
Depending on how much work a business has already committed to sustainability, the certification process can take as little as two days and as long as six months, Chatterson said. After a business registers with the office, she schedules a walkthrough at their location and gives them a checklist to review. During the walkthrough, she offers technical assistance and documents what has been accomplished and what needs to be improved. The business then makes its improvements and sends in photos and documentation as proof.
"Once they've finished everything on the list, then it's a second visit to say, 'Congratulations, here's your certificate,'" Chatterson said.
In The DNA: Fine Feathers Kombucha
One of the newest businesses to receive green certification was Fine Feathers Kombucha Company, a dedicated craft kombucha shop located at 2296 Long Beach Blvd. Co-founders Jay Penev and Jodine Penev West started fermenting their probiotic kombucha tea beverages in Long Beach in 2014, but their green practices date back to their former home in Portland, Oregon.
"It's part of our DNA," Jay Penev told the Business Journal. At Portland State University, Penev led the "green team" in the department of electrical and computer engineering and helped it to adopt sustainable practices like waste reduction and water conservation. When the Penevs started brewing in Long Beach, they were already committed to operating a clean, sustainable business.
Fine Feathers Kombucha composts all of its organic waste, recycles and reuses bottles, and gives incentives to customers to do the same. When a customer purchases a larger vessel of kombucha (a 16, 32 or 64 ounce bottle), they pay a deposit of either four or five dollars. Once they're done drinking it, Penev explained, they can rinse the vessel and return it to redeem the deposit towards their next purchase. The returned bottles are then sanitized and recirculated.
"We have been implementing this practice since the very beginning of the company," Penev said. "It's been very successful. Since 2016 alone, we have recirculated over 10,000 vessels through just our retail front."
When the Office of Sustainability arrived to do its first technical walkthrough, Penev said they passed the waste management examination "with flying colors."
"We were already doing these things prior to being certified," Penev said, adding that their company has also been certified as a blue restaurant by the water department. Certified Blue Restaurants (CBR) are recognized by the City of Long Beach for exceptional water efficiency practices. Though separate from the sustainability office's Green Certified Business program, Chatterson said that her office has aligned its water requirements with the CBR program so that businesses are able to qualify for both.
When asked about the certification process for businesses that may not have the same head start on sustainability as Fine Feathers Kombucha, Penev was encouraging. "From the standpoint [of] someone who's new and wishes to certify, I think it's very easy," he said. "It basically involves familiarizing yourself with what can be changed, how it can be changed and of course why it needs to be changed."
In the future, Penev wants to see more businesses in Long Beach and other major cities go green. "Everybody should be doing their part in minimizing their waste and recycling," he said. "These things should just be part of the culture."
Other Initiatives And Projects
The office of sustainability has many more green projects and initiatives that are already underway. Ongoing projects include a free mulch pickup service, located at 2755 Orange Ave.; a free service in which Long Beach residents may request that a tree be planted in the parkway located between their sidewalk and street; and an electric vehicle (EV) charger giveaway program.
To request a free EV charger, residents can apply through the office of sustainability's website. The only prerequisite is a permit for the installation, which is available through the city's development services department. "Either [the applicant] or their electrician goes through the building permit process to get it," Sustainability Coordinator Larry Rich said.
Since 2018, the office has given away about half of its available chargers, but Rich estimated there are about 130 still available. He noted that EV owners seem to be on the rise in Long Beach, as the total number of electric vehicles in the city has grown by an annual 40% since 2015, according to the California Department of Motor Vehicles.
A program started in 2018 that is continuing into 2019 is the Urban Agriculture Incentive Zone Program, which enables owners of vacant properties to obtain a property tax reduction for turning their lots into urban farms or community gardens. The office of sustainability has identified about 150 lots throughout the city that may qualify for the conversion.
In 2019, the sustainability office is planning to provide free installations of energy-saving products and services to residents of disadvantaged communities in Long Beach. "If you're in a community that experiences a lot of air pollution in addition to being relatively low-income, you fall into that 'disadvantaged community' definition," Rich explained. Services will include improved insulation and weatherization to prevent energy leakage from homes. "A city-hired contractor would come in and install those at no cost to the homeowner," Rich said.
Also in 2019, the sustainability office is continuing its development of the Willow Springs Native Plant Nursery. "Willow Springs Park is an old oil field that we are slowly restoring into a native habitat," Rich said. Using stormwater runoff to recreate a seasonal wetland on the property, city staff plan to grow the nursery's stock of plants, host educational workshops and ultimately establish a system for sale and distribution of plants to Long Beach locations.
Thus far, nearly one-third of the property's 48 acres has been restored. As it seeks grants to further transform the land, the office of sustainability plans to utilize the existing plants for seeds and cuttings to expand organically. Rich said that, eventually, these plants can be made available to city facilities. "But the real goal is to make those sorts of plants available to residents," he explained. "So when they're working with the water department to do its Lawn-to-Garden Program, they can utilize native plants that are grown locally."