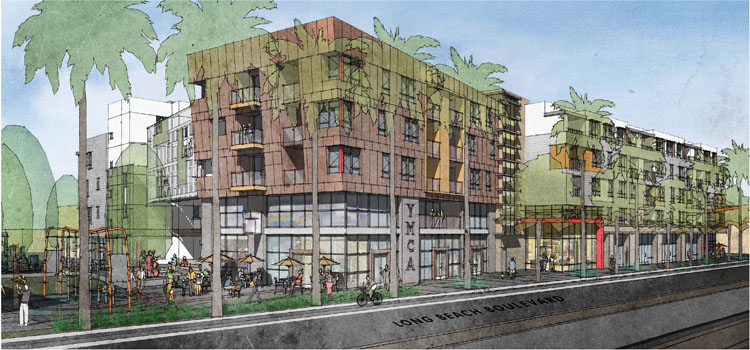 The Long Beach community came together on March 20, despite the threat of rain, to celebrate the groundbreaking of The Spark at Midtown, an affordable housing development that stands to revitalize and activate a vacant lot.
"[This project] was designed to create a spark and a light for those people who are going to live here," Rebecca Clark, president and CEO of developer LINC Housing, said during the event. "It's meant to ignite the collective energies of a whole group of people that are committed to a larger vision."
Located on a 0.93-acre vacant lot at 1900 Long Beach Blvd., plans for the five-story development consist of 95 apartments for low-income families and individuals who have experienced homelessness. Units range from 570 to 1,068 square feet, including 47 one-bedroom units, 24 two-bedroom units and 24 three-bedroom units. The project is expected to be completed next year.
Tenants in 53 of the apartments will pay rent at a rate of 30% of the area's median income (AMI), while tenants of the remaining 41 units will pay 60% AMI. No resident will pay more than 30% of their income on rent. Aside from affordable units, tenants will have access to intensive case management services, a community room with computer lab, courtyards, a community garden, bikes and meeting rooms.
"Getting people off the streets isn't enough," LINC COO Suny Lay Chang said at the event. "You have to help them get back on their feet and you have to give them a track record of proving their worth so that when they go out in the real world, they've got something to stand on."
To further assist tenants, The Spark will house a demonstration kitchen and the Deli 456. Operated by Mental Health America Los Angeles, the social enterprise cafe will provide residents with job and culinary skills, as well as a reference for future job applications. The ground floor of The Spark is also slated to house the YMCA Youth Institute and a four-room clinic operated by Dignity Health – St. Mary Medical Center.
Being a part of The Spark falls directly in line with St. Mary's mission statement, according to President and CEO Carolyn Caldwell. "We dedicate our resources to delivering compassionate, high-quality affordable health care services, serving and advocating for our sisters and brothers who are poor and disenfranchised, partnering with others in the community to improve the quality of life," she said, reading the hospital's mission statement. "This will be a location for our faculty and for our residents so that they can practice their healing ministry of providing health care . . . for those in our community that are the most vulnerable."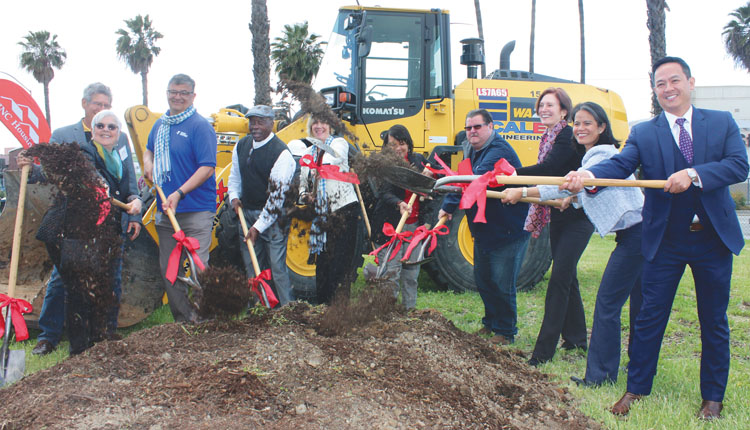 "After 20 years of doing this work, we have low-income youth of color in Long Beach who are engineers, who are doctors, who are attorneys, who are social workers, and they're giving back to community," Bob Cabeza, vice president of community development for the YMCA of Greater Long Beach, said during the event. "We need to give others a home and a place. That's what The Spark is doing. . . . That is why we're so excited to be involved in this partnership. I have seen it in this city, and we can teach other cities how to do this right, how to do this well, how to help our children and our families move out of poverty."
The Spark is LINC's second project in Long Beach, but its first completely new development. The nonprofit affordable housing developer is celebrating its 35th anniversary this year. It has been located in Long Beach for more than 25 years. The company has developed over 8,000 affordable units statewide.
During construction, The Spark is expected to create 153 jobs, generating more than $3.4 million in business revenue, nearly $7.6 million in wages and salaries, and $2.1 million in taxes and fees. Once completed, estimated ongoing annual impacts include 41 jobs, nearly $600,000 in business revenue, more than $1.9 million in wages and salaries, and $478,325 in taxes and fees.
With a price tag of nearly $52.6 million, LINC received funding from several sources for The Spark, including more than $24 million through Raymond James Tax Credit funds, a leading sponsor of the state's low-income housing tax credit program. Additionally, both Century Housing and Los Angeles County chipped in more $10.3 million and $10.7 million, respectively. The Long Beach Community Investment Company provided $3 million to the project, while the Federal Home Loan Bank of San Francisco supplied nearly $2 million.
"It's no secret that homelessness and the housing crisis are the greatest challenges of our time. That's evident by the thousands of people who have no choice but to sleep on our sidewalks, and it's felt by the families forced to make the impossible decision between buying food and keeping a roof over their family's heads. And we don't accept that," Los Angeles County 4th District Supervisor Janice Hahn said at the event. "These are the kinds of projects that allow neighborhoods to thrive and that's why I was so happy to help ensure that the county contributed to make The Spark at Midtown a reality."
Douglas Park For-Sale Office Condos Sell Out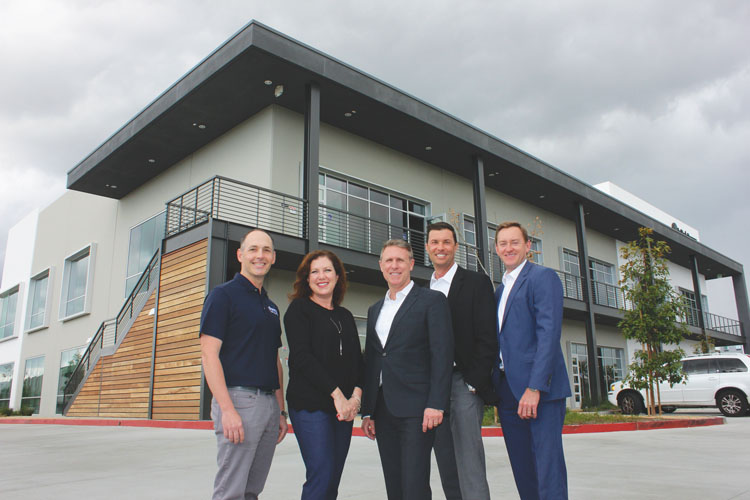 With the announcement of a sale to Bellflower-based Dante Valve, the Terminal at Douglas Park has sold out. Dante Valve purchased 12,500 square feet of space – an entire floor – at the creative office condominium complex. The company will maintain operations at its Bellflower facility after moving its headquarters to Long Beach.
"I've lived in Long Beach long enough to remember the old McDonnell Douglas plant that was at this location. The transformation that's taken place here is exciting," Lisa Dante Papini, president of Dante Valve, told the Business Journal. "Douglas Park is a new and modern development designed for the way people live and work today. Dante Valve's space at the Terminal is a perfect reflection of the old and new. We've got the top floor of a beautiful and modern building with a great view of the old [Fly DC Jets] sign. We're looking forward to moving our corporate offices here later this year."
The Terminal was developed by Long Beach-based Urbana Development. Construction of the four 25,000-square-foot, two-story buildings began in October 2016. Lee & Associates Commercial Real Estate Services Principals Jeff Coburn and Shaun McCullough oversaw transactions on behalf of Urbana. The following is the complete list of companies that purchased space at the Terminal: Appraisal Pacific Inc.; CalCom Federal Credit Union; The Core Group; E-Commerce Exchange; JLM Strategic Talent Partners; Jobfilez Inc.; Kollin Altomare Properties; Merrimac Energy Group; Moffat & Nichol; Mountain-Bishop Private Wealth Management; PostCity Financial Credit Union; Second Floor; Sixt Rent A Car; The Sullivan Group of Court Reporters; and Transworld Shipping Inc.
Recent Transactions By Local Firms
The following is a list of recent transactions by the teams at INCO Commercial and William Morris Commercial (WMC):
600 W. 15th St. – Jay Price of INCO represented the buyer in the $4.24 million sale of a 36,000-square-foot industrial building. The space is leased by Mag-Trol and the City of Long Beach, who are remaining on as tenants. Eric Daschbach of Cushman & Wakefield represented the seller of the property, which was recently renovated.
235 E. Broadway – McAlister GeoScience and Apex As-Builts leased 1,540 square feet of office space. Jen Long of WMC represented the tenant, while the team at Coldwell Banker Commercial BLAIR WESTMAC represented the landlord.
111 W. Ocean Blvd. – Uthoff Law leased 1,098 square feet of office space at Landmark Square. WMC's Toliver Morris represented the landlord, while the team at Davco Realty Advisors represented the tenant.
707 E. Ocean Blvd. – Hi-Lo Liquor leased 2,289 square feet of retail space on the ground floor of The Current. WMC's Catherine Morris represented the landlord and tenant.
New Business Openings And Announcements
The Long Beach Planning Commission approved a conditional use permit for the sale of alcoholic beverages for onsite consumption at 2222 E. Anaheim St. on March 7. According to Monorom Neth, executive director of the Midtown Business Improvement District, owners of The Deuce Cocktail Lounge plan to open their doors for business within the "next few months."
• Four new tenants are coming to Long Beach Exchange (LBX) at Douglas Park – The UPS Store, Runners High, Deka Lash and the Navy Federal Credit Union. The UPS Store is expected to "open soon," with Runners High opening in May, Deka Lash debuting in July and the Navy Federal Credit Union opening its doors this summer, according to a press release. The Popbar celebrated its grand opening inside The Hangar at LBX on March 22. Poutine vendor The Kroft opened inside The Hangar on March 16.