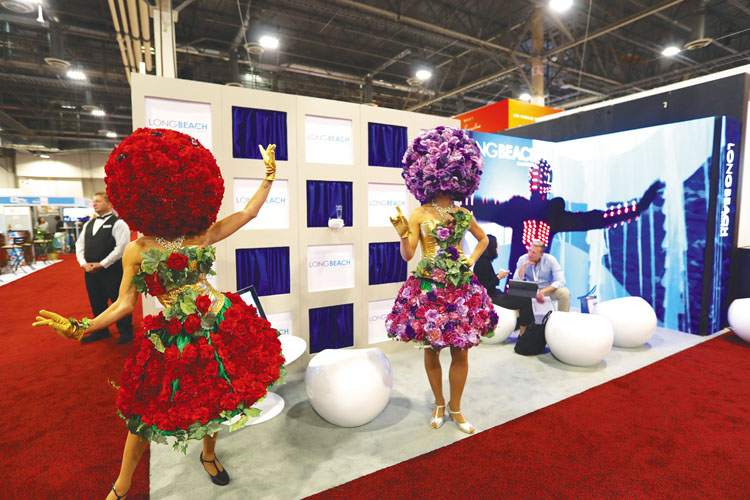 When it comes to marketing Long Beach to meeting planners, the Long Beach Area Convention & Visitors Bureau relies upon the city's assets – principally, its unique and turnkey venues at the Long Beach Convention & Entertainment Center and nearly year-round Southern California sunshine – as well as a focus on relationship building with publications and prospective clientele. Although the organization is a nonprofit, its marketing team boasts an entrepreneurial attitude with a penchant for taking risks to make sure Long Beach gets in, and stays in, the spotlight.
"We may be a nonprofit organization, but we have a for-profit mentality," Jeff Forney, the CVB's vice president of membership, marketing and special projects told the Business Journal in a meeting at the organization's offices. "Our job is to be as successful as possible."
Seated beside him, Loren Simpson, director of digital communications, finished his thought: "And to make you as successful as possible."
Forney noted that the success of the CVB and the convention center – demonstrated again this year with the designation of second "best in the west" by trade publications Successful Meetings and Meetings & Conventions – are due to the CVB's penchant for getting ahead of industry trends. "Usually what happens is it takes centers and buildings years to catch up, whereas we see trends and stay ahead of them," Forney said. "When we're [now] seeing, five years later, people talking about repurposing spaces, we did that in '13. . . . We were way ahead of the game," he said.
In 2013, the convention center debuted its Pacific Room – a 46,000-square-foot event venue that can be adjusted to accommodate events ranging in size from receptions to concerts. The venue, located in the Long Beach Arena, comes equipped with a theatrical truss system and is outfitted with customizable lighting, furniture and other assets that come at no added cost to meeting planners.
This re-imagined space was the first of several to debut over the next five years. Others include the outdoor party venue The Cove, which is essentially an underpass located beneath the Terrace Theater Plaza and fronting one of the center's most used ballrooms; the Terrace Theater's lobby and plaza, which is now equipped with Bellagio-style fountains, a sound system and theatrical lighting; the Bogart & Co. eatery and lounge; and other spaces. Showcasing these event venues in trade publications and online with stunning professional photography and videography is one of the CVB's key strategies when it comes to advertising to meeting planners.
Rather than using an outside agency to purchase ad placements, Forney has developed personal relationships with industry publications, he noted. Cultivating these relationships has multiple benefits. "We work with them to get connected to the writers, the editors, and to really help pitch our story about the destination," Forney said. "Also, negotiating the rate keeps our cost down because we do it directly and we hold them to those rates. Since 2006, the rates we negotiated in print have not gone up."
Working directly with publications also helps ensure the CVB's ads are given desirable page placements, Forney noted. "As an example, in Convene, we always have the inside front cover on page two, every month," he said, referring to a meetings industry publication.
The CVB's advertisements highlight different aspects of Long Beach that make it a unique place for a convention or meeting, be it the convention center's turnkey venues or its waterfront location, Forney said. "It's always about – stealing a term from Loren [Simpson] – the Instagrammable moment. It's about a space, an experience you can't get anywhere else," he said. "We use very glossy, beautiful jewel-toned photos that stand out in the publications. We try to go lighter on the text, with more imagery."
To find out what meeting planners are looking for and to advertise to those desires, Forney said the CVB relies on relationships developed by its sales executives in key markets throughout the country. "We're all about relationship selling. The sales team really knows the clients well and they talk to them about what their needs are, what the trends are," he said. "On our [annual Washington] D.C. mission where we see 300 clients in a week, we talk to them about what they read, what they're looking for."
For meeting planners in the central and eastern United States, what they're looking for is often an escape from colder weather. "Great weather, sunshine, palm trees, beach," Simpson said. If it's particularly gloomy elsewhere in the country, she and her social media team will push out content showing Long Beach's sunny weather and active coastal lifestyle. "We're still telling the same story, we're just adding what your [meeting] attendees can do as well," she said.
In addition to pushing out enticing content on the CVB's social media accounts, Simpson has also spearheaded a new kind of advertising ploy – Instagram account takeovers. The CVB pays a publication to take over its Instagram in order to spread the word about Long Beach as a destination for meetings and tourism to new and wider audiences. This year, for example, Simpson orchestrated a takeover of Los Angeles Magazine's Instagram account.
Digital ad buys are often rolled into print advertising purchases as added value, according to Forney. Typically, the CVB chooses to advertise digitally via e-mail campaigns sent out by industry publications because it is easier to track how many people click on or see the ad, he explained.
The CVB also attends key conventions for meeting planners, taking the opportunity to give prospective clientele an in-person experience that showcases what Long Beach has to offer. Case in point, according to Forney and Simpson, was this year's IMEX America convention. Held in Las Vegas, CVBs from America's major cities, and even from countries abroad, vie for attention from meeting planners. "You're going up against nations. Scotland has a 60 by 60 [foot] booth. It's massive," Forney said of the convention.
To stand out in such an environment, the CVB took some risks with their booth – an eight-foot-tall immersive screen wrapped around guests, giving them a sense of what it would be like to visit Long Beach and attend a meeting there, Simpson explained. Guests were greeted by a head-turning art installation – a model wearing a headdress made of flowers that completely obscured her face – and a wall of modules through which outstretched, white-gloved hands offered glasses of champagne. "We had not only champagne, but also we had locally sourced Romeo's Chocolates being handed out, so you had a taste of Long Beach too," Forney noted.
Simpson said the booth was "extremely" successful. More than 300 clients entered the booth, in comparison to fewer than 100 in prior years, according to the CVB. The event also generated 15 requests for proposals from potential clients.
Overall, Forney said of the CVB's marketing strategy, "It's really about what sets us apart, because every big city has a convention center."