Last year the Business Journal reported that 2017 was the "best year ever" for Long Beach tourism. While 2018 is not expected to seize that crown, businesses are reporting steady sales and optimistic outlooks going into next year. Overall, development in the city's downtown and an engaging assortment of entertainment venues and events continue to bring in visitors and locals alike.
Hotels
The occupancy rate in Long Beach hotels was essentially flat in 2018, according to Bruce Baltin, managing director of CBRE Hotels, a global firm that provides analyses and forecasts of hotel markets. CBRE has calculated the 2018 occupancy rate for the city at 79.4%, versus 79.5% for 2017. The plateau is hardly bad news, Baltin said.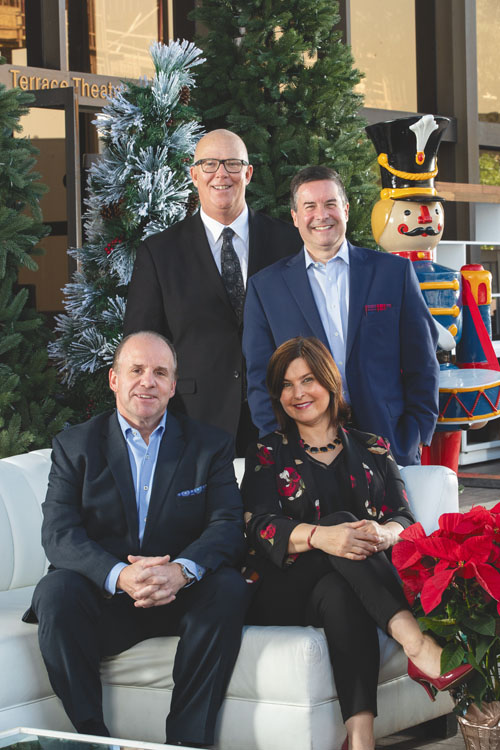 In December of 2017, Hilton opened its dual-branded Homewood Suites and Hampton Inn at the Long Beach Airport, bringing 241 new hotel rooms into the city. The fact that total occupancy has dropped only 0.1% since that time is the sign of a healthy market, Baltin said. "It means it was fully absorbed."
Because occupancy was essentially flat, Baltin went on, so were average daily room rates charged for overnight stays, which dipped about 0.5%. Last year boasted the highest occupancy rate that CBRE had seen in Long Beach in 25 years of analysis. Hotel occupancy rates were well above the national average for the past two years. "National average occupancy is at an all-time high this year at 66.2%," Baltin said.
Tourism visits are increasing to Long Beach and more people are moving in, Baltin said. He pointed to the continued improvement of the downtown area and growing number of enplanements at the Long Beach Airport as positive influences on the economy.
While the passage of Measure WW, a new law that sets prohibitions on how many rooms hotel staff can clean per shift, may impact hotels' bottom lines, Baltin said, it won't necessarily impact future occupancy rates.
At the Long Beach Marriott, General Manager Imran Ahmed believes Measure WW may necessitate the hiring of an additional 15 housekeepers. Because of the measure's "humane workload" standard, hotel employees cannot clean more than 4,000 square feet (approximately 10 average-sized rooms) in an eight-hour day. With 309 total rooms, Ahmed described his hotel as the largest at the airport.
As of November, the Marriott was about 4% behind in occupancy from 2017, with revenues per available room at about $150, or $5 less than last year. This was partially due to the opening of the Homewood Suites/Hampton Inn by Hilton Long Beach Airport, he said. Occupancy may slip again in 2019, he estimated, as the Marriott makes improvements to its existing rooms. "As soon as the renovation gets done, we will have brand new rooms," he said, and new rate increases. Ahmed is hoping renovations will be completed by first quarter of 2020.
Pamela Ryan, general manager at the Renaissance Long Beach Hotel and chair of the Long Beach Hospitality Alliance, reported occupancy was between 82% and 83%, on par with 2017. Ryan did not expect Measure WW to affect the Renaissance, as its ratio of rooms to housekeepers is not outside the bounds set by the new law. "I'm not as impacted as some of our other hotels are," Ryan said.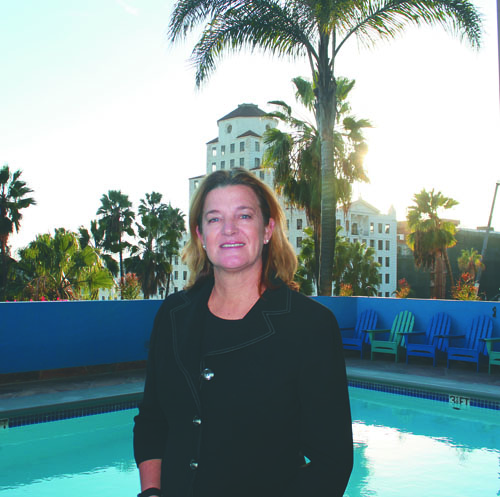 Steve Goodling, president and CEO of the Long Beach Area Convention & Visitors Bureau, told the Business Journal that the Renaissance's recent upgrades to its ballroom is helping his organization book meetings in the city. He also pointed out that planned renovations to the Westin Long Beach's lobby should do the same. "They are going more to a lifestyle concept with a great bar in the middle and then great seating around it," he said.
The Hotel Maya, a DoubleTree by Hilton hotel, reported a slightly higher occupancy than last year, but General Manager Kristi Allen noted that it tends to pull a greater number of leisure guests than hotels located near the convention center or airport. Those tend to book higher group rates for corporate events, she explained. "We're probably skewed higher towards the transient traveler versus the group [business]," she said.
Observing a trend also reported by several businesses interviewed by the Business Journal, Allen said that tourism seems to be on the rise in the city. "Long Beach has been increasing its leisure demand," she said. "There's a lot of development downtown. The Queen Mary has been doing a lot of events, and that does drive leisure demand [and] weekend demand."
Daily room rates and the revenue generated per available hotel room is flat compared to last year, she reported. That, too, she attributed to fewer group rates and more transient occupancy. Group bookings can lead to more business overall, she explained. "They come in on conventions and they have big functions, breakfast, lunch, dinner, and they're here on expense accounts. We like that," Allen said. "But being able to fill the room nights with a leisure guest is nice as well."
Business continues to be good at the Maya on the whole, Allen said, and 2019 is expected to be a stronger year for group bookings. "Next year is pacing considerably up from this year on the group side," she said.
Tourism
For both visitors and locals, Long Beach offers myriad options for day trips and even longer voyages. Businesses operating from the harbor are available for those looking to sightsee or just get away from it all. Some like, Dan Salas's Harbor Breeze Cruises, have long-established reputations.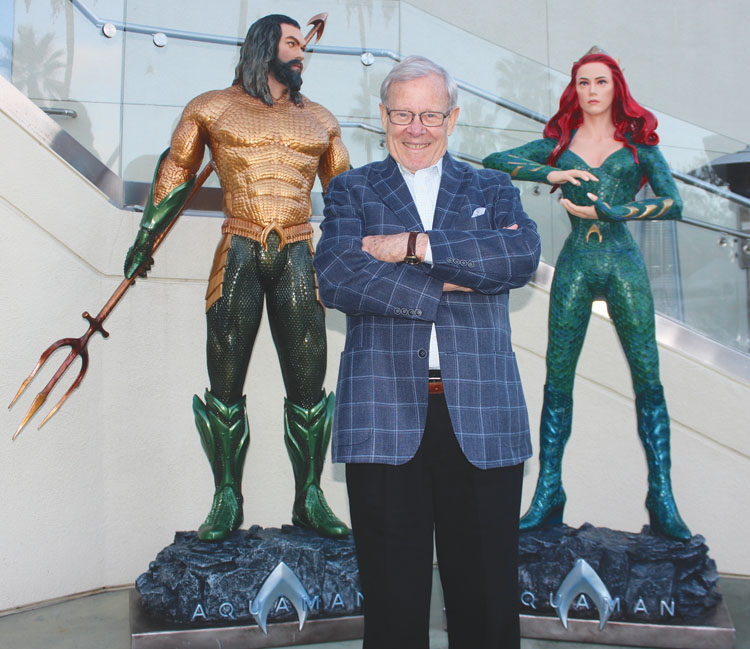 Salas has been operating his whale watching tours out of Long Beach for nearly two decades. His low-emission, double-deck sightseeing vessels are designed for premium comfort and breathtaking views. After founding Harbor Breeze Cruises in 2001 with one charter sportfishing boat, Salas is now a commodore of sorts, overseeing eight passenger boats – including the 500-passenger Sir Winston. Sir Winston is the newest addition to Salas's fleet and is primarily employed for corporate dinner cruises, events and weddings.
Salas reported uniform sales in 2018, but he said that's the price of good competition. "When we first came into Long Beach in the early 2000s, competitors underestimated Long Beach," he said. Operators out of Marina del Rey, Newport Beach and San Diego "never really gave Long Beach a shot," he added. That enabled Harbor Breeze to build up its business and develop key relationships with the city, including a lasting partnership with the Aquarium of the Pacific.
"We bring [Aquarium] naturalists onboard . . . and they lead the excursion out into the ocean and give the customers the latest information on the dolphins, the whales, the sea birds, [and] what we can do to help curb the storm drain runoff," Salas said. The professionalism and care of these educators has both developed the reputation of his company and the value of Long Beach as a major sightseeing location, he said.
President and CEO of the Aquarium Dr. Jerry Schubel called Dan Salas "a great citizen." By offering combination tickets for Harbor Breeze Cruises and the Aquarium, Schubel said their combined promotion has done lasting good for the harbor. "It's been a wonderful partnership," he said.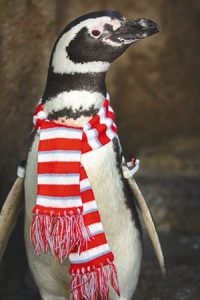 With the sightseeing opportunities in Long Beach's harbor and its continued business and residential development, Salas said, "all of a sudden, our competitors woke up." But Salas welcomes them. Long Beach is pro-business, he said, and he's thankful for it. "Competition's what drives better equipment, better service. Just up your game and the marketing efforts," he reflected.
Salas' newer vessels all have wheelchair accessibility, including ramps and accessible restrooms, and his fleet has been upgraded to meet all clean air standards imposed by the state.
"I can't say enough about working with the city for almost 20 years," he said. "And the ports, and growing a business here in Long Beach, it's beyond my wildest dreams."
Like Harbor Breeze Cruises, Catalina Express reported equivalent business compared to last year. Though, for President Greg Bombard, that's something of a relief. Bombard was concerned that, after ending a six-year promotion to offer free rides on travelers' birthdays, ridership would decline. Yet sales continued to be steady.
For 37 years, Catalina Express has ferried passengers to and from Catalina Island. Bombard's company now operates a fleet of eight vessels that offer smooth rides. "People who think that boats are something they can't really get along with, they'll be shocked at how well they'll do and how much they'll enjoy it," he said. "They've all got ride control, which means they have wings underwater that help the boat stay flat."
The boats are also fast, Bombard added, with the voyage taking about 65 minutes from Long Beach to the island. "This last summer we operated as many as 38 trips a day over and back," he said.
Bombard credited his steady sales to the many facilities and attractions available on Catalina, which continues to draw visitors from both California and the greater United States. Bombard listed off the many activities on the island: camping and hiking, paddleboarding and kayak tours, jeep tours, watersports, snorkeling, museum and festivals. "Take the whole family, because there's something for people to do no matter if the kids are three on up to if they're teenagers," he said. "They're going to enjoy their day, and they're going to enjoy what they see on the island."
Hornblower Cruises and Events, which offers private charter cruises out of Long Beach as well as holiday public dining cruises, reported to the Business Journal that its bookings increased 10% over last year. "In 2019, we are working towards the same increase," Hornblower's Associate Director of Marketing Elizabeth King said.
Hornblower works closely with the City of Long Beach to promote its cruises to locals and tourists, King said, and is a member of the Long Beach Area Chamber of Commerce and the Long Beach Area Convention & Visitors Bureau.
Business has continued to be strong for the largest ships in the harbor, too. Currently, Carnival Cruise Line operates three ships year-round from Long Beach: the 3,012-passenger Carnival Splendor, which sails seven-day Mexican Riviera cruises and 14-day Alaska and Hawaii voyages, and the 2,056-passenger Carnival Imagination and Carnival Inspiration, which operate three- and four-day cruises to Catalina Island and Ensenada. When the new 4,008-passenger Carnival Panorama replaces the Splendor in 2019, Carnival expects to increase its capacity for its week-long cruise by 33%.
"Bookings have remained constant over the years as we sail at capacity regardless of ship or cruise duration," Fred Stein, Carnival Cruise Line's vice president of revenue planning and deployment told the Business Journal. He added that the new Panorama is expected to carry 650,000 passengers a year from Long Beach, "the most of any cruise operator on the West Coast."
Cruisegoers board these ships from the Long Beach Cruise Terminal located beside the Queen Mary. Notable for its geodesic dome once built to house Howard Hughes' Spruce Goose seaplane, the terminal was recently renovated to double its original facility space. Stein said that the new terminal has enhanced Carnival's operations by streamlining the check-in process and enabling guests to board their ships and start their vacations even sooner.
"Previously, the terminal was 'one-way,' meaning embarking guests could not enter the terminal until all guests from the prior cruise had finished disembarking," Stein explained. "With the expansion, the terminal is now 'two-way,' so guests can enter the terminal while debarkation of the prior cruise is still underway."

"The Long Beach Cruise Terminal continues to get rave reviews from our guests and ranks as the highest scored terminal experience in North America for the Carnival Cruise Line brand," Wilkin Mes, director of the Long Beach Cruise Terminal, said. "These are exciting times for the City of Long Beach and Carnival Cruise Line."
For the city's landbound visitors, getting around is not as easy as gliding gracefully over the waves. But Long Beach Transit (LBT) has endeavored to offer the next best thing. The transit agency offers its free Passport shuttle bus service to ferry visitors to many of downtown's biggest attractions, including the Queen Mary, Aquarium of the Pacific, Pine Avenue, The Pike Outlets, Shoreline Village and several downtown hotels. "It helps take cars off the road and it helps us to give people an opportunity to do things they would not have done had they had to drive by themselves all day," LBT President and CEO Kenneth McDonald said.
In addition to its Passport bus, LBT offers special summer programs like its Museum Express, a $12 roundtrip from Long Beach to several museums and education centers, including the Getty Center, Griffith Park Observatory, Ronald Reagan Library, Bowers Museum and many others. The Galaxy Express is a free shuttle that takes passengers from StubHub Center to L.A. Galaxy home games. "That is a partnership we've had for over two years now with the StubHub Center," McDonald said.
Public transit has faced competition from ridesharing services like Lyft and Uber, McDonald said, but the majority of LBT's ridership comes from local commuters, not tourists or folks out on the town. "About 80% of our ridership are people going to school or going to work," he said.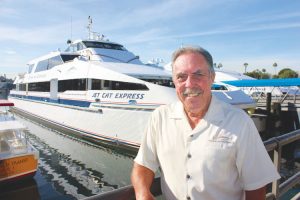 Overall, McDonald said that ridership has risen from 2017 but is about 1.5% below 2015. McDonald said the numbers may stabilize heading into Fiscal Year 2019, which began in October. Ridership has increased 0.9% for that month year over year, he added.
In the meantime, McDonald and his staff are considering ways to make transit easier and more convenient for commuters and the rapidly developing downtown community. "We're looking at mobile ticketing," he said. "We're improving our website, how we communicate to our customers, how we enhance the customer experience." One day, he said, that may include real time bus tracking.
LBT is also planning to expand the schedule of its water taxi service. Currently, the company's AquaBus service operates from April to October. These 30-foot boats take riders around the harbor from Shoreline Village to the Queen Mary, Aquarium and Hotel Maya. "It is pretty popular with people and we're trying to expand it so folks can use it more," McDonald said. LBT is looking at that possibility for early next year.
Waterfront Attractions
What makes Long Beach an enduring tourist and business destination, Pamela Ryan told the Business Journal, is its ideal location. "We have this large city that sits just right on the water's edge," she said. And curled around that edge is an assortment of charming venues, from Shoreline Village to the Aquarium of the Pacific and the historic Queen Mary.
Overlooking Rainbow Harbor and styled after a Cape Cod fishing village, Shoreline Village is a shopping, dining and entertainment center that has drawn in more sales year after year. "Every single year we continue to build," General Manager Debra Fixen said, in regard to retail. Fixen reported 9% sales growth in the 2nd quarter of 2018 and 8% in the 3rd quarter.
Corresponding to the rise in sales, Fixen estimated that Shoreline is seeing more visitors over time. "The population of Long Beach is growing along with the tourism," Fixen said. "So we see numbers from that." With the expansion of the cruise terminal, Fixen has noted an uptick in visitors from Carnival cruises during breakfast hours, she noted.
Its proximity to the convention center and hotels, and a short bus ride from the Queen Mary, makes it popular with tourists, but Shoreline Village has also expanded its marketing efforts to bring more locals to the area. "A lot of times, locals come out when they have family in town or they haven't been out for years," Fixen said. "We try to do different events that will appeal to the locals also."
Fixen added that the village has always been a great location to watch the Queen Mary's fireworks display on New Year's Eve. The center also celebrates Mardi Gras every year with a parade, and hosts a pirate festival in the summer. In December, Shoreline is offering traditional Christmas entertainment with carolers, a brass band, Santa Claus, and, Fixen added, maybe even a little snow.
Across the water, the Queen Mary continues to offer a picturesque location for weddings, conferences, concerts and celebrations of all kinds. Since leasing the Queen in 2016, real estate developer Urban Commons has worked to both improve the structure of the 82-year-old ship and expand upon signature events like Dark Harbor, a Halloween scarefest that stretches from September 27 to November 2.
According to Dan Zaharoni, chief development officer for Urban Commons, over 140,000 people attended Dark Harbor this October. "We're pretty close to capacity on every night that we're open during October," Zaharoni said.
For its annual winter carnival, the Queen Mary plans to host light displays, musical performances and many family activities. Urban Commons nixed the ship's annual CHILL event, which has for the past several years running encompassed land surrounding the ship, including part of the adjacent dome. "We believe bringing Christmas onto the ship is going to be very popular with communities and families in Long Beach," Zaharoni said, and added that Urban Commons plans to enhance the experience even more in 2019. "We're really excited about it."
Urban Commons has also partnered with music festival operator Goldenvoice to bring live music to the city's historic landmark. "Forbes Magazine called us the hottest concert venue in Southern California," Zaharoni said. "People are enjoying the Queen like never before."
On 10 different days in 2018, concerts brought more than 15,000 visitors to the Queen Mary events park, Zaharoni said. "Bringing top-named acts from internationally recognized entertainers to the ship is going to continue in 2019," he added.
Urban Commons is currently in the process of putting together its winter concert, which Zaharoni predicted will break records in terms of attendance. "We want to give people a good time," he said. "We feel like we're doing that better than ever before."
The Aquarium of the Pacific is also gearing up for its annual holiday festivities. Starting on December 1, the Aquarium is transforming its entryway into a weekend snow play area to run through December 23. "There will be photo opportunities with Santa Claus," Schubel told the Business Journal. "And people will see a Santa diver giving 'Fish-mas' gifts to all the animals every day at 10 a.m."
While the submarine Santa is delivering his fish-mas gifts, the Aquarium will also feature a daily penguin parade in front of the sea otter habitat. "There are an awful lot of things going on," Schubel said. Other holiday activities will include weekend crafts, showings of "How the Grinch Stole Christmas" and Hanukkah storytelling in the Aquarium's Ocean Theater on December first, second, eighth and ninth.
From December 10 to February 28th, the Aquarium will feature the work of Southern California artist Truong Buu Giam. Giam's impressionistic watercolor paintings of marine life so impressed Aquarium staff, Schubel said, that they are creating postcards of his art.
On December 15, the Aquarium is celebrating its 20th anniversary with an art contest. "We had 100 entries and the top 20 will be shown," Schubel said. Those winners are to be awarded roundtrip flights on JetBlue Airways, the anniversary's sponsor.
Events on the horizon include the 16th Annual Festival of Human Abilities sponsored by downtown's Courtyard Marriott Hotel. "This is the festival where we celebrate the abilities of people with disabilities," Schubel said. Held on January 26 and 27, the festival will feature wheelchair hip hop dancers, scuba divers who have been paralyzed from the waist down, a blind guitarist and a signing choir. "It's quite emotional," Schubel said.
"Every one of our festivals does very well," Schubel said. "The times when we get the most people are when kids are out of school, so summer and then the weekend after Thanksgiving is always a very busy weekend."
The Aquarium saw a slight dip in attendance in 2018 compared to last year, 1.7 million visitors as opposed to 1.72 million. Gross revenue is expected to close at about $37 million, which is about $5 million shy of last year.
Schubel attributed the decline in attendance to the ongoing construction of the new Pacific Visions wing, which he said is on track and on budget to open in spring 2019. Housed in a gleaming blue whale-shaped building, Pacific Visions will boast a state-of-the-art immersive theater, special exhibitions, art galleries and live animal exhibits. The last of its 839 glass panels was installed on its facade on October 17. "This is a very non-traditional expansion of an aquarium," Schubel said. "Instead of having bigger tanks for bigger animals, it focuses on the one animal who's putting all the other animals on the plant at risk. And that animal is us."
While the wing is slated to feature some live animal exhibits, Schubel said the new wing is meant to focus on the changing relationship of people and the planet "and what we have to do to get that back onto some sustainable track."
After Pacific Visions opens to the public, Schubel expects the Aquarium will top 1.8 million visitors in 2019. "In 2020, when we have Pacific Visions [open] for the full year, I expect we'll get to two million visitors," he said.
Schubel believes that tourism in Long Beach is building year over year. "We do a really good job with conventions, but when you think of all the things there are to see and do in Long Beach . . . I think it's at the point where we ought to be able to get more people to come for a weekend or even a week," he said.
Schubel said that he and his staff take great pride in making the Aquarium a gathering place for both residents and visitors. "There are places that we live, the places we work, and then there are third places where we gather to exchange ideas, to experience cultural events, and so on. The Aquarium has become downtown Long Beach's third place," he said. "We take that being the third place very seriously."