Downtown Long Beach, the largest urban downtown waterfront between San Diego and San Francisco, provides a scenic backdrop for area residents, visitors and employees. Its proximity to the San Pedro Bay ports and major freeways, its waterfront attractions, its comparatively affordable real estate to surrounding beach cities, and its central location between the Los Angeles and Orange County markets have made downtown a hub for several industries.
Among the top employment sectors and office users in Downtown Long Beach are international trade, health care, financial services, oil and gas, and hospitality and tourism.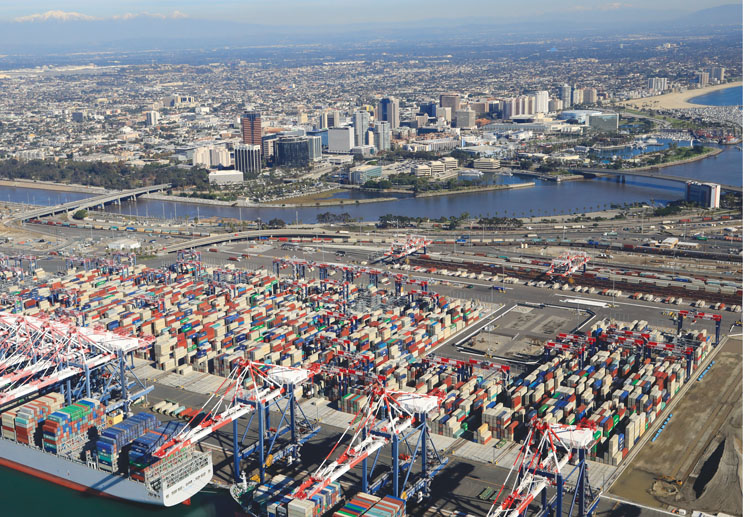 International Trade
Situated on Long Beach's westernmost portion of waterfront, downtown is located adjacent to the Port of Long Beach, the second largest port in the country. The port continues to grow is container traffic; in 2017, the port broke its record for the highest volume of containers that have ever moved across its docks, and it is on track to do so again by the end of 2018. Through November, total cargo volumes were 7.3% higher than in the same period in 2017, according to the port.
Growing international commerce means more business for industry sectors tied to it, such as trucking, rail, freight forwarding and warehousing. Companies representing these sectors have offices throughout downtown, many in the office towers along Ocean Boulevard, according to Michele Grubbs, vice president of the Pacific Merchant Shipping Association. Grubbs' organization represents the interests of shipping lines and terminal operators along the West Coast.
"The international trade industry has a large economic impact on downtown. It has a strong economic base," Grubbs said. "There are several international trade businesses located downtown on Ocean Boulevard. These are businesses such as shipping lines, customs brokers, freight forwarders, maritime attorneys. . . there are a wide range of companies that are part of the supply chain ecosystem." Grubbs noted that positions within these firms are typically high-paying. Jobs on the docks are also among a higher wage bracket. Longshore workers within the International Longshore & Warehouse Union often make upwards of $100,000 annually.
International trade through the port also supports government jobs, from within the city government – the Long Beach Harbor Department employs more than 400 people – as well as federal and state agencies. U.S. Customs and Border Protection (CBP) operates an office on Ocean Boulevard, and while a representative could not disclose the exact number of employees there, he did provide the following statement: "It is safe to say – CBP employs hundreds of professionals ranging from frontline federal law enforcement officers, trade specialists, attorneys, chemists, administrators, analysts, biologists, etc."
Commerce generated by the Port of Long Beach is a major job creator not only for the region, but for the country as a whole. Port staff estimate that containers leaving its docks touch every congressional district in the United States, and related business activity supports 1.5 million jobs nationwide.
Health Care
The health care industry in Downtown Long Beach is dominated by the presence of Molina Healthcare, a national provider of Medicare and Medicaid health plans. Despite cutting back on its office footprint – the company eliminated its offices at the World Trade Center, for example – the firm maintains significant real estate holdings in the area with the dual-tower Molina Center and Millworks buildings.
Founded in Long Beach in 1980, Molina Healthcare employs 3,400 people citywide, most of them concentrated downtown, where it is headquartered.
Just one block north of downtown's 10th Street border, Dignity Health – St. Mary Medical Center is also a significant presence in the area's health care industry, and, as the nearest hospital, provides care to downtown residents. The medical center operates a 24-hour Level II trauma center and emergency room, and also provides crucial health care such as cancer, cardiac, cardiovascular, gastroenterology and other specialized services. The hospital employs more than 1,000 workers.
"St. Mary Medical Center has been serving the Long Beach community for 95 years strong. We take pride in our commitment to provide high-quality, compassionate care in a safe and healing environment for all those who come through our doors – from our patients and their loved ones to our employees, physicians, and volunteers," President and CEO Carolyn Caldwell told the Business Journal. "We look forward to continuing our mission and expanding our services to meet the needs of the growing downtown area."
Various privately-owned medical facilities are located throughout downtown, including several dentist offices, U.S. HealthWorks Medical Group's occupational health clinic at 100 Oceangate, an independent urgent care at 555. E. Ocean Blvd. and others.
Financial Services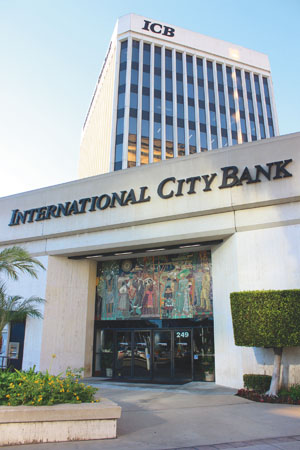 Two banks are headquartered in Downtown Long Beach – International City Bank (ICB), founded in 1984, and Farmers & Merchants (F&M) Bank, founded in 1907.
Located on Ocean Boulevard, ICB is focused on meeting the financial needs of the business community. It is ranked among the top 100 U.S. banks with less than $1 billion in assets and operates a second location in Irvine. "We are located in the center of all the new activity and growth in Long Beach, which puts us in a great position to not only be visible but contribute to the ongoing success in the downtown area," ICB President and CEO Michael Miller told the Business Journal.
Located at 301 Pine Ave., F&M's headquarters were built in 1923 on land purchased by founder C.J. Walker. "Our foundation, our beginning, was in Long Beach," President W. Henry Walker said. Referring to the company's historic headquarters, he added, "It embodies who Farmers & Merchants is, our 112-year heritage and our commitment to the city." Walker said that he is excited to see so much development occurring around F&M in downtown. "We're adding more viability to downtown. The average combined incomes I am told at some of the new apartment buildings downtown are anywhere between $150,000 to $200,000. That's a huge change," he noted.
F&M also operates F&M Trust Company, the oldest state-chartered trust company in California – at its headquarters. The firm manages in excess of $3 billion in assets and estates.
Downtown's diverse financial services industry also boasts offices for Wells Fargo's California Trust Center, City National Bank's regional banking center, accounting companies such as Windes, Holthouse Carlin & Van Trigt and Rossi LLP, and other investment and wealth management firms, some of which are covered more in depth in this edition's article on downtown professional services businesses.
Oil & Gas
Long Beach's history is tied to that of the oil and gas industry in California. The city's downtown sits on the Wilmington Oil Field, and its waterfront views are punctuated by the four THUMS oil islands, on which offshore drilling takes place. The islands, decorated with structures made to appear like resorts, hide oil rigs that generate revenue for the city.
California Resources Corporation's southern operations are housed in offices at 111 W. Ocean Blvd. in downtown. The oil and gas company and its THUMS and Tidelands affiliates operate natural gas and oil production for the City of Long Beach and the state. In downtown, CRC directly employs 375 people and supports approximately 500 contractors, according to a company representative.
Overall oil and gas production citywide averages about 12 million barrels per year, the vast majority of which are generated from Tidelands area operations in and around downtown, according to city data.
Hospitality & Tourism
One of downtown's most visible industries is its hospitality and tourism sector. Along the waterfront, this sector is driven by the city's attractions, including the Queen Mary and Aquarium of the Pacific, as well as tourism-driven businesses, the largest of which is Carnival Cruise Line.
Locally owned businesses such as Catalina Express's service ferrying tourists to Catalina Island, Harbor Breeze Cruise's wildlife and harbor tours, and the restaurants and shops at the Shoreline Village boardwalk also serve as a draw for tourists. Harbor Breeze and Catalina Express both recently told the Business Journal that business was steady this year. Debra Fixen, general manager of Shoreline Village, said that sales have grown each year since she first took the job five years ago.
Key to the hospitality sector is the Long Beach Convention & Entertainment Center, which annually draws convention and meeting attendees to the city, as well as entertainment events and performances. The center has undergone a series of upgrades over the course of the past five years, which have helped attract new clientele. In 2018, business secured for the center by the Long Beach Convention & Visitors Bureau brought more than 1.4 million convention attendees to the city, generating more than 208,000 overnight stays at area hotels. According to CVB leadership, bookings for 2019 are already pacing ahead of this year's events.
Hotel occupancy in downtown and the city remains at a 25-year high of 79.4%, according to data from CBRE Hotels. Overnight visitors have a variety of options in downtown, including high-end hotels such as the Renaissance Long Beach Hotel, the Hilton Long Beach and others, as well as more affordable options such as the Best Western Plus Hotel. The Hotel Maya and the Queen Mary both offer sweeping views of the downtown skyline from their location across the water, adjacent to the port.