Multiple office buildings in Downtown Long Beach are being converted into multi-family residences, but is this architectural rejuvenation adding living space at the cost of business? According to local realtors, if these office properties were in high demand, they wouldn't be exiting the market.
"It's not like we're taking out some of our Class A stuff and kicking huge tenants to the curb," Jordan Mannisto, a senior associate at commercial real estate firm Lee & Associates, told the Business Journal. The office buildings that are being transformed into apartments and hotels are older properties, Mannisto explained. "We don't really see the nicer buildings being converted or even talked about being converted."
Nearly one-fifth of Long Beach's downtown office space is vacant. Mannisto noted that the vacancy rate for the area's office space has typically hovered around 18%, a figure that Robert Garey, senior director at real estate firm Cushman & Wakefield, corroborated. This is higher than the overall United States office market, which Cushman & Wakefield reported at 13.2% in the fourth quarter of 2018, as well as within the Western United States, which had a vacancy rate of 11.4% in Q4.
Mannisto said that heavy traffic on the 710 freeway is one factor that deters businesses from Downtown Long Beach, as is the difficulty in traveling on area surface streets. "If you have nothing to do with the port and your employees don't live in Belmont Shore or downtown, they tend to stay away," he said. Vacancy decreased to around 15% in 2018, he noted, but then increased after the 12-story Salvation Army building at 180 E. Ocean Blvd. went up for sale.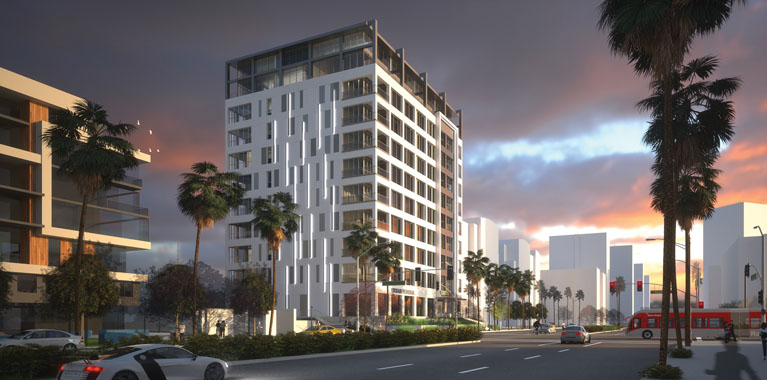 By contrast, demand for residential space in Downtown Long Beach is currently much higher, Garey said, which has led to greater investment in converting offices into more desirable multi-family or hotel properties. Garey used the Security Pacific National Bank Building, located at 110 Pine Ave., as an example.
Built in 1924, the bank building had become "functionally obsolete" as offices, Garey said. "The rental rates that [the owners] were achieving and the amount of capital required to attract tenants didn't make economic sense," he said. Plans were made to convert the building into a 118-unit apartment building, but were put on hold when commercial real estate firm Pacific Property Partners (PPP) acquired it.
PPP was more interested in converting the space into a hotel, Managing Partner Chris Atkinson told the Business Journal. The number of residential projects already underway in the area, combined with strong growth in convention center business, incentivized PPP to re-entitle the property as a 210-room hotel, he said. "A lot of people are now moving into Downtown Long Beach because of the vibrant atmosphere, walkability of the area, amenities and dining options," Atkinson explained. "The same is true for hotel guests." Atkinson said the property is slated to become a Cambria Inn and Suites. The Federal Bar, a restaurant and bar that occupies the first floor and basement of the building, will remain.
Buildings selected for "adaptive reuse," a term designated in the Long Beach Municipal Code for reconfiguring and repurposing existing properties, are typically buildings that are no longer up to modern office standards, Long Beach Deputy Director of Economic Development Sergio Ramirez said. "What we have here are a lot of historic buildings that are repositioned and preserved, instead of demolished," he went on. "People in the Long Beach community value those type of projects."
Jan van Dijs, principal of construction company JR van Dijs, said that all buildings eventually come to the end of their competitive life. Dijs oversaw the conversion of office buildings at 100 Long Beach Blvd. and 200 W. Ocean Blvd., two properties that were completed in 1960 and 1968 respectively. The evolving demands of business, and changing trends in style, precluded these buildings from being refurbished into modern Class A offices, Dijs explained. "When you have an office building that's sort of in a deteriorated state, and the best you could hope for would be a [Class] B office building, it's better to turn it into a residential project," he said. "I think that's what's better for the city." Class A denotes the highest quality real estate type, while Class B is mid-level and C is lower quality.
Class B offices built in past architectural styles are able to be converted to Class A residential due to their uniqueness, Dijs said. For example, the former Southern California Edison office at 100 Long Beach Blvd. that Dijs's firm converted to loft apartments has an industrial vibe that is counter to the more open, airy feel of modern offices. "When you take the same infrastructure and you make it residential, now you have an apartment that has 11- or 12-foot ceilings. It's got a lobby with a 30-foot ceiling," he said. "All of those things are pretty cool, and people don't mind the basement because you can put a gym in it, where otherwise it was completely inactivated."
Long Beach architecture firm Studio One Eleven was brought in to redesign parts of 200 W. Ocean Blvd., a building formerly occupied by Verizon that is now being converted to residential. Principal and Design Director Michael Bohn said that adaptive reuse is an economic and sustainable option for a property owner. "The greenest building is the one you save," he said.
Advances in technology allow architects to improve properties in ways that weren't possible when they were first built, Bohn went on. In the case of the Verizon building, the original transformer was removed from the roof to make room for new units. "The heating and cooling equipment . . . was so big because it was all from the '60s," Bohn said. "With advances in technology, the equipment is tremendously smaller and lighter, so we were able to add townhouse units on the roof that didn't exist there before." The updated Verizon building, renamed Ocean View Tower, is set for completion in 2020.
Just next door, the Ocean Center office building located at 110 W. Ocean Blvd. has also been earmarked for conversion to apartments. Acquired by investment firm Pacific6, the property is eligible for a historic tax credit under the Mills Act. This state program incentivizes the preservation of historic buildings by providing tax relief for a 10-year term. After Ocean Center's previous owner passed away, city staff wanted to find a local investor to take on the project, Pacific6 partner Jon Heiman said. "It seemed like a special idea and we jumped right at it," he continued.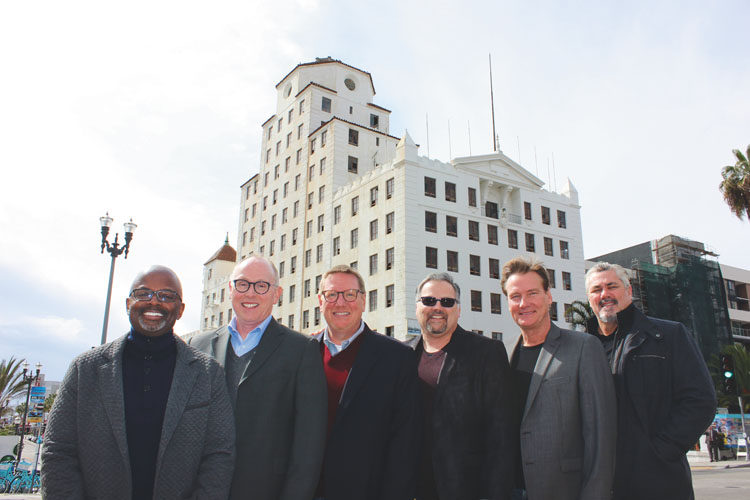 At the time, Pacific6 was already in the process of re-converting The Breakers at 210 E. Ocean Blvd. from an assisted living facility back into a hotel, its original use. Pacific6 is using the same construction company they are using for the Breakers and is following through with the original architectural plans for the conversion. The renovated Ocean Center is set for a 2021 completion date, with 80 high-end units and retail space available for lease on the first floor.
The expansion of residential inventory in the downtown area is supported by the Downtown Long Beach Alliance (DLBA), a nonprofit organization that manages property and business improvement districts in the area, DLBA Research and Policy Manager Austin Metoyer said. He made particular note of one project under review by the Long Beach Planning Commission at 810 Pine Ave. Proposed by KTGY Architecture + Planning, the project would convert a 10-story office space into a 78-unit senior living facility. "When a lot of housing we have going up is market rate, it's great to see that made available," Metoyer said. "We'd like to see more of those projects."
While Bob Kelton, president of the Long Beach Downtown Residential Council, said it was preferable to have buildings in the area occupied instead of sitting vacant, he voiced concern about the reduction in office space. Adaptive reuse has cleared outdated offices from downtown's inventory, but it leaves the same amount of Class A offices as before. Without new construction of modern buildings, Kelton said the area's capacity for taking in new business may be restricted. "I think it adds to the vibrancy of the downtown area to have both the business offices as well as the residents," he said.