Some degree of turnover is inevitable in any corridor that small businesses call home. Longtime Long Beach residents can surely recall many different iterations of the various shopping districts around town, including Belmont Shore, which has in the past year seen a number of businesses close or relocate, only to be swiftly replaced.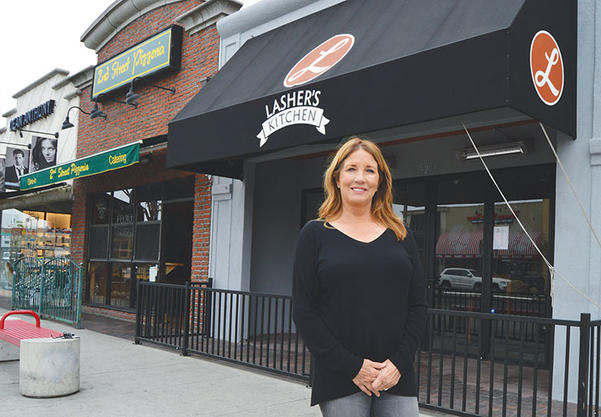 Dede Rossi, executive director of the Belmont Shore Business Association, stands in front of the future location of Lasher's Kitchen at 5295 E. 2nd St.. The restaurant formerly operated on Broadway. Previously located here was the Vietnamese restaurant Pho-Nomenon. (Photograph by the Business Journal's Larry Duncan)
Fromex, which was located on 2nd Street since 1982, was one of these businesses. This year, owner John Albright moved his photo printing and processing business to a business park in Signal Hill.
"We opened as a franchise on July 2, 1982, on 2nd Street in Belmont Shore," Albright wrote in an e-mail to the Business Journal. "It was the perfect location, high traffic with both cars and pedestrians, affluent neighborhood, and lots of retail businesses on the street." He added, "Business was good and grew to a peak in the '90s. All our customers and 100% of our sales walked in the front door."
The advent of the Internet caused Albright to change his business model. "Fast forward to today. The majority of our business comes in over the Internet through our website and from all over the country," he wrote.
Albright continued, "We just didn't need to be in an expensive busy retail storefront location any more. It made sense to move to a larger space, better parking, easy freeway access, and a lower monthly lease cost. We found all that in PS Business Parks in Signal Hill."
The Pie Hole, a family-owned franchise specializing in dessert pies and potpies, is filling in Fromex's ground floor space at 5277 E. 2nd St., according to Dede Rossi, executive director of the Belmont Shore Business Association. The Belmont Music Studio, which is located upstairs, is expanding its footprint into space formerly occupied by Fromex as well, she noted.
Like The Pie Hole, several other new businesses opening on 2nd Street are franchises.
Powell's Sweet Shoppe, which recently closed when its owners chose not to renew their franchise agreement, has been replaced by Rocket Fizz, another franchise candy shop. Sancho's Tacos, a franchise with locations in Huntington Beach, Newport Beach and San Clemente, is set to open where Le Donut & Croissant previously operated at 5272 E. 2nd St.
Urban Table, a market and café, closed a few weeks ago at 5000 E. 2nd St. Rossi indicated the owner, Carolyn Baer, also runs a catering business and had been considering selling or closing Urban Table for some time. It is slated to be replaced in June with the first American location of Pietris Bakery, which is based in Greece.
Lasher's Kitchen, which was once located on Broadway before being replaced by The Attic, is set to open in a few weeks at 5295 E. 2nd St., according to Rossi. "It's going to be really nice. Another high-end but smaller place," she said. The space was formerly occupied by Pho-Nomenon.
A recent closure was Citibank, which occupied the building at 5345 E. 2nd St., according to Rossi. "And I know there is a lease up for Children's Place," she said, referring to the national retailer at 4801 E. 2nd St. "They had the lease for 20 years. So their lease came up, and that corporation has decided not to re-up."
Rossi observed, "I feel like we go through a cycle every five years or something where we have a cycle of people leaving." She noted, "I know everyone always blames the rents, but that's not really the case a lot of the time."
Romance Etc., which has been located at 5209 E. 2nd St. for 20 years, is soon relocating to Parkview Village off of Viking Way. Co-owner Deborah Fay, who said the shop would remain open until the day after Mother's Day, cited overall cost increases and online competition as reasons for the move.
"We couldn't support the business with the amount of money we're making and the overhead. That place just wasn't working," Fay said.
"I would say the biggest double whammy is the Internet affecting the normal retail walk-in [traffic], and then the rent is just too high to sustain a business such as mine," Fay explained. "It's not just the dollar per square foot [rate]. It's the fact that now in retail or in commercial real estate, at least in places like this, you're responsible for the entire maintenance of the building."
Fay indicated that her lease was coming up, and the building's ownership indicated that it would be seeking a similar rental rate that the Children's Place is expected to fetch – about $5 per square foot. This would increase Fay's cost of doing business by $36,000 a year, she explained.
Online competition has caused the shop to lose out during the holidays in recent years. "The last two years we have really noticed a big hit with the Internet," Fay said. "We noticed it at the holidays. Last year, we were down from the year before last . . . like $40,000 for the month of December. And this year, we were down $55,000."
Romance Etc.'s new location at 5407 E. Village Rd. should be open sometime in June, Fay said.
Kurt Schneiter, a partner in Maverick Investments, owns property on 2nd Street, including nearly the entire block with Nick's on 2nd, Le Creperie Cafe, AT&T and other businesses off of St. Joseph Avenue. He said he has a waiting list of prospective tenants for his Belmont Shore properties.
"We own retail throughout the United States, but we live locally. And we have over 40,000 feet of retail in Belmont Shore," Schneiter said. "And I will tell you that today is by far the best retail market we have had as far as demand for space on 2nd Street."
While vacancy may be a bit higher than it has been in recent years, Schneiter noted that it is still very low, historically, for the area. "And the reason for the vacancy on the street I don't believe is really rent generated," he noted.
"What we have going on in Belmont Shore is very unique," Schneiter said. Although Fay and Rossi had cited online competition as a source of struggle for small businesses on the street, Schneiter believes online shopping trends may ultimately benefit the area.
"I think this area is only going to get better. Because as the Internet becomes stronger in our day-to-day lives, places like Belmont Shore will become more and more important because people are dying for an experience versus instant gratification over an application," Schneiter explained. "It's a great place to see your friends and neighbors and future friends, and it will only become more dynamic."