The Long Beach City Council voted 7-1 on June 19 to adopt an ordinance allowing the sale of recreational marijuana in the city. Local dispensary owners say the decision could at least double their business.
"We have many people coming in every day trying to buy adult-use marijuana and we have to turn them away," Matthew Abrams, an owner of One Love Beach Club on Broadway, said. "I've talked to some fellow business owners who have dispensaries in Santa Ana, and I know some of their businesses doubled when they were allowed to go recreational. With increased patients, we will have to do more hiring, without a doubt."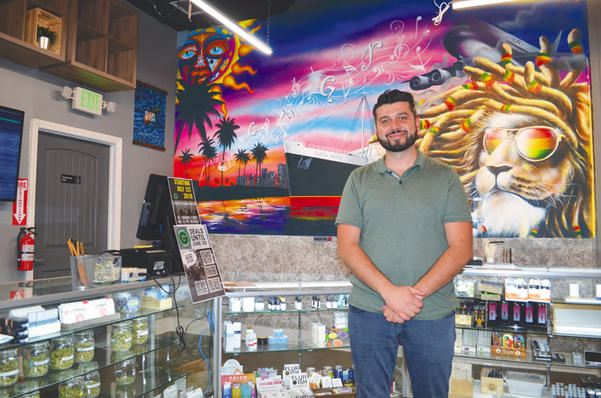 Adam Hijazi, owner of marijuana dispensary Long Beach Green Room, said he currently turns away at least 60% of the people that walk into his shop daily because they do not have a medical marijuana card. (Photograph by the Business Journal's Pat Flynn)
Abrams, who is also an attorney specializing in cannabis advising and consulting, and his family have been in the marijuana business since 2008. They had been operating a previous iteration of One Love at the same location in 2012 when the city banned marijuana dispensaries. Since that time, he has been an advocate for bringing legal marijuana sales back to Long Beach. He said One Love was one of the first dispensaries to open in Long Beach since voters passed Measure MM, having reopened its doors in January, and that he hopes to be one of the first to begin selling recreational marijuana.
Aside from increased profits for the business, Abrams pointed out that legalizing recreational marijuana has a number of monetary and safety benefits for the city. By allowing legal sales, the black market sales of marijuana will decline, which is positive for public safety because those products are often not tested, he explained. Legal sales also mean more tax revenue for the city, he added.
"I'm a little disappointed that they aren't going to do more regulation on the illegal deliveries here in the city," Abrams said. "Illegal storefronts they can shut down immediately, but with the illegal deliveries they are kind of throwing their hands up."
As of June, the city has issued licenses for nine dispensaries, one cultivator, one manufacturer and one testing facility, according to a staff presentation to the city council. There are currently 23 pending applications for dispensaries, 73 for cultivators, 85 for manufacturers, 73 for distributors and five for laboratory testing facilities. There is no limit on the number of non-dispensary businesses allowed in the city.
Under the ordinance, only dispensaries licensed to sell medical marijuana will be permitted to obtain a recreational sales license, which means the city will maintain its 32-dispensary limit. Non-dispensary businesses – cultivators, manufacturers, testing laboratories and distributors – have the option to remain medical-only, transition to recreational-only or become a co-located business that caters to both. The ordinance includes the same buffer zones as those previously set for medical marijuana, which include not being allowed within 1,000 feet of schools or beaches and 600 feet of parks, libraries and daycare centers.
"A lot of the stuff in the ordinance repeats state law. But certain things that I liked are that we were able to get more hours of operation. And I think everybody likes to see a training program for their employees," Adam Hijazi, owner of Long Beach Green Room and Long Beach Collectives Association boardmember, said. "We can always come back in the future and amend it if there is something that was overlooked or can be bettered."
The adopted ordinance was amended to allow for daily in-store sales until 9 p.m., with deliveries by those stores allowed until 10 p.m. It also requires recreational marijuana dispensaries to apply for health permits and comply with health inspections to ensure products are safe and facilities are sanitary. All managers and employees of recreational dispensaries will also have to attend a Responsible Cannabis Vendor Program to receive training prior to working. Topics of the program include youth use prevention, driving under the influence of marijuana and proper storage of cannabis goods.
Digital surveillance systems, security alarms, security personnel, electronic age verification devices and identification badges are required at all dispensary locations. Enforcement of marijuana dispensary regulations includes administrative citations, civil penalties, criminal violations and access to surveillance camera footage. Businesses can appeal violations.
Businesses will be charged one-time fees for applications and criminal background checks. Regulatory, fire permit, health permit and tax audit fees will be collected annually.
Initially, the ordinance called for a goal of 25% equity hires but was amended with a goal of 40%. Equity hiring requirements are a means to ensure those in low-income communities who have been impacted by federal and state cannabis policies have equal opportunities for employment. Impact of cannabis policies could include the loss of property, disqualification from employment opportunities, reduced earning potential, exclusion from public benefits and more, due to cannabis-related misdemeanor convictions or citations.
Requirements of equity hires include an annual family income at or below 80% of the area median income (AMI) and a net worth below $250,000, and a previous arrest or conviction related to cannabis, or having lived in a Long Beach census tract for a minimum of three years where at least 51% of resident's household income is at or below 80% of AMI. A Cannabis Equity Team will be formed to ensure businesses comply with regulations and will consist of the Office of Cannabis Oversight, the Office of Equity and the Pacific Gateway Workforce Innovation Network.
Estimated costs for the equity program include one-time General Fund costs of $200,000 for the Pacific Gateway hire program, $50,000 for expedited plan-check review and $16,000 for expungement clinics to educate people on how to remove criminal charges from their records. These costs will be offset by current year savings. Ongoing costs of the equity program to the city are estimated at $2,000 per business annually, which will be offset by an equity hire fee charged to cannabis businesses.
"What brought back safe access to the city was the voters of Long Beach and everybody that supported Measure MM," Hijazi said. "Under the original measure's tone there were more rights that were given out – 'the city shall do this,' rather than 'the city may do this.' But overall, we didn't feel like there was enough to disagree about with the city to not approve the document as is."
Between the five business types, city staff estimate medical marijuana revenues to equal nearly $4.5 million in 2019. The ban on recreational marijuana is still in effect until all procedures are in place for ordinance implementation and licenses are issued to businesses. The ban can be lifted only with approval from the city council. According to the staff presentation, the earliest recreational marijuana sales could begin is August.