The City of Long Beach has a long tradition of being a hub for the aviation and aerospace industries. In 1923, Long Beach Airport was formed. The 1940s saw the opening of the Douglas Aircraft Company manufacturing plant on Lakewood Boulevard – known as McDonnell Douglas after merging with McDonnell aircraft in 1967 – which would go on to produce more than 15,000 aircraft in Long Beach. In the 1990s, McDonnell Douglas merged with Boeing.
Today, though the large aircraft manufacturing by Boeing ceased with the reduction of its presence to just office space, the city is still host to companies such as Virgin Orbit, a branch of Richard Branson's Virgin Galactic; Rubbercraft; Gulfstream Aerospace Corporation; and countless general aviation companies operating out of the still-thriving Long Beach Airport, which is projecting a record number of passengers this year.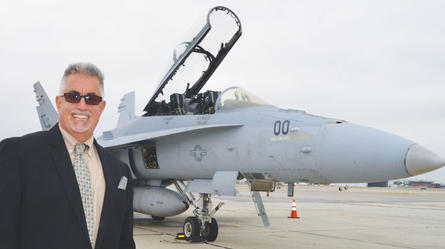 Curt Castagna, president and CEO of Aeroplex Aerolease Group at Long Beach Airport, is pictured next to an F/A-18 Hornet. Castagna noted that activity levels at the airport are up thanks to Director Jess Romo's leadership. (Photograph by the Business Journal's Larry Duncan)
"On a regional basis, I think Long Beach continues to play a vital role, with the fact that we are centrally located," Curt Castagna, president and CEO of Aeroplex Aerolease Group, said. "I think that as you see the commercial activity increase in Orange County and Los Angeles, the role that Long Beach will play as a viable destination will continue."
Castagna said activity level is up for business at the airport and its surrounding property, with increasing interest from aircraft operations. He attributes the appointment and leadership of Jess Romo as the director of the airport to the growing success. According to Castagna, Romo has been instrumental in building relationships around the airport and realizing the value of its diversity, not focusing only on commercial aviation.
Marketing for the city and the airport could stand to be refined to link the economic development potential as a corporate headquarters location with the airport, according to Castagna. He explained that that there is still some vacant hangar and office space at and around the airport but that companies are currently working to fill the gaps, such as the 40,000 square feet available in the former Abbey Company Building located at 4403 Donald Douglas Dr.
Castagna said he would also be remiss if he did not voice his disappointment regarding the city council's January decision to deny the addition of a federal inspection service facility to allow for international flights in and out of Long Beach. He maintains that the facility would not have jeopardized the current airport restrictions and instead would have simply enhanced existing services.
"What continues to be unique about Long Beach over the other airports in the basin is that we are so diverse. We have from the smallest private aircraft owner to the airlines and everything in between," Castagna said. "We're really hoping to continue to work with the city to maintain those balances because we think those balances are good not only for the airport inside the fence but also that's what best supports the community outside too."
Kevin McAchren, president of Airserv, an aircraft ground support and ground equipment leasing company at Long Beach Airport, said his company is having a good year, up over last. One major factor is an increase in charter flights, aided by the Anaheim Ducks National Hockey League playoff appearance.
Sports will continue to play a role in charter flights and overall economic impact in Long Beach, according to McAchren. He said that with the National Football League's former San Diego Chargers move to Los Angeles, the team is taking up residence at Carson's StubHub Center, minutes from Long Beach Airport, until a new stadium is complete in Inglewood for the Chargers and Rams teams to share.
"We're on the right trajectory right now. I think the flight schools are really one of the bright spots," McAchren said. "There are probably fewer aircraft and fewer pilots, but we are training them here. I think the flight schools are a real significant part of the airport's economy on the general aviation side."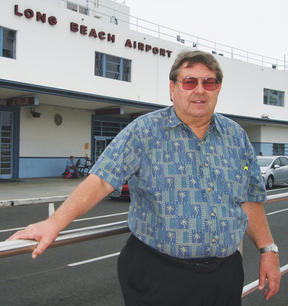 Kevin McAchren, president of Airserv, an aircraft ground support and ground equipment leasing company at Long Beach Airport, said professional hockey caused an increase in charter flight activity and that he hopes two Los Angeles football teams will have a similar effect. (Photograph by the Business Journal's Larry Duncan)
Long Beach Flying Club and Flight Academy, a flight school operating at Long Beach Airport, has had about 10 pilots hired in the region in the last year, which is a lot, according to owner Candy Robinson. She explained that Federal Aviation Administration regulations require pilots to retire at age 65, which is causing the current shortage.
"The last hiring boom was in the '80s, then now is the time for a lot of those guys to be retiring. There really is a pilot shortage," Robinson said. "So there are a lot of openings. It's a very exciting time in the industry right now."
Robinson said her business is down slightly from last year due to weather conditions earlier this year. However, she said that she lost about 20 days of operations last year due to political campaigning in Southern California leading up to the elections, which resulted in temporary flight restrictions – an issue that will not be seen again for several years.
The flight academy has seen a decrease in the percentage of international students, Robinson said. She explained that she views teaching international students as an export – "exporting education," as she says. One issue Robinson said her school is having is with the airport's new badge system, which she said is backed up and delaying some of her students from proceeding with lessons until a badge is acquired. However, she is still optimistic about Long Beach.
"I'm just excited to still be here. It's 37 years for me on the airport," Robinson said. "I've seen a lot of changes, and you just kind of have to keep up with it."
Late last year, aircraft manufacturing company Boeing announced plans to reshuffle Southern California employees, moving some from Huntington Beach to its Long Beach office. The transition has not begun, and the exact number of employees has not been determined, but Boeing staff said the move would begin this year.
Also announced last year by Boeing was the establishment of Boeing Global Services, a new business unit equal to Boeing Defense, Space & Security and Boeing Commercial Airplanes, both of which have a presence at the Long Beach site.
"Eventually, all three of these Boeing businesses will have employees in Long Beach, making it a microcosm of Boeing as a whole," Rudy Duran, director of the Boeing SoCal Design Center and Long Beach site, said. "While it may not be visible to our community neighbors, . . . it's an exciting time to be at Boeing Long Beach, and we are looking forward to welcoming teammates from Huntington Beach."
Just up the street from Boeing, Gulfstream Aerospace Corporation employs approximately 775 people. The facility at Long Beach Airport is the company's anchor for its West Coast operations and handles a service center for all Gulfstream business aircraft, as well as an interior outfitting center for the company's larger-cabin models, including the flagship G650ER, G650 and G550. The facility also features a sales and design center, which opened in 2014.
According to a spokesperson, in 2016, Gulfstream Long Beach completed more than 1,200 aircraft visits, including on-site maintenance, repair and overhaul activities, an increase from previous years. Overall, the company outfitted and delivered 115 aircraft last year, many of which were completed in Long Beach.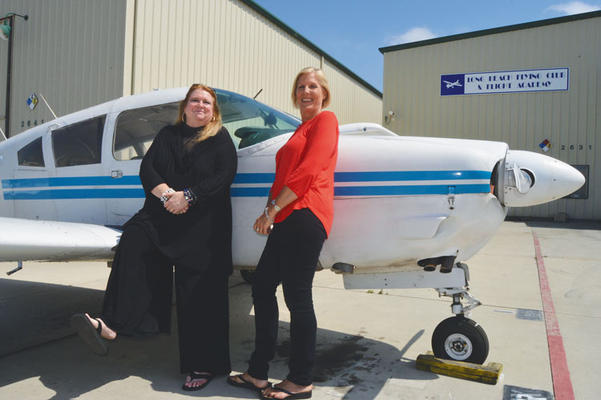 Candy Robinson (left), owner of Long Beach Flying Club & Flight Academy, is pictured with operations manager Susan Baker and one of the company's aircraft. Robinson said a pilot shortage has created a hiring boom. (Photograph by the Business Journal's Larry Duncan)
"We have expanded and enhanced our site here in the past few years, and that has brought us more and more customers," Thomas Anderson, vice president and general manager of the Long Beach facility, said. "We have been busy so far in 2017 and expect that to continue."
One of the latest additions to Long Beach's aerospace portfolio came at the start of 2015 when Richard Branson's Virgin Galactic opened a 180,000-square-foot design and manufacturing facility at Douglas Park, a newly developed commercial real estate park near Long Beach Airport. In March, Virgin announced the rebranding of the Long Beach site to be the headquarters of newly formed Virgin Orbit.
More than 300 employees work at the Long Beach facility, according to a spokesperson. Virgin Orbit focuses on the manufacturing of the LauncherOne small satellite launch system and the 747-400 flying launch pad, dubbed Cosmic Girl. According to the company, increased investment in commercial space startups has resulted in greater demand for launch vehicles.
"Opening access to space is a central mission of Virgin's space companies, and nowhere is that more urgent than in the need to launch the increasingly smaller and more powerful satellites that can help us access valuable data from space," a spokesperson said.
Long Beach-based Rubbercraft, a rubber products supplier for a range of commercial aerospace and defense applications, is hoping President Donald Trump's increased defense budget will have a positive impact on the company's bottom line, according to Larry O'Toole, chief executive officer of Integrated Polymer Solutions, parent company of Rubbercraft. The company focuses on applications for land, sea and military aerospace, including space and launch vehicles.
"For us, the announcement is great at the macro level, but it ultimately depends on which aspects of the defense budget will see increases," O'Toole said. "So for now it sounds great, but as the expression goes, 'The devil is in the details.'"