In a city that spans 51 square miles with a population of more than 470,000, more than 5,000 municipal employees, its own police and fire departments, a massive port complex, miles of beach and waterways, acres upon acres of parks, city-run oil operations and a dizzying array of other infrastructure, one thing is certain: there will be lawsuits.
That's where City Attorney Charles Parkin and his department come in.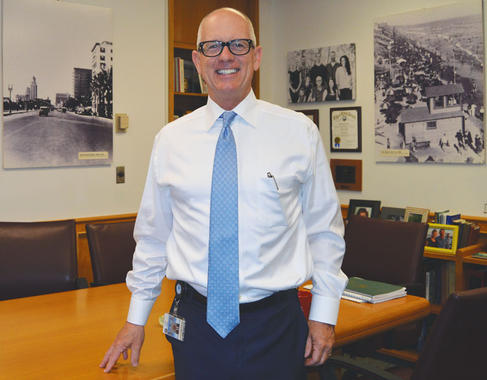 Charles Parkin was appointed to the position of city attorney in 2013, and subsequently elected by the people of Long Beach to a full four-year term in 2014. He oversees 70 staff members, of whom 23 are attorneys. Long Beach is one of few cities in California with an elected city attorney. (Photograph by the Business Journal's Larry Duncan)
Parkin was appointed in 2013 when then-city attorney Robert Shannon retired before the end of his last term. Parkin was elected by the people of Long Beach to continue serving in the position in 2014 and is coming up on the end of his four-year term next year.
Long Beach is a city in the minority – in most cities in the state, the position of city attorney is an appointed one.
As city attorney, Parkin serves as the legal advisor to the City of Long Beach, providing legal counsel and support to the city council, city departments and municipal employees "relating to acts which are within the course and scope of their employment or official duties," as phrased on his department's website.
At council meetings, Parkin is on hand to answer legal questions from the council related to the policies they seek to implement. In the office, he preps for these meetings, runs a staff of 70 – including 23 lawyers – and steers the city through a myriad of legal matters. There are workers' compensation claims, police force cases, personal injury litigation, contract disputes (many related to the port's capital improvement projects), liability claims for damages, and cases the city is pursuing itself.
Parkin recently stopped by the Business Journal's office for an interview about all of the above.
"My client is the City of Long Beach," Parkin said. "Being elected certainly provides me with independence from the city council. And independence, I think to me, gives me some freedom to tell them exactly how I think [about] a case or what my recommendation would be without worrying about how I am going to offend them."
He added, "We still may not go the direction I say, because they have the vote at the end of the day for the policy. But it certainly gives me that additional freedom to not worry about having to give them the right answer that they want to hear." Parkin noted that his role is simply to determine how their proposals would work in a real-world capacity and how to apply them.
Working under Parkin, who has been a city employee for 33 years, are 70 employees. These include 23 lawyers: two assistant city attorneys, three principal deputy city attorneys, departmental counsel, harbor department counsel, litigation attorneys and workers' compensation attorneys. Remaining staff include an investigator, claims adjusters, claims assistants, and administrative and support staff.
That may seem like a lot of people, but considering the size of the city and the workload, Parkin said he could use additional staffing. "We think we are certainly understaffed comparable to cities of our size: Sacramento, Oakland, etc.," he said. "And so it leaves us vulnerable when somebody is gone . . . on vacations or, say, we have a couple of folks out on maternity leave." He added, "You've got to plan for it and you deal with it, but it just creates a little more work for the other folks."
In the future, Parkin believes it will be necessary to bring on a few more litigation attorneys and a couple more for departmental counsel.
Recently, Parkin requested four additional attorneys to help cope with a mounting workload related to the legalization of medical marijuana dispensaries and growing facilities within the city, and was granted one new position by the city council.
"We asked for and now are hiring that attorney that is going to be handling the issues with medical marijuana. It just sucked up so much of our resources," Parkin said.
Typically, attorneys that apply to work at the city end up taking a pay cut if they were previously working within the private sector, according to Parkin. "And I can honestly say that several of the attorneys that we have recently hired, I don't think anybody has come and gotten a raise when they came to work for the city. Everybody has taken a pay cut," he said.
"But I think some of those issues are personal issues for those attorneys," he noted, citing a desire for work-life balance, shorter commutes, and the security of working for the city as opposed to a private firm. For example, a recent addition to the department was a partner in a private law firm and one of the top 50 women lawyers in California. But her work necessitated frequent travel to Sacramento away from her home and family in Long Beach, so working at the city ultimately proved to be more desirable, he explained.
Parkin has the authority to hire and make employment-related decisions within his department, but he often consults the city's human resources department in doing so. "I always like to get HR's input even though they aren't making the call," he said.
In some instances, Parkin requests that the city council hire outside counsel to provide legal services, a move he admitted tends to draw criticism. "We try and, to the extent we can, limit the use of outside counsel," Parkin said.
Typically, these instances arise when Parkin cannot spare the resources or when the department does not have the expertise to tackle a certain matter.
The city's lawsuit against BNSF Railway Co.'s proposed Southern California International Gateway (SCIG) rail yard project, for example, would have eaten up far too many of the department's resources, so outside counsel was hired.
There are many other parties involved in the SCIG case, including the Long Beach Unified School District and a handful of trucking companies, among others. Last year, a judge ruled against BNSF's project, declaring its environmental impact report to be insufficient. BNSF is currently appealing that decision, so the city is still involved in litigation.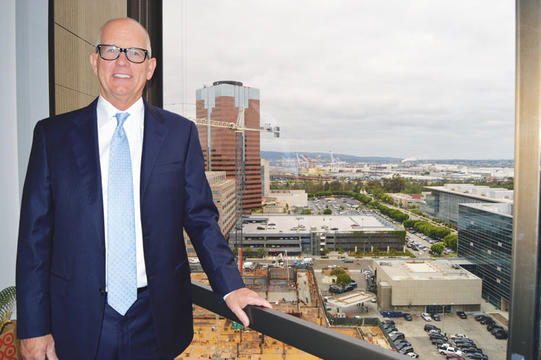 City Attorney Charles Parkin has a view of the new civic center under construction as well as the Long Beach Police Department headquarters and the Governor George Deukmejian Courthouse to the right. (Photograph by the Business Journal's Larry Duncan)
"It's very difficult to budget, especially for a case like the SCIG litigation," Parkin said. "So we charge the insurance fund for some of those cases. And the insurance fund really is an allocation to all of the departments based upon previous years' liabilities. Everybody pays into the insurance fund to defend the city."
In the case of the SCIG suit, the city has spent about $1 million over about four years on outside counsel, but Parkin anticipates being able to recoup those costs.
The city might spend as much as $4 million to $5 million per year on outside counsel, Parkin said. "We have some big contracts, especially in the port, with outside counsel that are significant dollar amounts," he explained. "And maybe we have spent $3 million or $4 million on a firm . . . for the Gerald Desmond Bridge, but that has been over a number of years."
Much of the work of the city attorney's office is devoted to handling personal injury or damage claims. The department has handled between 700 to 900 claims per year over the past few years, Parkin estimated. "You could have a lot of small cases that don't take a lot of your time, and then you could have one case that just could overwhelm you. So sheer numbers probably isn't the best way to look at it," he noted.
"So under the claims statute, we have 45 days to investigate those," Parkin said. The department uses a retired police officer as its investigator and former AAA insurance claims adjusters to assess damages, he noted.
The department also handles a sizable load of workers' compensation claims. "I think last year we spent about $15 million to $16 million on workers' comp. It's a huge number," Parkin said. "I think the claims have been down year to year overall, but the cost per claim has gone up. I would say the majority of claims involve our safety officers, both fire and police. And sometimes their injuries can be significant."
Parkin estimated that the number of employees gaming the workers' comp system is quite low. "You have maybe the one-half of 1% of the employees who are taking advantage of the system, who maybe don't want to come back to work or are not being truthful on what their injuries are," he said.
In his years as city attorney, Parkin said the most difficult cases have been related to the use of force by the police department. "Those types of cases are always difficult because the videos are never ever going to look pretty when force is used," he reflected. "And I think it's difficult because sometimes you will have cases where the officers followed their training [and] did everything appropriately, but the video just doesn't look good, and it's very difficult to convince the jury that we did everything right here. And we need to stand behind and support the officers that are involved in that."
Parkin added, "I think the world has changed. An officer used to go into a courtroom in uniform, and they commanded a certain amount of respect. And I think sometimes today we are fighting an uphill battle from the minute we walk into the courtroom."
Use of force cases are typically tried by a jury in a federal court, Parkin said. "Sometimes we try and settle these cases," he noted. "I think our officers are all sophisticated and understand that in some cases it's a business decision to settle the case and to cap exposure and to move on. And it's not a reflection that they did something wrong."
Asked if he has tried any cases himself since being elected, Parkin said no. "It's intentional. Just from a time standpoint, I don't think I could do it and do what I think I'm supposed to be doing on Tuesday [council meeting] nights and then have a trial and say I am out of pocket for four or five days," he explained.
Plus, if a case goes to the State Supreme Court, Parkin feels it is best to let the attorney who has been handling the case from the get-go gain that high-level experience. "I think it's kind of neat that they are able to do that. And you know, I am not going to try and pull the light from them," he said.
The toughest aspect of Parkin's job is his role as a manager. "You try and make sure that everybody is busy and everybody has got a fair workload and you're not overloading, and [that] staff has the resources they need to get the job done. And sometimes that is challenging with budget restraints or constraints," he said.
Parkin tries to create a work environment conducive to motivating employees. "I think it's a great place to work. I love it because you have so many different things. I could be talking about a First Amendment protest issue one minute and the next minute you're doing a contract or something else," he said.
Asked if he has had any major disappointments on the job, Parkin said he has not. "I think I went in kind of knowing what the job was and knowing the ups and downs of it. I think I have gotten better at not getting so down on the downs or so up on the ups," he said. "But I get frustrated sometimes when people criticize either the city or our office and, clearly, they don't know and understand all of the facts. And that's frustrating. And I am sure it is frustrating for them. That's life in general."