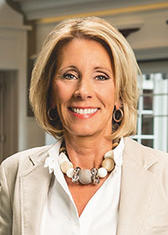 The Long Beach Business Journal asked several local educators: How do you think having Betsy DeVos as Secretary of Education will impact your educational institution? Responding were: California State University Chancellor Timothy White; Long Beach City College Acting President-Superintendent Ann-Marie Gabel; Westerly School Head of School Patrick Brown; and Universal Technical Institute's Long Beach Campus President Larry Hohl. The Business Journal did not hear back from the Teachers Association of Long Beach.
CSU Chancellor Timothy White: "As the largest and most diverse public university system in the United States, the California State University looks forward to informing the current administration and congress on the mission, vision and values of this institution, while joining with our higher education partners in California and nationally in advocating for our students and university communities.
We look forward to finding common ground and new opportunities to achieve many of our bipartisan goals, including the reinstatement of year-round Pell grants. Indeed, the CSU firmly believes that we can achieve great things when united under a shared spirit and common goal. Our 475,000 students, 47,000 faculty and staff and 3.3 million alumni prove this correct every day.
As we work to provide all students with access to high-quality, consequential higher education and a lifetime of success, the CSU will always stand committed to its founding mission and core values of opportunity, diversity and quality. We look forward to finding solutions and success for public higher education in the years ahead."
LBCC Acting Superintendent-President Ann-Marie Gabel: "We were encouraged by Secretary DeVos' comments at the Association of Community College Trustees conference last week, where she voiced support for the mission and value of community colleges. LBCC is hopeful that she will be supportive, as the previous administration was, of free community college and other reforms that would make higher education more accessible and affordable for millions of Americans. We will seek opportunities to brief Secretary DeVos and her staff on the success of the Long Beach College Promise, as we have done with other educational leaders throughout California and the nation."
Westerly School Head of School Patrick Brown: "It is unclear whether Betsy Devos has the background knowledge, temperament, and connections to public education officials to be successful serving the entire spectrum of educational delivery systems in our country. Clearly, she has a strong connection and understanding of public school alternatives such as charter schools, and is an advocate for school choice and voucher systems. Choice is one reason non-profit independent schools like Westerly exists in Long Beach. Long Beach Unified is also an advocate for Choice for families when it comes to their children's education. Choice alone as demonstrated by underperforming Charter schools does not guarantee a strong school.
I believe the Secretary's role should be to strengthen all educational platforms, so all students in America can receive high quality whole-child education.  Every family should be informed about their education options to find the right environment for their children. We hope under the new Secretary, she will promote informed decision making and a better partnership between family and schools."
UTI Campus President, Long Beach Larry Hohl:  "At Universal Technical Institute (UTI), we believe that there are many pathways to career success. While time will tell how having Betsy DeVos as U.S. Secretary of Education will impact our campuses, we do know one thing: Now is the time to change the way we think about education.
It's important that parents acknowledge and embrace when kids are inclined toward a non-traditional path. Today, a focus on science, technology, engineering and math (STEM) is critical because the available jobs in STEM-based occupations such as computer science, engineering, advanced manufacturing, and automotive and diesel technicians across the U.S. far outpace the number of qualified candidates to fill them. This leaves many employers unable to find the quality workforce they need, a situation that ultimately affects the Long Beach economy and beyond.
U.S. Secretary of Education Betsy DeVos supports STEM curriculum, strong student outcomes, proven best practices and educational choice – and that is encouraging.
At UTI, we embrace this new leadership as an opportunity to show how our strong industry partnerships with automotive, diesel, and collision employers help shape our student outcomes and STEM-based curriculum. This model, and our commitment to excellence, is credited with helping 88 percent of our students land an industry job within one year of graduating.
Our model aligns with Secretary DeVos' emphasis to ensure each student is prepared for an in-demand, rewarding and well-paying career, and we look forward to working with the new administration."