Dr. Rodney White, whose co-development of the aortic endovascular stent revolutionized vascular surgery, is continuing to advance innovations in the field in his new role as medical director of vascular surgery at Long Beach Memorial Medical Center.
With colleague Dr. Thomas Fogarty, White led testing and human deployment of the aortic stent graft in 1996. The invention repairs aneurisms of the aorta, the body's main blood vessel, by inserting a stent wrapped in a fabric liner through a catheter into the blood vessel. Upon release, the stent expands and reinforces weaknesses in the aorta. This minimally invasive alternative to open-chest/abdomen surgery is now utilized in 50% or more of aortic aneurism cases, according to White.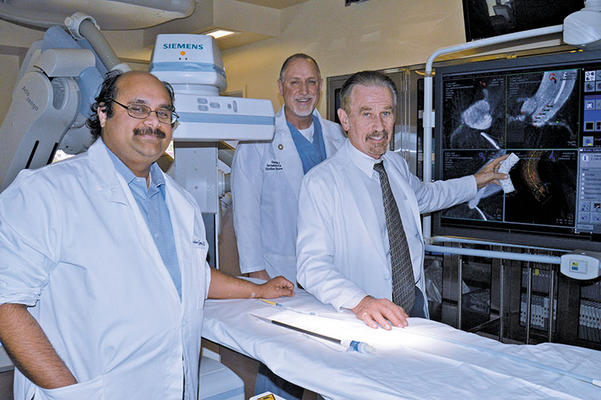 Dr. Rodney White, the new medical director of vascular surgery for Long Beach Memorial Medical Center, holds up an invention that, since he helped create it, changed the field of vascular surgery: an endovascular aortic stent. Pictured in the hospital's hybrid imaging suite, from left, are: Dr. Ankur Gupta, vascular surgeon; Derek Lester, director of invasive cardiology; and Dr. White. (Photograph by the Business Journal's Larry Duncan)
This procedure has made surgical intervention an option for patients who are too high risk for open-cavity surgeries, White said. "Beyond that, it has made it so that people's disability is reduced a lot," he noted. "They do better in terms of recovery."
Dr. Gregory Thomas, medical director of the MemorialCare Heart & Vascular Institute at Long Beach Memorial, said that having White at the hospital gives vascular patients access to unique, customized surgical solutions.
"If a person has an aneurism here that is expanding, he can put a stent in that's the right size and that has the arteries coming out of the proper spots," Thomas said, noting that White creates this in the operating room for immediate use. "That's very unusual to have available."
Thomas said the hospital is lucky to have White leading its vascular program. "Some people can say they have saved lives, but he has saved thousands and thousands of lives across the world with these inventions. He's very humble," Thomas said.
According to the Society for Vascular Surgery (SVS), about 200,000 people in the United States are annually diagnosed with an abdominal aortic aneurism, and about 14,000 Americans die each year when these aneurisms rupture.
Vascular disease can cause the blockage of the carotid arteries, which supply blood to the brain. Such a blockage can lead to strokes, which are the third leading cause of death in the U.S., according to SVS. A "large proportion" of these strokes are caused by vascular disease in the carotid arteries.
Peripheral artery disease, which involves arteries running down the legs, affects between eight to 12 million people in the United States, according to SVS. White pointed out that the death rate for this type of vascular disease is higher than that of breast cancer patients.
White worked at Harbor-UCLA Medical Center for about 39 years and served as vice chairman of vascular surgery research, division chief and vascular surgery fellowship program director. He remains a professor of surgery at the UCLA School of Medicine. He has been working with LBMMC for about 15 years through a fellowship program.
At the hospital, White is leading an FDA study of a new kind of stent that addresses dissections (tearing) of the ascending aorta – the portion of the blood vessel that curves to the heart. "This is a test of accuracy and long-term durability, basically," White said of the study.
"Every hour, 1% of patients with this condition die," Thomas said. "There is really nothing more fatal like that," he noted. "When I have a patient with an ascending aortic dissection – when you rip the aorta – I tell the patient and their family, 'You are the sickest patient in this hospital.'"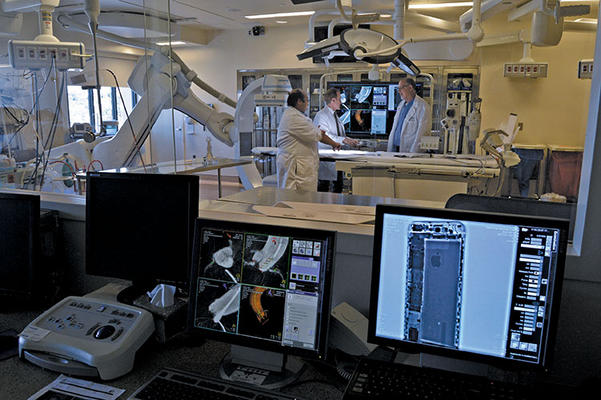 The Hybrid Imaging Suite at Long Beach Memorial Medical Center "combines the diagnostic capabilities of a catheterization laboratory with the surgical functions of an operating room," according to a hospital spokesperson. It also includes advanced imaging equipment, including 3D reconstruction capabilities. Pictured in the suite, from left, are: Dr. Ankur Gupta, vascular surgeon; Dr. Rodney White, medical director of vascular surgery; and Derek Lester, director of invasive cardiology. (Photograph by the Business Journal's Larry Duncan)
Surgery to repair this portion of the aorta must be done as soon as possible. "It's a fire-drill emergency to get it done," Thomas said. "And if we can do it with a stent, as you might imagine, it is going to be less invasive and more likely to work with less chance of stroke or other complications."
As the head of vascular surgery, White is focusing on expanding the hospital's minimally invasive surgical capabilities related to vascular care and fostering educational opportunities for medical training. He would like to collaborate with other experts in their fields, including Long Beach Memorial's Dr. Daniel Bethencourt, who specializes in robotic-assisted heart valve repair and replacement.
There may be opportunities to integrate the use of robotics in vascular surgery, White said, adding that the hospital already has the technological means and facilities to pursue such an endeavor. "It's in an area that looks like [it has] significant growth potential and really could enhance what Long Beach Memorial could do for the community," he explained.
Ongoing surgical training is one of the most pressing matters in the health care industry today due to changes in technology and rapid progress, according to White. "In two or three years, [surgeons] have got to retrain again," he said. Because minimally invasive surgeries are becoming increasingly common, it is correspondingly more difficult to provide opportunities to train in traditional, open-cavity surgeries, he explained.
White believes minimally invasive surgeries that involve delivering tools like stents or even medicines via catheters fed through blood vessels are the wave of the future. "The one thing about the blood vessels is they sort of connect everywhere [in the body], so it's eventually going to be a means for drug delivery for cancers or implants and organs even," White said. "This idea of working through the vessels and doing that sort of thing is going to continue and only get exponentially bigger."
He added, "The challenge is how to keep up with it when it changes so quickly."
LBMMC's Heart & Vascular Institute is one of the best of its kind in the West, according to Thomas. Its staff continues to pursue unique research in the field. Thomas, for example, is leading a team that studies atherosclerosis in ancient mummies throughout the world. "We found that atherosclerosis is not a disease of modern people. It goes back as far as the ancient Egyptian pharaohs and queens," he said. To see how an ancient lifestyle may have also played into the disease, he and his team are studying a tribe in Bolivia that leads an ancient lifestyle.
"The whole health care system is amazingly well put together, and in times when it's hard to survive, they're hanging in there and really making health care progress," White said of MemorialCare Health System. "I was pleasantly surprised because most institutions are not very enthusiastic about what they are doing in today's environment. And here it's different. There is a very infectious and positive attitude that's probably the most important part of the whole place."