For five years, Ivan Flores has operated The Buffalo Spot across the street from Wilson High School. On June 13, he celebrated the soft opening of his latest concept, Organic Fork, just up the street at 5726 E. 7th St.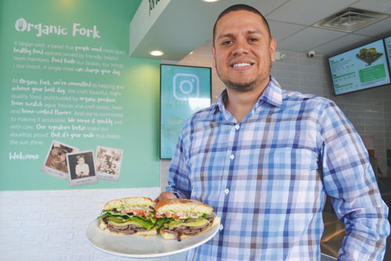 Five years after opening his first restaurant in Long Beach, Buffalo Spot – which has grown to 15 locations in three states – Ivan Flores celebrated the opening of his new concept, Organic Fork, at 5726 E. 7th St. (Photograph by the Business Journal's Pat Flynn)
As the name suggests, the menu puts an emphasis on healthier organic options, including gluten free and vegetarian dishes. The meats served at Organic Fork include grass-fed grilled steak, organic turmeric ginger chicken, carnitas and seared Baja Yellowtail. Flores said the most popular dish is his torta, which is served with a choice of meat, jalapeño aioli, bean puree, avocado cream, white sharp cheddar cheese, romaine lettuce, onions and tomato.
"I've always liked eating healthier but it's been hard because I'm always on the road. There are only certain locations you can go to find good, healthy food," Flores said. "That's why I decided to create this concept five years ago, actually while I was building The Buffalo Spot. But I was just focusing on The Buffalo Spot until I perfected the menu and the branding. We perfected it about a year ago and we started looking for Organic Fork locations."
The menu also includes plates, bowls, a variety of salads, grains and legumes, soups and sides, including a half avocado with an organic fried egg. A big seller for Flores is his homemade aguas frescas, non-alcoholic beverages made from fruits, cereals, flowers or seeds with sugar and water.
Flores' first concept, The Buffalo Spot, has expanded to 15 locations in three states. When he was looking for his flagship location five years ago, he said he was unfamiliar with the Los Angeles area, having grown up in San Diego. He accidentally exited the 22 Freeway into Long Beach and continued driving down 7th Street – lost. Flores said he and his wife stopped at a traffic light near Wilson, saw a For Lease sign, loved the location and quickly made an offer.
Fast forward to one year ago, when it came time to find a location for Organic Fork, Flores and his wife agreed there was no better spot than in Long Beach.
"Long Beach is very important to me since I had my first restaurant here," Flores said. "The community has been very good to me. They have welcomed us with open arms. We just love the community and this area."
The restaurant is currently open from 10:30 a.m. to 10 p.m. every day. However, Flores and his team are in the process of developing a breakfast menu that will launch in the coming weeks with operating hours beginning at 7 a.m.