Cheri Bazley uprooted her professional career to help others when she first started working for the Ronald McDonald House (RMH) in Orange County in 2006. About five years later, she found out the organization – whose theme is "helping to bridge access to health care around the world" – wanted to open a new house in Long Beach and uprooted herself again, moving to the city in the hopes that she would be chosen to lead the house as executive director. She was ultimately chosen from a pool of 75 applicants.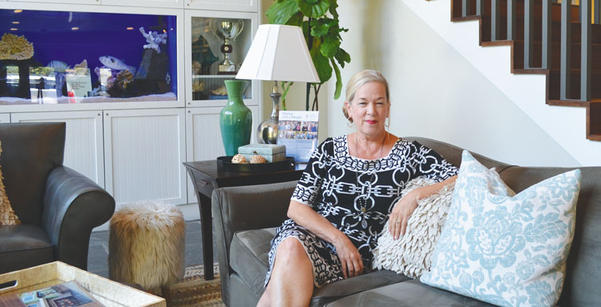 (Photograph by the Business Journal's Pat Flynn)
When the Long Beach RMH lost one of its largest sources of funding after Mayor Bob Foster left office and his annual charity golf tournament was retired, Bazley stepped up again to create a new fundraising event – one she never dreamed would become as successful as it did.
The Long Beach Ronald McDonald House is a 23-room home for families of patients of MemorialCare Miller Children's & Women's Hospital Long Beach who need overnight accommodations. The house asks families to donate $25 per night for a regular room or $35 for suites. But the total cost of housing a family is $125 per night, and about 50% of guests cannot pay anything, according to Bazley. Fundraising is crucial in balancing the budget.
In Foster's last year in office, Long Beach RMH received a $100,000 donation from his golf tournament. "That was a tough act to follow," Bazley said. "I had to come up with an idea to replace those funds in the budget for the following year."
At an RMH conference in Florida, Bazley learned about other fundraising best practices of other houses across the country and was inspired to create a new annual event to help fund the organization's efforts in Long Beach. "We tried this idea of honoring gentlemen, not necessarily for their support of the Ronald McDonald House but for doing good works and giving back in the community – hence the name, 'A Few Good Men,'" she said, referring to the name of the annual gala that will have its fifth anniversary in October.
The A Few Good Men Gala debuted in 2014 at the Pacific Room at the Long Beach Arena. It honored men who contribute to Long Beach through their work and charity, such as community event organizer Justin Rudd and then-Molina Healthcare CFO and Aquarium of the Pacific boardmember John Molina.
At each year's event, honorees film short spots about what inspired their work in the community, put together packages for a live auction and participate in an entertaining fashion show before attendees. "That's definitely out of the ordinary. And each year the gentlemen make their catwalk debut in different ways," Bazley said of the fashion show. "One of our inaugural class honorees was Justin Rudd. Justin pulled his bulldog in his red book wagon down the cat walk," she said. Rudd is known for his free library of books in Belmont Shore, where anyone can take a few copies from his wagon home to read. John Molina chose to strut down the walk with a penguin to highlight the Aquarium.
"We solicit sponsors for the event. We have table sales. There is a silent auction as well as a live auction," Bazley said of how the event raises funds. What has proven to be one of the most touching moments of the night is a segment called Fund a Family, in which a family that has stayed at RMH shares their experience.
Last year, a family spoke before an audience of the largest-ever attendance of 900-plus people. Ten minutes later, an additional $194,000 had been raised, Bazley recalled. "It's powerful. For me, it speaks to the power of this community," she said. "It really speaks to the mission and people recognizing how important the work is."
After the inaugural year in 2014, honorees have been asked to suggest the men to be honored at the subsequent year's gala. "We get recommendations and then we look to try to identify gentlemen from all walks of the community," Bazley noted.
Last year, the A Few Good Men Gala raised $750,000. It is the single largest source of funding for the house. In four years, it has brought it more than $2.3 million for the house.
Under Bazley's leadership, the Long Beach Ronald McDonald House has hosted 4,179 families since opening in 2011.
Asked what she loves most about her work, Bazley replied, "That every day we make a significant impact for these families. That what we do is life changing, and that on my most challenging day I leave feeling like it really matters."