Salon Benders founder Jessie Santiago had been in love with the Depression-era coffee pot-shaped building on Fourth Street since she first moved to Long Beach about 10 years ago, and she knew it was the perfect home for the beauty and wellness hub that she envisioned—a space that was inclusive, LGBT-centered, trauma-informed and sustainably focused.
Over the past five years, as Santiago has worked to revitalize the historic space, Salon Benders has made a name for itself in the community with its offerings of trauma-informed beauty and wellness services. But due to an expected rent hike amid an ongoing recovery from the pandemic, Salon Benders will likely have to relocate from its Fourth Street home in the coming months.
Revitalizing a neglected space and a change in ownership
Before Salon Benders opened its doors, the historic landmark building had been on the verge of being condemned to demolition, and Santiago quickly got to work breathing new life into the location.
From practically gutting the inside to make it functional, touching up paint and maintaining the space around the building, including creating a gazebo in the back for outdoor haircuts during the pandemic, work has been ongoing to revitalize the long-neglected structure.
Santiago quickly discovered that the work would largely be left to her and her team—the landlords, who do not live in Long Beach, expressed very little interest in assisting with any improvements, she said.
"It was just always such a hassle to get anything that we need," Santiago said. "So we just stopped asking."
Santiago began to explore the possibility of purchasing part of the property, including the coffee pot building as well as the backlot, with hopes of building on to allow for expanded services.
The owners seemed receptive to the idea, and Santiago was in the process of setting up paperwork and discussing it with lawyers. But then the pandemic hit, and in 2021, the owners sold the property.
The first owners had been hands-off, and the new owners similarly made it clear that they wanted nothing to do with the building apart from collecting rent, Santiago said.
Like many small businesses throughout Long Beach, the Salon Benders property is owned by investors from outside of Long Beach, Santiago said.
"They don't care that that building is one of the most special buildings in all of Long Beach," Santiago said. "We love it, and we wanted to preserve it, and we still want to preserve it, but honestly, it's completely out of our hands at this point. And there's nothing that we can do to try to keep that space in special hands."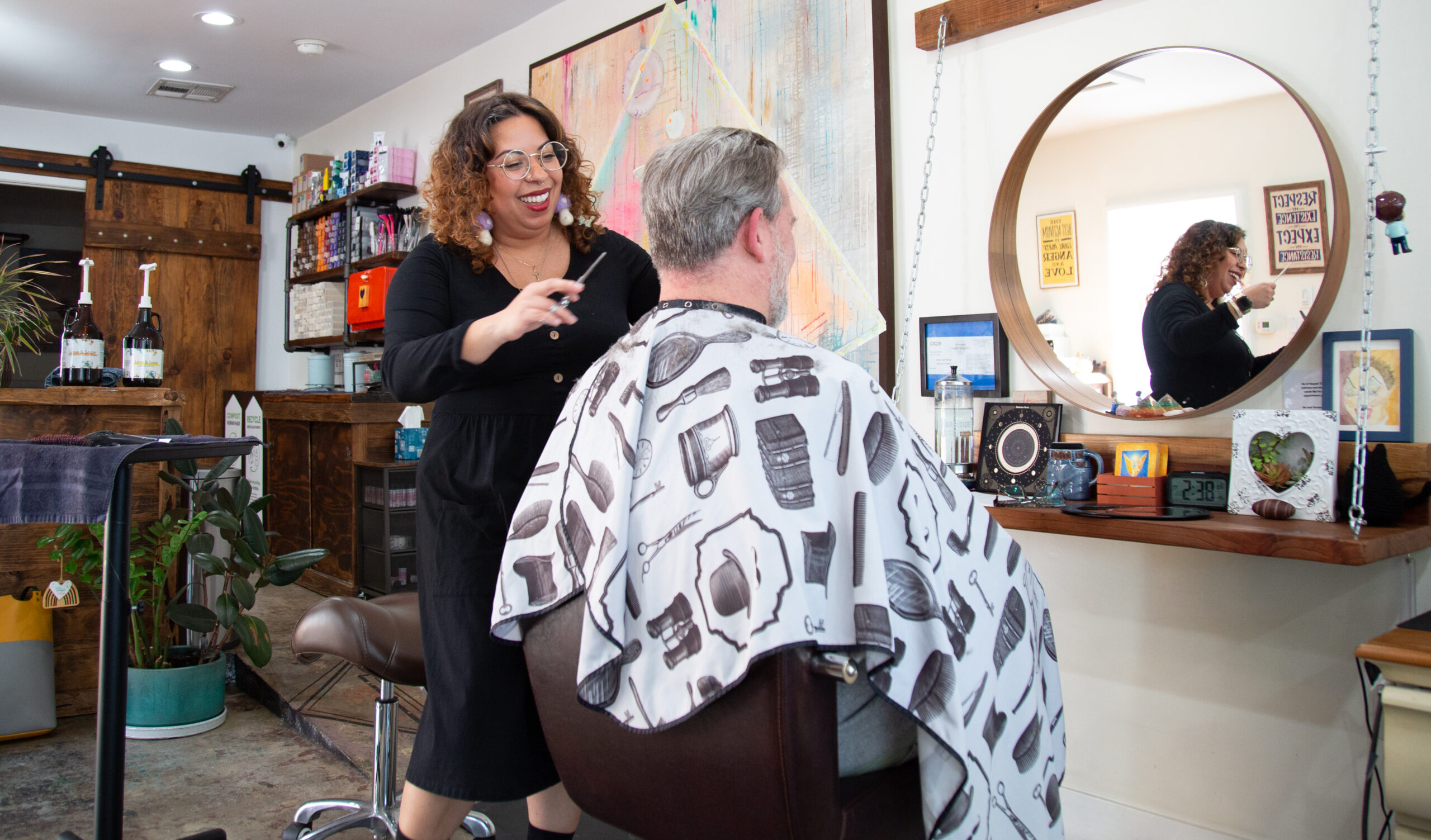 Property owner Gabriel Martin Perez confirmed that communication has been minimal with Santiago, and that he typically does not "deal with tenants at all." He said that Santiago reached out in 2021 about potentially splitting up the property, which he was not interested in doing because it would impact the property's value, and the property is part of his investment portfolio.
Perez said that he was unaware of any issues that Santiago was encountering. While Perez was notified by the property manager that Salon Benders' lease would be up in May, there have been no discussions regarding rent increases. As he owns properties in various cities, he is unclear what the market rate is, and his property managers typically assess each property's market cost, Perez said.
"We're always open to communicating, but the whole purpose of me having a property manager, is to not have to deal with it," said Perez.
While the property is seen as an investment for Perez, he said it is important to have tenants that maintain the property.
"We want to make sure we have the right tenants in place, but we rely on the property manager to give us that information," Perez said. "If she's doing a great job, we'd be happy to keep her."
Rising affordability concerns in the 2nd District
While it is unclear what Salon Benders' new rent will be come May, according to Santiago, it has been made clear that they are paying under market rate.
"It's kind of sad, because I'm pretty sure that we're gonna have to let it go," said Santiago. "But we're kind of in a big question mark right now."
There is no limit to how much landlords can raise rent on small businesses, and business owners are often left with no protection, Santiago said.
This isn't the first time Santiago has had to battle a sharp rent increase; while Salon Benders was closed due to COVID-19 restrictions, she had to hire a lawyer to renegotiate her lease, when the previous owners tried raising rent from $2,000 a month to $3,500.
"We could barely pay what we were paying because we had no income—literally none," Santiago said. "We were completely shut down."
All of her savings were spent surviving the pandemic restrictions, and it has been nearly impossible to catch up since then, Santiago said.
"Every haircut that I do goes directly back into the business so that we can pay for our bills and pay for our employees," Santiago said. "We haven't been able to take a salary since COVID."
Although her previous plans to purchase the Salon Benders building were thwarted, Santiago still hopes that purchasing a building will be possible, and she is currently examining loan and grant options.
However, if Santiago is able to purchase a property, it likely won't be anywhere near the 2nd District due to an increasing lack of affordability, she said.
"The people who have been here for a really long time are really slowly getting priced out and being pushed more north, because those are the places that we can continue to afford and run our businesses," said Santiago, who can no longer afford to live near her business in the 2nd District and has since moved to Wrigley.
The issues facing Salon Benders are not unique—small businesses throughout Long Beach have found it difficult to sustain themselves for similar reasons, and turnover has become common, she said.
Most people who can afford to purchase anything in Long Beach are larger developers from outside of Long Beach, who do not understand the community, Santiago said.
"Small businesses should be able to thrive, even if they don't own the building, because so many of us don't have the resources to be able to do that," Santiago said.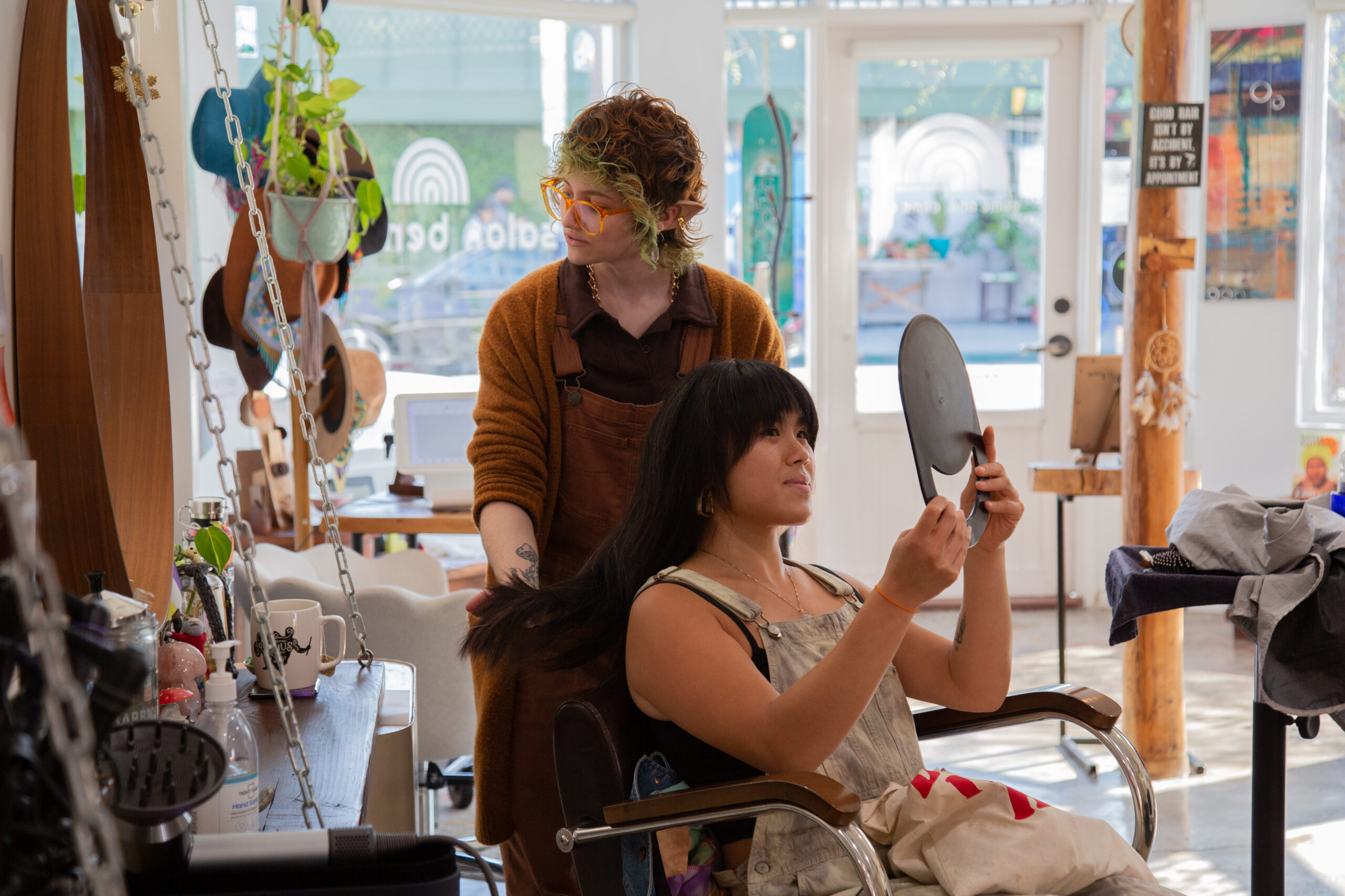 According to Santiago, apart from grappling with landlord issues, Salon Benders and the surrounding area has been neglected by local government and by the city, making it even more difficult for businesses to sustain themselves.
Unlike Retro Row farther down Fourth Street, and many other areas throughout the city, Salon Benders and the roughly 15 businesses between Alamitos and Orange avenues are not located within a business improvement district, and as a result, receive very little support, Santiago said.
From a lack of a city trash can, a crosswalk or available parking, plus coping with crime, business owners in the area are left to look out for one another, said Santiago.
A representative from the Business Development Bureau did not respond to an interview request, nor did Councilmember Cindy Allen, who represents the area.
"I've done so much to uphold that building, and have done so much to bring beauty and a name to that space in that corner," Santiago said. "When we're trying to uphold and keep our community true to who we are, true to our roots, but we're constantly getting pushed out and pushed out and pushed out—I almost don't want to speak up anymore. I just kind of want to be left alone."
A community space
Despite the obstacles, Salon Benders has worked to carve out a space in the community with its inclusivity-focused care. Apart from offering hair care, it has become a hub for beauty and wellness services, including reiki, oracle readings and somatic trauma therapy.
"I noticed that they asked for consent, which is so new to me in a salon," said Long Beach resident Julia Leung, a first-time Salon Benders customer.
"Long Beach feels like this community that's its own little world," Leung added. "People who live here deserve that type of service, and it makes Long Beach a really special place because of the way the small businesses are run."
Sean Devereaux, a Long Beach resident of about 26 years, and who has been going to Salon Benders since November, never saw the space activated by a business until Salon Benders came around.
"It enriches everybody's experience to have a space like this," Devereaux said.
For 10 years prior to first visiting Salon Benders, Devereaux had cut his own hair, partly due to not feeling welcomed in most hair grooming spaces.
"This was such a charming building in an area that really could benefit from some investment in small businesses and the city," Devereaux continued. "And Salon Benders is just such a beautiful manifestation of all of that."
According to Santiago, change will only come by giving marginalized business owners a chance to own property—and a chance to thrive.
"If we don't get to stay here and leave our mark here and have some kind of power in the districts that we have worked so hard to improve upon, we're going to get pushed out and representation is just going to look less and less like Long Beach," Santiago said.
Although Salon Benders may not be on Fourth Street this time next year, Santiago remains hopeful for the future of her community-centered business.
Apart from creating an inclusive space for customers, Santiago said she hopes to be a part of the solution for young beauty professionals entering the industry, many of whom are women, people of color and people who haven't had access to higher education—with hopes of eventually renting out affordable space to other beauty professionals to work together in a trauma-informed environment.
Despite all of the challenges that Salon Benders has encountered in its five-year lifespan, particularly in the last couple of years, Santiago is hopeful.
"I am resilient. I come from resilient women. I come from a background of complete poverty and homelessness," Santiago said. "And you know what? If I can survive that, then I can survive this, and I believe that this is just part of my path."
"I believe by the grace of the universe and being able to continue to find the silver lining here, and continue to find my allies—people who really, really want to help, not just say they want to help … I think that we're going to be OK," Santiago added. "I don't think it's going to be easy. But I hope it does get easier."