Runwaytrash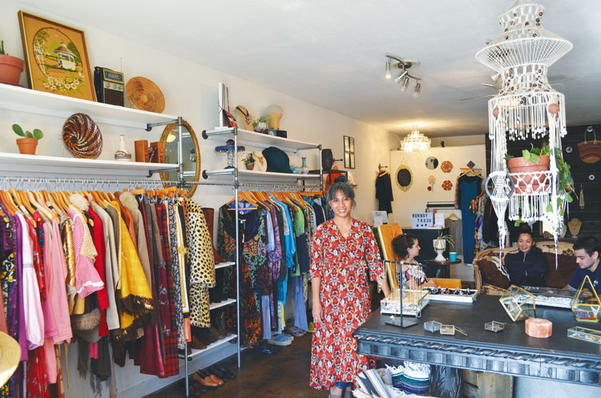 Runwaytrash Owner Phimpha Misouk emigrated to Long Beach from a refugee camp in Thailand when she was six months old. She moved away from the city at age 14, but the friendly and diverse atmosphere drew her back as an adult. "I've always wanted to open a store in Long Beach," she said. "I know people say Los Angeles is more diverse, but I think there's more culture in Long Beach. It's one of those friendly beach cities that you can't find anywhere else in Southern California." Runwaytrash has been open four years and it is Misouk's first business. The store specializes in bohemian style clothing and jewelry from the 1960s and 1970s. Misouk said she tries to include products from Long Beach designers, like the local brand Girlshop, which focuses on vintage-inspired jewelry and hand-painted designs on clothing. She also sells candles made by another local artist. Misouk's interest in fashion and vintage clothing started when she was young. "Growing up, my family didn't have much money, so we took the bus to Goodwill," she said. She said that meeting new people is her favorite part of running the business. Runwaytrash is located at 4019 E. 4th St. For more information, visit www.rwtshop.com or call 562/342-4372.
Viento y Agua Coffee House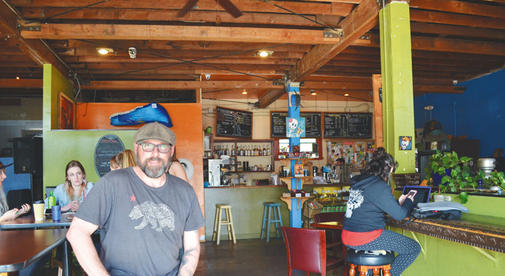 Viento y Agua Coffee House started out as an art gallery when it opened in 2003. Owner Bela Mogyorody founded the business with his best friend and his best friend's wife, who is a native to Mexico City. "I was working in the film business and I had a lot of time on my hands, so I helped them build it," Mogyorody said. He convinced his friends to add a coffee bar in 2004. Within a year and a half, the couple left the business and Mogyorody continued running it on his own. "We're still known as a gallery but we've evolved as a coffee house," Mogyorody said. The shop holds open mic events and live music every weekend. Viento y Agua, which means "wind and water" in Spanish, features specialty coffee like the Mexican mocha. Another customer favorite is the café con leche, a latte with cinnamon and a brown sugar "kick" to it. The owner said he has enjoyed getting to know the kids from Fremont Elementary School, located across the street from his shop. "Some of them come to see me after they've gone off to college and come home for Christmas break. Having been here for 15 years, you get to witness that that kind of longevity, and that makes me happier than anything." Viento y Agua Coffee House is located at 4007 E. 4th St. For more information, visit: www.vientoyaguacoffeehouse.com or call 562/434-1182.
Ambiance Skincare & Day Spa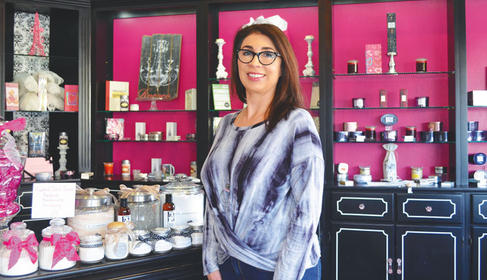 Ambiance Skincare & Day Spa Owner Laura Gonzalez worked in the banking industry before deciding in her thirties that she needed a change. "I did makeup for my sisters. They said I was really good at it and that I should check it out as a career," she said. "I didn't realize people could make a living doing that, but I did some research and went to beauty school. Now, I absolutely love coming to work every day." After getting her license, Gonzalez started out as a personal consultant in Seal Beach. Then, in 2001, she decided to open up her own space in Long Beach. Gonzalez said that, at first, she was afraid to open since she was the only retail store in the neighborhood and was surrounded by vacant storefronts. "But I did it, and about three years later, other small businesses started to open. It's really great to have a full neighborhood where everyone's doing really well," she said. "Interacting with clients is my favorite part," she reflected. "I've had some of them for over 20 years. I enjoy the relationships I've built, taking care of people and making them feel good." One of the spa's bestselling services are facials tailored to each customer. Microdermabrasion is another popular treatment, which minimizes skin imperfections such as wrinkles, sun damage and acne scars. Ambiance Skincare & Day Spa is located at 3946 E. 4th St. For more information, visit: www.ambianceskincare.com or call 562/621-1121.