D.M. Gremlin Studiosy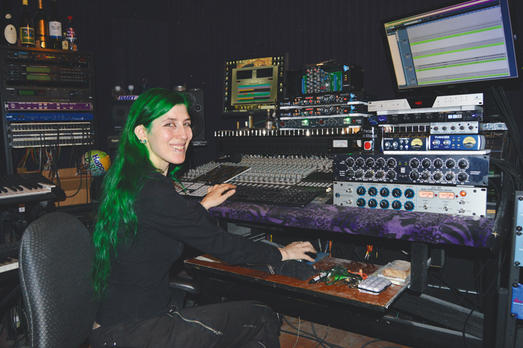 Wendy Levin took over as the sole owner, operator and engineer of D.M. Gremlin Studios, an audio recording and photography space that opened at 6053 Atlantic Ave. in 2007. "Oh my gosh. I love recording. I love miking up the drums. I love when a mix comes together," Levin said. "I just love the making of music and the mechanics of it – turning it from a bunch of gear and knobs and buttons into a song that you can listen to and feel the emotional content of it." In 2008, Levin created a second studio space dedicated to photography, which is still a prevalent part of her business. She has a connection to Long Beach Records and has worked with members of Sublime and Pennywise. Levin said she records all genres, including hip hop, pop, rock, metal, jazz, ska, reggae and event documentary narration and voiceover reels. "I'm often told I should raise my prices, that I'm worth a lot more than what I charge, and I am. But, genuinely, the point of this place is to make it possible for people who do not have record label budgets to still do that kind of recording," Levin said. "It's really is not just a happenstance that we are a low-cost studio here. I intentionally keep the pricing down." For more information, call 866/334-4364 or visit www.dm-gremlin.com.
Manny's Barbershop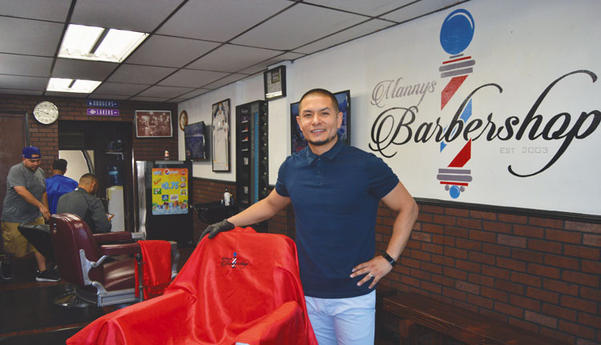 Manuel "Manny" Navarro first became interested in cutting hair when he was around 14 years old and he got a hold of his mother's clippers. He started out cutting  hair for family and friends, eventually enrolling at John Wesley International Barber & Beauty College. Navarro originally opened his shop at Olive Avenue and Artesia Boulevard but had to close down after being robbed and shot. After getting back on his feet, he opened Manny's Barbershop at 6080 Atlantic Ave. in 2011. "I've seen a lot of positive change in the area. I've seen a more active business community in the area," Navarro said. "I chose North Long Beach because this is where I live. I thought it was cool to be around my area and give back to the community." Today, Navarro said his clientele includes professional soccer players such as Lionel Messi and members of the L.A. Galaxy. Two other barbers rent chairs in Navarro's neighborhood shop and he recently launched his own gel product, Le Barbier. "My favorite part of being a barber is just looking at my haircuts after I finish. It's art," Navarro said. "When I see them, I can envision the haircut I'm going to give them. What is satisfying is seeing the difference from before and after." For more information, call 310/922-3682 or visit the shop's Instagram @mannylebarbier.
Atlantic Auto Repair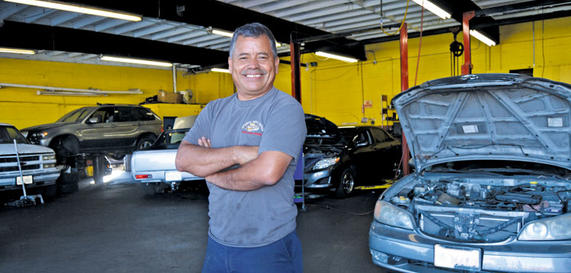 In his native country of Guatemala, Edgar Morales was given the option to join the military or enter into a technical career. He accepted a scholarship and learned the automotive repair trade. Morales opened a shop in Santa Ana in 1987 but ultimately had to close down when developers had other plans for the site. After working several years at a shop in North Long Beach, he was given the opportunity to take over Atlantic Auto Repair at 5966 Atlantic Ave. in 2000. "He [the then-owner] said he was going to pass the shop to me to see what I could do," Morales said. "He just gave it to me but I had to pay all the money that was behind. So I got the shop with a big debt because he owed a lot of money on rent and all that, and that's how it started." Morales said the recession hit his shop hard and that business has not recovered since. However, he said the shop is surviving and that he is making enough to pay the bills and his two employees. "It's like an old school shop. It's with a handshake and talking first. Focusing on resolving their problems," Morales said. "More community based. Thanks to the community, the shop exists. Our customers are loyal and they keep coming back to the shop." For more information, call 562/428-9488.
Coco Dental Labs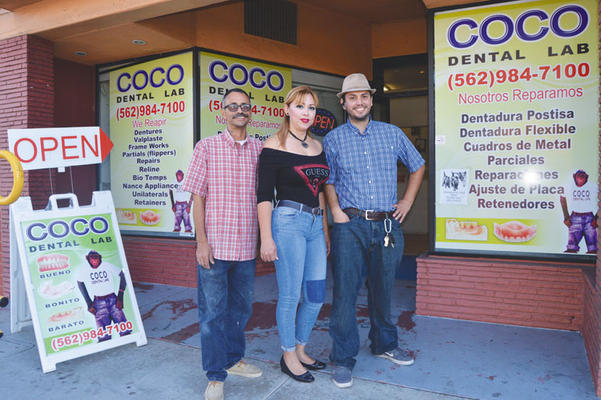 Located at 5630 Atlantic Ave., Coco Dental Lab is a father and son operation that makes dentures for various dental offices in the area. Coco Avila opened the business more than a decade ago, though he has been in the industry for more than 30 years working for larger laboratories. "The most rewarding part is giving people the opportunity to actually smile again," Coco's son Moses Avila said. "We get so many stories when we go into dental offices where people are just overwhelmed sometimes at how they can go on with their daily lives again. When you get your teeth back it's a relief." Moses explained that he never intended to get into the industry but that he began helping his dad when he was short staffed. Now, Moses handles all of the day-to-day administrative work, while Coco acts as the technician creating the dentures. Each set of acrylic dentures are made especially for individual patients for a perfect fit and bite pattern. "Industry prices are going up but we are keeping our prices [stable] and fair," Moses said. "But what we offer is high quality for an affordable price and quick turnaround speeds. We give them to the patient and, if it is comfortable, they walk out with a brand new smile." For more information, call 562/984-7100 or visit www.cocodentallab.net. Pictured from left: Coco, Sahara Michel and Moses.