Given that many Millennials came of age during a time of financial strife, it should be unsurprising that recent research reveals that the majority of our generation feel anxious about finances and that many of us have a hefty level of discomfort with the idea of investing in the stock market.
Unsettlingly, some research also reveals sizable disparities between Millennial men and women when it comes to their financial stability and happiness.
An online survey of Millennials aged 20 to 36 by Wells Fargo, released in late September, revealed that 69% of Millennials desire to get over anxiety about money, with only a third reporting they are satisfied with their financial lives.
In August, findings released by Northwestern Mutual as part of its 2017 Planning & Progress Study found that Millennials are "significantly more professionally and financially anxious than other age groups." Of the 632 Millennials surveyed by Northwestern, 53% reported high to moderate anxiety about losing their jobs, 67% reported the same anxiety levels in respect to their level of savings, and 69% experienced the same anxiety level about their incomes.
Nearly one quarter of Millennials in Northwestern Mutual's survey said that financial anxiety actually made them physically ill on a weekly or monthly basis, compared to just 12% of the general population. A quarter of Millennials also reported that financial anxiety affects their relationships with a spouse or partner on an hourly, daily or weekly basis.
It's no wonder we're stressed out about our finances. We're burdened with debt.
Fredrik Axsater, executive vice president and head of strategic business segments for Wells Fargo Asset Management, told the Business Journal that Millennials own 80% of the $1.3 trillion in student loan debt in the United States. "Their average student debt load is $41,200. And that's also quite significant versus what we've seen in the past," he said, citing Pew Research Center data. He noted that Millennials also make up 71% of first-time homebuyers, so many also have mortgages.
Forty-six percent of Millennials surveyed by Wells Fargo said they had significant debt, 43% said they cannot afford to pay for their health care, and 42% said they regularly rely on family, a spouse or friends for support.
Millennials are also quite leery of investing in the stock market: 53% of Millennials responding to Wells Fargo's survey said they would "never be comfortable investing in the market." Axsater linked this attitude to Millennials' firsthand experience of the Great Recession, which affected not only their financial well-being but that of family and friends.
Millennial women's median income lags behind that of Millennial men, according to Wells Fargo's research: while Millennial women surveyed have a median income of $43,000, men have a median income of $63,000.
Additionally, while 59% of women reported being the primary financial decision maker, 82% of men reported the same.
Axsater said the findings reveal that the gender gap is still an important area that needs addressing. "Arguably, it's even more important to get women engaged in financial matters," he said.
          (Wells Fargo Image)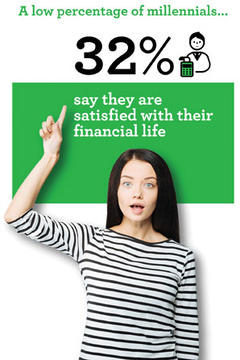 "When Millennials answer in a positive way across five questions – I pay monthly expenses, I pay for future needs, I have some savings for my retirement, I set and achieve my financial goals, I feel in control of my financial life – then not only does your confidence go up by feeling engaged, but also the gender gap goes down," Axsater said of the survey's findings.
"While Millennials are happy, money is a big concern for them," Axsater said. Wells Fargo's survey showed that 65% of Millennials feel their lives are meaningful. "When you get Millennials involved in money and financial matters, on average their happiness goes up as well, and quite significantly," he explained. Wells Fargo's study showed that 98% of Millennials feel financial security is important to them.
The reason Wells Fargo and Northwestern were interested enough in the financial habits and well-being of Millennials to invest in studies is simple: we're the largest living generation. According to Wells Fargo, an estimated $30 trillion in wealth may be passed down to us. And by 2025, we stand to take up 75% of the workforce.
"The most important thing is that we should, given how significant this population is across Wells Fargo's business, . . . we actively need to take [Millennials] into account in anything that we do," Axsater said.
To encourage financial engagement among Millennials, employers should consider linking any investment plans they offer, such as defined contribution plans, to the big three ideals: environment, social and governance (ESG), Axsater said. "It ties to many Millennials who like having a cause and a mission. And being in a work environment that acts in a way that's consistent with their beliefs is really important," he explained.
Backing up Axsater's suggestion, 84% of Millennials said they desire to make investments that make the world a better place, and 74% "said it's easier to stomach the markets' ups and downs" if their investments have a positive impact.
Despite all the stress money causes us, for the most part, we Millennials are reportedly not materialistic. It turns out that 88% believe success is more about being "happy" than it is about "material prosperity." The top aspects of life that Millennials said made them happier are spending time with family and friends, and helping others. That's a statement I think you'll find any Millennial who isn't a wannabe Kardashian would whole-heartedly endorse.