Long Beach Beer Lab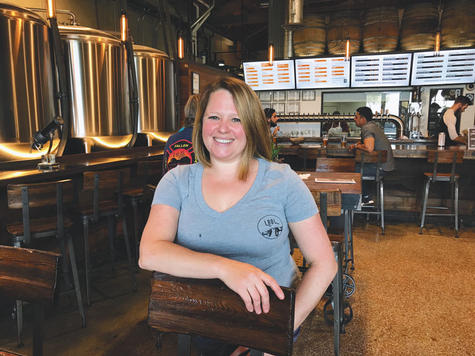 Long Beach Beer Lab co-owners and married couple Harmony Sage and Levi Fried started brewing beer when they lived in Israel, where Levi was attending medical school. "There wasn't any good beer there," Harmony Sage Fried said. "We were just brewing it to drink ourselves." After attempting to open a brewery in Israel, the couple decided to return to Long Beach, Levi's hometown, to grow their business here. "Our business didn't make sense there because Israelis don't drink a lot of beer," Fried said. The brewery held its grand opening last October. One of their bestsellers, "Milk the Mustache," is a "tart, farmhouse beer," described Sage Fried. She added that, "For a limited time, we're going to have different variations: some with plums, a tropical one with guava and passionfruit, one with hops and one with blueberries. We also made one with cherries but haven't released it yet." In keeping with the theme of fermentation, the beer lab also features sourdough bread made onsite. "We have sourdough pizza and salads from local farmers markets. All of our produce and toppings are seasonal." Fried likened the brewery to an "old school tavern," that serves as a community gathering place. "My favorite thing is when people, who've lived on the same block for 10 years who have never met each other, meet at our bar," she said. Long Beach Beer Lab is located at 518 W. Willow St. For more information, call 562/350-4821 or visit lbbeer.com.
The War House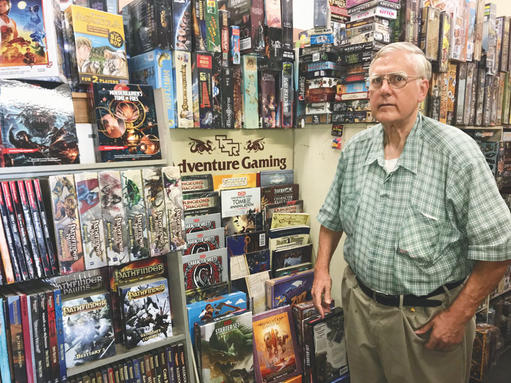 The War House, a shop that specializes in board games and gaming supplies, started out of a garage. "I'm a board gamer," owner Steven Luckey explained. "I had a job with a [gaming] club that sponsored events. Then the company went bankrupt. It had merchandise like I have in the shop now: boxed games and board games." Luckey and two business partners started selling the leftover games to hobby shops and continued the enterprise as wholesalers. They were operating out of a garage when fantasy tabletop game Dungeons & Dragons (D&D) was released in 1974. "We started selling [D&D] by the hundreds," Luckey said. Luckey and his then-business partners realized that the space wasn't large enough to keep up with the demand. By 1976, they had opened their own store at its current location. The War House hosts weekly gaming events for kids in the neighborhood, where they play classics like Monopoly and card games such as Pokémon and Magic: The Gathering. For gamers over the age of 14, Luckey holds sessions for role-playing games like Dungeons & Dragons and Pathfinder. The War House sells gaming accessories like dice and poker supplies, as well as a range of other products. These include historical books and model planes and vehicles. It also features a wide selection of colorless, medieval figurines and paint sets to customize them. The War House is located at 630 W. Willow St. For more information, call 562/424-3180 or visit thewarhouselongbeach.com.
Joe's Fountains & Plants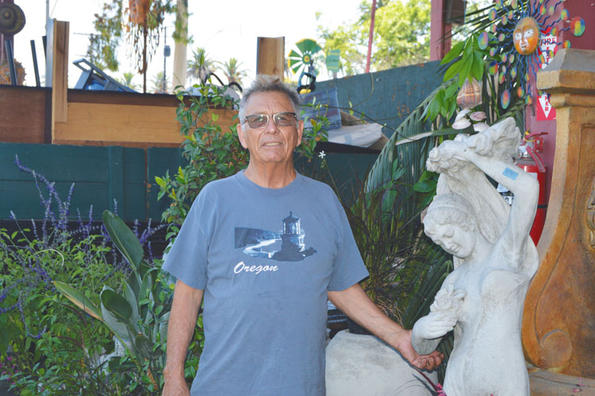 Growing up in Tijuana, Mexico, Jose Mendoza, Jr. learned the art of ceramics from the owner of a place his family rented. "He used to make figurines and piggy banks," Mendoza recalled. Four of his cousins continued the practice; one of them constructs the fountains that Mendoza sells at his business, Joe's Fountains & Plants. "My cousin has made fountains since 1965," Mendoza said. "We immigrated here, and he kept [making fountains]. I was too young; I was 11 years old, I had to go to school. But he made a living out of it. He's [now] 75 years old." Joe's Fountains also sells fruit trees and houseplants, as well as Christmas trees and Halloween pumpkins. Other ceramic yard décor sold at the shop includes statues of icons such as the Virgin Mary and Michelangelo's David. Mendoza paints the fountains and statues to his customers' specifications, a process he compared to creating an oil painting. "We mix colors. It's never the same," he explained. "When you make one color, you put in a drop of this and a drop of that." Mendoza also installs the fountains, an aspect of the business he finds challenging. "Sometimes people will say, 'There's only two steps,' and it's more like 15," he said. "You've got to bring things down that weigh 200 to 300 pounds and be careful not to damage the stairs." Joe's Fountains & Plants is located at 701 W. Willow St. For more information, call 562/427-7548 or visit joes-fountains.business.site.