The Aquarium of the Pacific is more than just a venue to view marine life – it is also a center for education. The Aquarium is regularly host to a variety of guest speakers and academic forums, and features a variety of ongoing programming designed to educate guests about the world's oceans and the environment.
Guest Speaker Series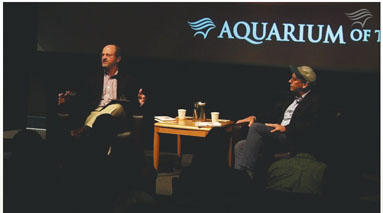 Former Los Angeles Times food writer and columnist Russ Parsons speaks during an Aquarium forum. (Aquarium of the Pacific Photograph)
The Aquarium's Guest Speaker Series invites a broad spectrum of experts in the fields of science, marine biology, oceanography, conservation and government, as well as artists, photographers, authors and explorers to share their experiences with the public. Attendees have the opportunity to hear directly from these experts and ask them questions, receiving up-to-date information and learning about the latest discoveries relating to the speaker's topic. Each presentation is broadcast live on the Aquarium's website. Tickets are $5; Aquarium members, teachers, students with valid ID and seniors ages 62 and above receive free admission. For a schedule of upcoming lectures, visit www.aquariumofpacific.org/news/lectures.
Aquatic Forums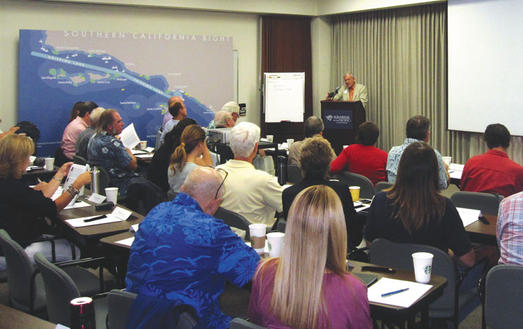 Aquarium President and CEO Jerry Schubel speaks during an Aquatic Academy event. (Aquarium of the Pacific Photograph)
The Aquarium regularly hosts scientists, policymakers and others in forums to search for solutions to the most pressing and complex problems facing the ocean and environment. Past forum topics include aquaculture, climate change in Southern California, California's drought, extreme weather, coastal and marine spatial planning, and the urban ocean. Reports from these meetings are available by request and at aquariumofpacific.org/mcri/category/forums.
In 2017, the Aquarium partnered with founding sponsor Honda to develop two forums. The first was held in March and focused on oyster restoration. The second forum in November, "Sato-Umi in the Anthropocene," examined a Japanese principle for coastal management and how it might be applied in Southern California. In March 2018, the Aquarium will host a forum on how sea level rise will redraw the world's coastlines, and in September a forum will be held with the Aquarium's Seafood for the Future program on the topic of marine aquaculture and sustainable seafood. American Honda is the Aquarium's forum sponsor.
Aquatic Academy (Adult Education)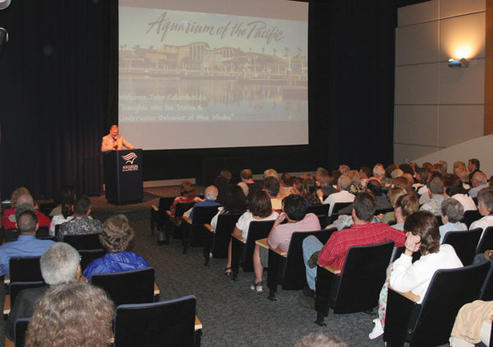 Aquarium President and CEO Jerry Schubel speaks during an Aquatic Academy event. (Aquarium of the Pacific Photograph)
The Aquarium fosters lifelong learning and dialogue on complex and pressing issues related to the ocean and environment through its Aquatic Academy. This program offers short series of courses for adults that bring together experts in science, business, conservation, policy, and academia to share their knowledge and experiences with attendees. The Aquarium typically holds two Aquatic Academy sessions each year, each comprised of a series of four evening classes in which attendees hear presentations and panel discussions by scientists and other experts. Participants get in-depth information about timely environmental topics and the most current data and interpretation from the speakers. Previous Aquatic Academy courses have covered genetically modified organisms (GMOs), ocean exploration, integrating art and science to tell stories about the environment, extreme climate-related events, and other ocean and environmental issues. The Aquatic Academy in March 2018 is slated for four consecutive Wednesdays starting March 7, 2018. The topic is sea level rise and its global impacts on coastlines.
Ocean Science Center/Science On A Sphere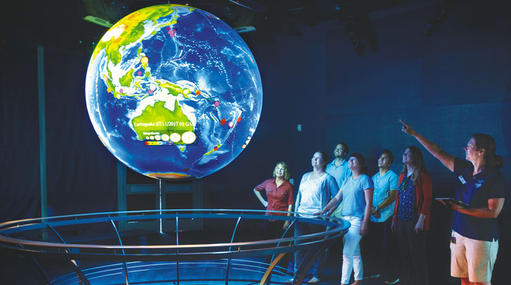 The Aquarium's Ocean Science Center uses the National Oceanic and Atmospheric Administration's "Science on a Sphere" to "explore [the] planet and tell stories about ocean phenomena and their impacts," according the Aquarium website. (Aquarium of the Pacific Photograph)
Climate literacy is a major emphasis for the Aquarium. The Aquarium's partnership with the National Oceanic and Atmospheric Administration (NOAA) led to the installation of Science on a Sphere®, a display system NOAA created to help the public better understand global ocean, climate, and weather phenomena. Science on a Sphere displays visualizations built on near-real-time data and images collected by satellites and other instruments around the world. The Aquarium has created more original programming for the Science on a Sphere® than any other of the more than 100 institutions around the world that house one. Journey around the globe to explore the atmosphere, ocean, and continents with an immersive exhibit that uses technology to take you on a virtual exploration. You'll see how climate change and maritime trade and ports impact our lives no matter where we live on the planet. Other shows cover the topics of sustainable seafood, El Niño, extreme weather, ocean exploratio, and more. The Ocean Science Center uses state-of-the-art technology from NOAA. In 2018, the Aquarium will debut a new show for Science on a Sphere on human migration.
Our Water Future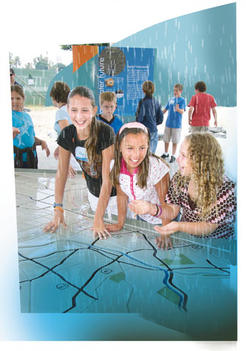 The Aquarium's "Our Future Water" exhibit educates visitors on where water comes from, major water uses and ways to conserve water. A three-dimensional model demonstrates how water travels through Southern California during rainfall. (Aquarium of the Pacific Photograph)
The Aquarium's former Our Watersheds: Pathway to the Pacific exhibit area has been renovated and transformed into the new Our Water Future exhibit. The newly themed area opened on May 26, 2017, and features interactive exhibits, digital displays, a monarch butterfly garden, and other components.
The aim is to help visitors understand where our water comes from and what conservation issues we face with our water supply now and in the future. Guests can find out what they can do to conserve water and which actions are most effective.