The expansion of 3D printing into the consumer market has created a new market for the feedstock needed to produce the products these magical devices can create. And the economics of recycling has left a large supply of plastic products untapped.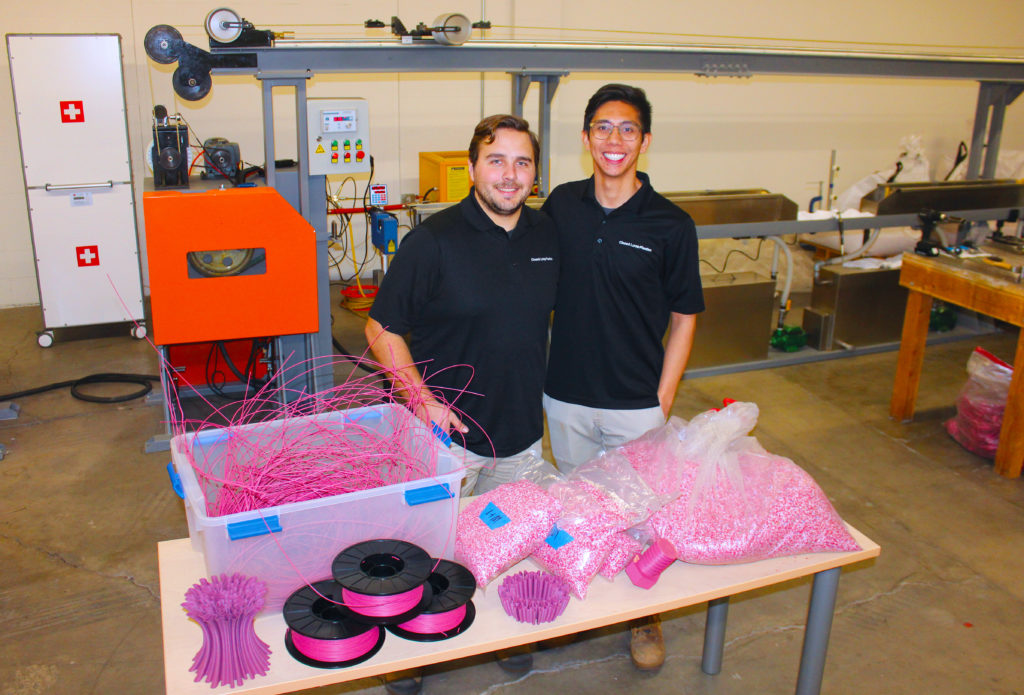 Closed Loop Plastics did the market research, put the two together, applied some technology to the niche it discovered and it is now in business in Long Beach, reducing the materials heading to landfills and providing high-quality feedstock for 3D printers.
"We're excited to be in the city of Long Beach," said William Amos, co-founder of Closed Loop Plastics.
"We are filling a need," said co-founder, Aldrin Lupisan, who is familiar with the city, having attended St. Anthony High School.
Long Beach was attractive for a number of reasons, not the least of which was that it has an active support system for assisting new companies, a system that Closed Loop relied on to establish itself in the city.
Every manufacturing process needs raw materials. Closed Loop's approach has been to recover an underutilized product and turn it into its finished product, said Sharon To, chief technology officer.
"One of the biggest plastics that was not being recycled was high-impact polystyrene," To said. "This is a very, very prevalent plastic, and it's almost never been recycled, mostly because it interacts with food, and it would be contaminated in terms of traditional recycling processes. Our team created a cleaning technology that removes the contaminants."
The technology is not just innovative, but cost-effective as well, Amos said.
"It is a low-cost, low-energy consumption process," he said. "We just had to find industrial space. We didn't have to build something in the middle of nowhere."
This is the point at which so many inventors fail to make the leap to entrepreneurs. There's a huge difference in creating a new software program or plastic recycling process and turning that idea into a successful business. Siting a manufacturing process can be complicated. And  that is where the city's support network came in.
Closed Loop did a presentation at a 1 Million Cups entrepreneur networking event in Long Beach, where Seyed Jalali, Economic Development Officer for the city, met with them. The city is a community sponsor for the event, as is CommonGrounds Workplace, the Downtown Long Beach Alliance, and the CSULB Institute for Innovation & Entrepreneurship.
Jalali connected Closed Loop with Wade Martin, the institute's director, who was instrumental in getting the company into its 5,400-square-foot space on the West Side.
"The big thing with Closed Loop was their site need," Martin told the Business Journal. "We talked to them about their business model, their physical needs. And then made connections with the necessary people who could help them find the appropriate space. They had such a good business model and such a desirable company.
"It was really a matter of just making sure what their needs were and make the connections to help them find the space that met the zoning needs and production capability . . .  to meet their needs. Hopefully, we made it so they didn't have to make a lot of different phone calls, so they didn't have to hire a navigator."
Martin was able to act as a liaison, interpreter, mentor and go-between for the company in its dealings with the city and with the real estate community in Long Beach.
And Amos says Martin's guidance was instrumental in successfully establishing operations in the split-level building – factory on the ground floor, offices on the second floor – that met their needs, and a few of their wants as well.
"Being right next to the port, it kind of fit into a lot of what we were hoping to do with the company. It wasn't a major point, but it was kind of a bonus," Amos said.
"This was the first time we'd built a factory as a team. We hit some snags in the process, and they guided us through it. It was nice to have some people at the city help us through those snags."