Ariella Barker's life has been completely altered by rape.
There was a time when Barker could not leave her home for fear of running into the man who assaulted her.
Having a pap smear, a routine annual gynecologic exam for women, causes her such terrible, consuming anxiety that she recently had to be put under anesthesia to undergo the simple procedure.
She rarely has close friendships with men. She avoids being alone with them. And she certainly would not have a drink with one.
Before meeting someone for a date, she runs a background check on him.
She looks at all the people around her differently, from her acquaintances to strangers on the street, more attuned to the nuances that give away a potential predator.
Barker has changed many aspects of her life to protect herself from being attacked again, because it hasn't happened to her once – it has happened twice. And there have been other near misses.
"Eighty percent of women with disabilities are sexually assaulted in their lifetimes, and many of them are often assaulted more than once. And, unfortunately, I fall within that second category," Barker told the Business Journal in a phone interview. Barker has Spino-muscular Atrophy Type III, a condition affecting the motor neurons in the body that allow muscles to function normally. As a result, she has very limited mobility, and is in a powered wheelchair. The strongest parts of her body are her facial muscles, hands and feet. Her hips and shoulders are quite weak. If another person were to attack her, as has happened twice now, it would be extremely difficult for her to fight back.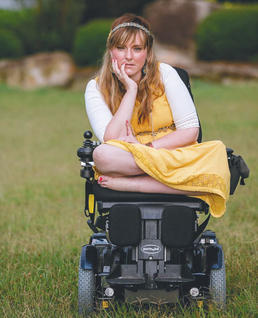 Ariella Barker is an accomplished attorney and disability policy advisor. She is also a survivor of sexual assault. An Orthodox Jew who dresses conservatively, Barker wondered what it was about her that resulted in her being attacked not once, but twice – and with other near misses. She later learned that persons with disabilities are at higher risk for sexual abuse. (Photograph provided by Ariella Barker)
Barker is an accomplished attorney who resides in North Carolina. She practiced litigation for many years representing Mayor Michael Bloomberg and the City of New York in labor law and employment claims, and now specializes in disability policy. She advises politicians on disability-related issues.
"The first time I was sexually assaulted was when I was in law school, and it was an acquaintance rape. It was actually my best friend," she said. "It took me a really long time to get over that. I had a lot of anxiety and stress after that."
"Six or seven years later, I was assaulted again by a stranger," Barker said. This attack occurred when Barker was waiting for a bus at night with waning cell phone and wheelchair power. A man pulled up in a truck, got out, and began to molest her. As he went to lift her out of her wheelchair, she spun it around, sending him off kilter. It was the most she could do. He was scared off by a car driving by.
"Everywhere I went, I thought I saw him. And I couldn't leave my house for weeks," Barker recalled. "And I just had terrible PTSD [post-traumatic stress disorder] afterwards."
Although Barker called the police, they refused to launch an investigation. "They basically blamed me for their lack of investigation in the fact that I didn't have the wherewithal to get his license plate number when he was rushing away," she said. In the hopes of finding help, she went to a nearby rape victim crisis center. It was there that she began to have a better understanding of why she had been repeatedly victimized. "I went there and I said, 'I don't understand what I'm doing that this keeps happening to me.' And they explained that I am an easy target because I am disabled," she said.
The mental and emotional impacts Barker has experienced are common among survivors of sexual assault. Depression, post-traumatic stress disorder and flashbacks are some of the top effects experienced by victims, according to the Rape, Abuse & Incest National Network (RAINN). Other common mental and physical health problems resulting from sexual abuse may include: sexually transmitted infections from the incident, self-harm, substance abuse, dissociation, eating disorders and sleep disorders. Suicide may also result, according to RAINN.
People with disabilities are at greater risk for sexual assault, according to Lauren Appelbaum, communications director for the disability advocacy nonprofit RespectAbility. "Children with disabilities are three times more likely to be victims of rape or sexual assault than children without disabilities," she said, citing a study by another disability nonprofit, The Arc. "Every nine minutes, an adult with a disability is sexually assaulted or raped," she added, citing RAINN. "According to the National Crime Victimization Survey . . . approximately half of all adults with cognitive disabilities will experience 10 more sexually abusive incidents in their lifetime."
Appelbaum said there are a number of reasons for the high rate of sexual abuse of the disabled. "One is that there is a lack of sexual education for children and teens with disabilities," she explained. As a result, it can be more difficult for people with disabilities to recognize when someone is exhibiting sexually inappropriate or abusive behavior towards them. Another reason for the high risk of sexual abuse among the disabled is that they are more vulnerable. As in Barker's case, some are unable to fight back. In the case of individuals with cognitive disabilities, they may be unable to express what has happened to them, she explained.
"There is an issue with caregivers," Appelbaum said. "Anecdotally, if you are reliant on someone to help you get up in the morning and take you to the bathroom and feed you, and that person is sexually abusing you – let's say that you know that it's wrong, and you want to tell someone. Who are you going to tell? This is the person who keeps you alive."
The lesbian, gay, bisexual, transgender and queer (LGBTQ) community is also at higher risk of sexual assault, as well as of intimate partner violence, according to the Centers for Disease Control. The CDC's National Intimate Partner and Sexual Violence Survey found the following high rates of violence, both sexual and between intimate partners, among the LGBTQ community:
• 44% of lesbians and 61% of bisexual women experience rape, physical violence, or stalking by an intimate partner, compared to 35% of heterosexual women
• 26% of gay men and 37% of bisexual men experience rape, physical violence, or stalking by an intimate partner, compared to 29% of heterosexual men
• 46% of bisexual women have been raped, compared to 17% of heterosexual women and 13% of lesbians
• 40% of gay men and 47% of bisexual men have experienced sexual violence other than rape, compared to 21% of heterosexual men
The 2015 U.S. Transgender Survey found that 47% of transgender people are sexually assaulted within their lifetimes.
Mieko Failey, director of legal services at the LGBTQ Center Long Beach, noted that the statistics are alarming. "We do have a substantial number of people accessing our legal services. And I can say that more than half of the people who access our legal services are survivors of some form of violence," she said.
Failey has a concentration in LGBTQ anti-violence legal issues and has served hundreds of survivors, and trained thousands of service providers nationwide. She serves on the Advisory Board of the Family Violence Appellate Project and is a boardmember of the California Conference for Equality and Justice.
"Aggressors often exploit the vulnerability of LGBTQ people," Failey said. "They know that an LGBTQ person may be more likely to be isolated. They may be more likely to experience discrimination. They may not be believed. Or they may be victim-blamed or shamed when they speak out about the violence that they are experiencing."
When other minority demographics are combined with an LGBTQ identity, the risks can be even greater. "According to National Coalition of Anti Violence Programs, LGBTQ people who live with multiple oppressed identities – including people of color, people with disabilities, immigrants and people living with HIV – are some of the most impacted by violence, including sexual assault or sexual violence," Failey said. "And they face unique challenges and tremendous barriers when accessing resources."
"When LGBTQ survivors reach out for support from either the criminal legal system or social services systems, the health care system and other traditional systems, they often face tremendous barriers when they are accessing these resources due to discrimination and misinformation about the LGBTQ community . . . . And these barriers are often life threatening and very dangerous," Failey said.
Navigating systems and service networks that were constructed based on the needs of the heterosexual, cisgender community may retraumatize LGBTQ individuals who have experienced some form of violence, she explained. When LGBTQ community members reach out for support they often experience bias and discrimination, which can lead to a fear of coming forward in the future, she noted.
LGBTQ victims of violence may also avoid seeking help due to a fear of being outed. An aggressor may threaten to out them to their employer or family, Failey explained. "For LGBTQ people that can mean tremendous loss: loss of family, loss of job, homelessness, and many other really serious and even catastrophic consequences for LGBTQ people," she said.
The Center provides free LGBTQ-specific services to victims of sexual assault and abuse, including: mental health programming, HIV testing and STI testing and treatment, a domestic violence services program, crisis counseling, legal support, and a Cyber Center where individuals can access computers for $1 per hour.
The #MeToo movement has famously brought sexual assault and its health-related impacts to the fore of national conversation. Sparked in 2017 by a series of articles detailing graphic allegations of rape and sexual assault by famed Hollywood executive Harvey Weinstein, the movement has expanded exponentially, far beyond the Hollywood elite. Fueled by shared stories on social media and in the press, the movement has shed greater light on the issue of sexual violence against women and vulnerable communities than ever before.
Domestic and dating violence, too, has become a more outspoken issue. WomenShelter of Long Beach is one of the few organizations in the Greater Long Beach area that offers inclusive services to victims of such abuse – not just to women, but also to men, youth and the LGBTQ community.
One in three women and one in four men have been victims of some form of physical violence by an intimate partner within their lifetime, according to a fact sheet from WomenShelter. Domestic violence is also linked to homelessness. According to research cited by WomenShelter, 80% of homeless women with children have previously experienced domestic violence.
"It's women 18 to 24 who are most at risk of experiencing domestic violence, stalking or sexual assault," Tatiana Dorman, associate director of WomenShelter, said. She noted that this is likely because women typically leave their childhood homes at this age.
Alexis Sandoval, outreach coordinator for WomenShelter, noted that it is a common misconception that minority and low-income woman are more likely to be victims of domestic violence. She speculated that this is because these are the individuals who typically seek out assistance from nonprofit organizations with low- or no-cost services such as WomenShelter. Because these organizations are often government funded, they are required to report statistics about who they are serving. "It's a little bit more public, whereas someone who is of a higher socioeconomic status can deal with it more privately," she said.
Victims of domestic violence are often prevented by their abusers from visiting physicians or seeking out needed health care because it provides them an opportunity to disclose their situation, Dorman said. "It's a way for them to reach out for help, to access resources, and their abuser does not want that to happen. So many ailments go untreated." she explained. As a result, there are many health issues associated with domestic violence. "Victims who come to our emergency shelter haven't had a mammogram or a pap smear for years and can't remember the last time they went in for a well-woman exam," she added.
While victims often tell WomenShelter staff that they will heal from bruises, the emotional and mental impacts they experience impact their daily lives. Some victims are afraid to go outside – even to sit on their front porch, Sandoval said. "Another thing that is really affected is their self-esteem. They don't feel like they are worth anything. They [feel that they] are not deserving of a healthy relationship, of being loved and respected," she reflected.
"Domestic violence is linked to, of course, homelessness, but also a slew of other health problems," Dorman said. "You're always on this continuum of healing."