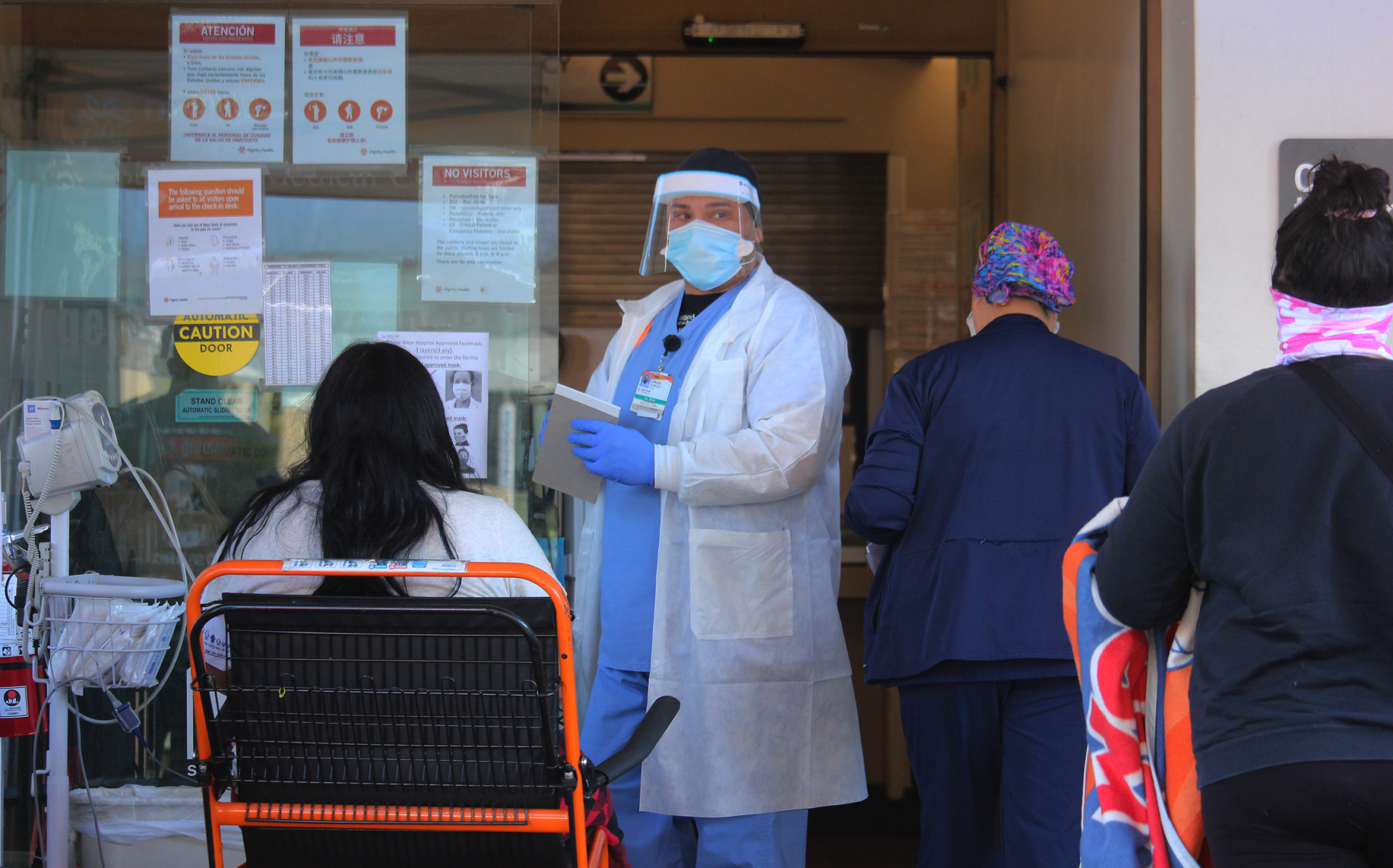 The last 13 months have been a rollercoaster of shifting guidelines, lockdowns and tragedy. From individuals to businesses to the economy at large, nothing was immune to the impacts of the COVID-19 pandemic.
Doctors and nurses have spent the last year triaging patients in parking lots, providing care in temporary tents and working long hours to treat massive amounts of patients in overcrowded hospitals.
The pandemic took a mental and physical toll on health workers, and those on front lines say the full scope is yet to be seen, as is the full financial impact on the facilities in which they work.
"The surges were stressful times. We were meeting a lot of patients and the hospital was very full," said Dr. Graham Tse, Long Beach Memorial's physician in charge of COVID-19 response. "There was stress, there was anxiety—every day was different and the numbers kept on going up."
The winter surge was particularly hard on hospitals. With rapidly increasing cases, hospitalizations and deaths, Tse said the continued devastation was detrimental to the mental health of staff who were working long hours to care for the influx of patients.
In a written statement, St. Mary Medical Center officials said the effects of the winter surge remain, with staff being emotionally, mentally and physically exhausted. Both Memorial and St. Mary officials said their organizations are committed to supporting staff by providing resources to help them process and cope with what they have gone through.
The number of hospitalizations has subsided significantly over the last few weeks. At the high in mid-January, there were 581 people hospitalized in the five facilities that serve Long beach, according to city data. On Wednesday, there were 34 people hospitalized.
Tse said staff finally has the chance to breathe and recuperate—somewhat. It is a cautious optimism, Tse said, noting the pandemic has not completely disappeared, a fact that all staff is highly cognizant of, especially as more activities resume or expand locally and across the state.
"We still have to practice the good behaviors that we all know make a difference and ensure that we get as many vaccinations into arms as possible," Tse said. "We need to be very cautious."
Financial toll
The financial impact of the pandemic on medical facilities is staggering. In a July report, the U.S. National Library of Medicine estimated elective procedure cancellations would result in losses of $16.3 to $17.7 billion per month in revenue, which comes out to $4 billion to $5.4 billion less per month in net income to U.S. hospitals.
Throughout the pandemic, elective procedures—care that is planned in advance, which does not involve a medical emergency and can be put off for a time without life-threatening implications for the patient—were not always available for much of the last year, having been canceled to slow the spread of the virus.
From the onset of the pandemic through February of this year, Long Beach Memorial is $30 million in the red despite receiving some federal support, according to COO Ike Mmeje.
"We're very fortunate that we pride ourselves on running a very efficient organization and we have a very strong credit rating, which allows us to withstand some of these impacts in the short term," Mmeje said. "But it's a concern for hospitals across the state to see the impact over the long term."
St. Mary officials noted that hospitals also faced increased costs associated with securing additional personal protective equipment and ensuring the hospital was adequately staffed during patient surges.
Early in the pandemic, Mmeje said hospitals had to begin thinking of ways to "tighten their belts" without impacting frontline staff and patients negatively—not an easy task. The outcome was the Long Beach facility working within the larger MemorialCare network to revamp and streamline programs and services to improve efficiency, Mmeje said. Some of these improvements, including an increase in telemedicine, are likely to remain in place indefinitely, he added.
The financial future of hospitals is looking up, Mmeje said, with the backlog of elective procedures beginning to fill up hospital calendars and emergency department volumes increasing as people begin to feel more comfortable visiting hospitals. But a full financial recovery will take years, he said.
While other departments are coming back relatively strong, pediatric visits have been slower to return, mostly due to many children not being in school, where it is easier to contract illnesses such as colds or flu. Planning long term is difficult because the full impacts of the pandemic have not been realized, Mmeje said, and it is still not over.
"The pandemic has been a really horrendous event worldwide," Tse said. "Stressful not just from the medical aspect but all the changes in everyone's lives, whether it was schooling or job loss, it's been an incredibly emotional event."