As the City of Long Beach and Molina Wu Network (MWN), the new selected operator for Community Hospital, continue lease negotiations for the property, incoming hospital CEO Virg Narbutas is focused on getting the facility up and running again by January 1, 2019 – with as many former employees working there as possible.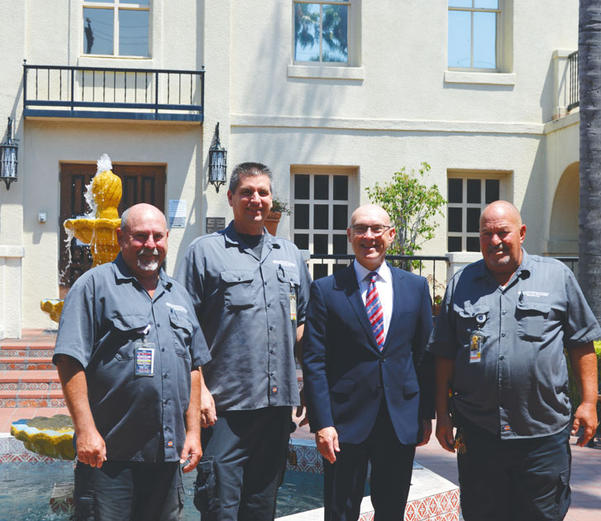 Virg Narbutas, the appointed CEO of Community Hospital Long Beach, has been given a security badge to access the hospital campus while the transition to its new owner, Molina, Wu, Network LLC, continues. Narbutas is pictured with maintenance staff at the hospital. From left are: Kevin Brow, Kenneth Millette, Narbutas and Randy Carter. (Photograph by the Business Journal's Anne Artley)
A 30-year resident of Long Beach, Narbutas lives in the Eastside, the area most impacted by the closure of Community Hospital's emergency room in late June. He noted that, when emergency rooms close, ambulances are redirected to hospitals further away. "You close an emergency room and any [resulting] delay is life threatening," he said.
Narbutas emphasized, "My focus now is to get that hospital open. I don't want to delay."
Narbutas has served in management roles at Southern California hospitals since 1985, when he took his first such position at Lakewood Regional Medical Center, then called Doctors Hospital of Lakewood. He holds a master's degree in public health from the University of California, Los Angeles' health care management program.
"I started as a financial analyst and worked my way up through the ranks to become the chief operating officer over there," Narbutas said of his work at Doctors Hospital. After taking the job, Narbutas purchased his home in Long Beach and soon met his wife, also an employee at the hospital.
In 1994 Narbutas moved on to Kindred Healthcare, a long-term acute care hospital system. He managed hospitals in Westminster, Ontario and La Brea for the system over the course of 10 years. When he took the job, the Ontario hospital had recently been sold to Kindred, and was just reopening, he recalled. "I was there from the start. And we were very successful there," he said.
In 2006, Narbutas became CEO of West Anaheim Medical Center and La Palma Intercommunity Hospital, facilities under the operation of Prime Healthcare Services. Again with West Anaheim Medical Center, Narbutas had come into a situation where his new employer had just purchased a hospital. "We stabilized them financially," he said. "I like to find ways I can make things more efficient and improve the quality." West Anaheim was recognized by health care data and analytics firm Truven Health Analytics as one of the top 100 hospitals in the nation five times in five years under his tenure, he noted. La Palma also once received the same recognition.
"You'll see from my background that I don't move around a lot. I like to settle in and I like to see things improve for the long term," Narbutas said. When he first steps in to oversee a new hospital, he focuses on stabilizing the institution both financially and from a workforce standpoint by reducing turnover, he noted.
Narbutas was originally hired by AHMC Healthcare, a hospital system and one of the partners in MWN, as vice president less than a year ago. "They had hired me to help them with all of their hospitals, and particularly the one in Anaheim," he said. But when AHMC joined with managed  care organization Network Medical Management and Mario and John Molina, former executives of Molina Healthcare, to put together a bid package to take over Community Hospital, plans changed for Narbutas. "They asked me if I would be interested in being the CEO of this hospital. Of course, I said yes," Narbutas said.
MemorialCare Health System shut down Community Hospital on July 1, about eight months after it had announced that the facility would have to close by June 30, 2019 due to noncompliance with state seismic regulations. Executives from the health system contended that it would be too costly to reconfigure or retrofit the hospital. After the announcement, the hospital lost too many employees to sustain operations through 2019, as its former CEO, John Bishop, previously told the Business Journal. MemorialCare put its license to operate the hospital in suspension, thereby allowing it to be transferred to MWN, rather than the firm having to apply for an entirely new license.
"Everybody knows that every day that ER is closed, it's not good for the community," Narbutas said. "So I think [state] licensing [staff] understands that, and they are going to be working with us to accelerate that process." He added, "We hope to have that done before January, because obviously we need that license in hand to be able to open the doors."
For the license to be transferred, MWN must reopen the hospital with the same services and number of beds as it had under MemorialCare, according to Narbutas. This includes 158 beds, 28 of which are dedicated for mental health care and the remainder for acute care.
As John Molina previously informed the Business Journal in an interview in early July, MWN and the City of Long Beach had been pushing for MemorialCare to keep the hospital open during the transition period, but that did not come to pass.
Now, as the city and MWN continue to negotiate the lease for the site, and as an architecture firm hired by the city works on designs to reconfigure the facility to meet seismic code, Narbutas is working to get the hospital back open. He estimated that a final lease agreement would be hashed out within two weeks.
"Our goal with the city is to have a lease agreed upon by the end of this month so that it can be taken to city council next month for approval, and then have it executed in the beginning of October," Narbutas said.
Currently, MemorialCare is still paying for the site's maintenance and security, but the city intends to take that over in September, Narbutas estimated. "Then, as soon as we get the lease, they'll move things over to us," he explained.
MemorialCare has also been in the process of removing equipment from the site, and may ultimately sell some equipment there to MWN, according to Narbutas. "Memorial has identified some equipment that they don't necessarily need. So we're going to be talking to Memorial about purchasing that equipment so it's not going to waste," he said. "There are a lot of IT issues that need to be looked at, [such as] switching phones and servers. We're working on transferring the security badge system to us. It's all these things that are little but important." He noted that the city plans to place a fence around the property for security in coming weeks.
Narbutas is working to put together a management team for the hospital. "I am putting together an executive team of people who are going to be working with me: HR, a chief nursing officer, a chief financial officer," he said. "I have a core group of people who are going to help me organize and get everybody in place. . . . We have a lot of work to do getting all our policies in place."
Once a management team is hired and the lease agreement finalized, Narbutas will turn his focus to hiring on maintenance staff, department heads and other employees.
As many as 300 former Community Hospital employees have expressed interest in returning to work at the hospital, Narbutas noted. "Obviously if they want to come back I want them back, because those are the people who are going to be committed and dedicated," he said.
After it reopens, the hospital is permitted to operate until June 30, 2019, when it will fall out of compliance with seismic regulations. Narbutas explained that MWN will request an extension with the Office of Statewide Health Planning and Development through January 2020. In order to bring the facility into compliance, more time will be needed, so MWN and the city intend to pursue state legislation to grant a further extension, Narbutas explained. "A lot is hinging on an extension from the state from legislation," he said, noting that it would need to go through the next legislative session in 2019.
While designs have not been finalized, the basic plan is to consolidate services in the historic portion of the hospital, dubbed the "heritage building," which is already in compliance with state seismic code. This would require decreasing the total number of hospital beds to 40 or 50, Narbutas said.
Working with city staff and officials has been "fantastic," Narbutas said, naming 4th District Councilmember Daryl Supernaw, Economic Development Director John Keisler and the Manager of Government Affairs Diana Tang specifically. "It's like all you have to do is just say, 'we need this,' and then people will rally around it," he reflected.
"This is my hometown. I want to do the best for the residents here," Narbutas said. "It is a hospital with a long history and legacy, and I want to see it continue and flourish. And I know once we're in there operating it will be financially viable and it will continue for generations."