In November of last year, Long Beach Memorial Medical Center opened its new Spine Center, a facility dedicated to elective spinal surgeries, which shares a wing with the hospital's Joint Replacement Center.
Barry Ceverha, a neurosurgeon and medical director of the Spine Center, said that in the last 10 years spine centers have been growing in number nationwide.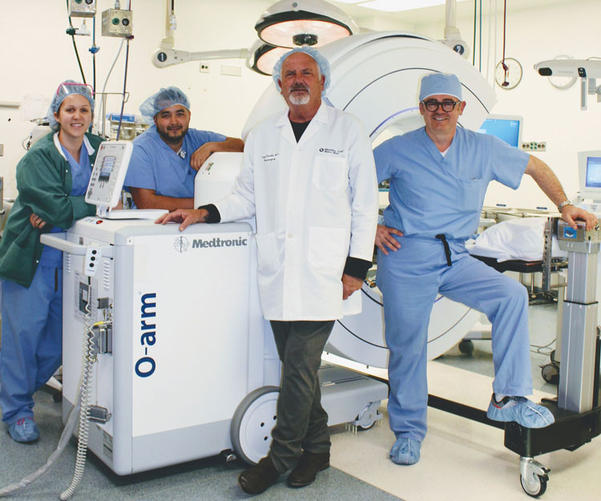 Since the opening of Long Beach Memorial Medical Center's new Spine Center in November, the facility has conducted between 75 and 100 spinal surgeries. Pictured in the Spine Center from left: Amanda Moore, a registered nurse; Luis De La Mora, a radiologic technician; Dr. Barry Ceverha, medical director of the Memorial Spine Center; and Dino Vlaho, a registered nurse. (Photograph courtesy of Long Beach Memorial)
"As we investigated that, we found that perhaps there's a reason for doing that," Ceverha said. "That would be having a more organized approach in dealing with spines, with an effort to have better outcomes, happier patients and lower cost to the hospital. Make it more marketable."
Spinal surgery has not changed dramatically over the years, according to Ceverha. Instead, techniques and equipment have modernized to allow for surgeries to be minimally invasive by using navigation devices such as an O-arm, which is basically a CT scan in the operating room, to do surgeries through small holes.
According to Debbi Fenton, a registered nurse and program director for the spine and joint centers, there are 15 private rooms designated for the Spine Center. There are between 40 and 50 staff on all shifts that work the center, including nurses, physical therapists and occupational therapists, who are part of the recovery process.
The Long Beach hospital has conducted spine surgeries since long before the opening of its Spine Center. In fact, in the last two years, Ceverha said the hospital has done around 800 spine surgeries. However, the Spine Center has seen between 75 and 100 patients since its inception and takes a much more thorough approach.
"In the Spine Center program, we're more focused on the elective patient because one of our elements is to have patients come to a preoperative education class to help them better prepare for their journey of spine surgery and hospitalization and post-discharge," Fenton said.
The hospital provides participating physician offices with guidebooks for spine surgery to be given to qualifying patients. The next step is for the patient to attend a two-hour pre-operative class at the Spine Center for basic preparedness, such as anatomy basics, procedures, post-surgery lifestyle and needs, and pain management. This required preparation time excludes spinal trauma patients from being included in the Spine Center figures, though they are still treated at Memorial.
According to Ceverha, Memorial's is currently the only spine center in Long Beach, which is better for patients and doctors alike.
"I think it makes better outcomes, [it's] cheaper for the hospital and [it makes] happier patients," Ceverha said. "We do things the same way every time, and I think it leaves less room for error and judgment problems."
Aside from better outcomes, Ceverha explained the Spine Center will note far more metrics, including length of time in the recovery room, length of time of the procedure, infection, blood loss, cost of instruments, what techniques work best, what devices work best, anesthetics, and end of surgery to wheels out of the operating room. Prior to the Spine Center, Ceverha said there were far fewer metrics, which were superficial and rudimentary.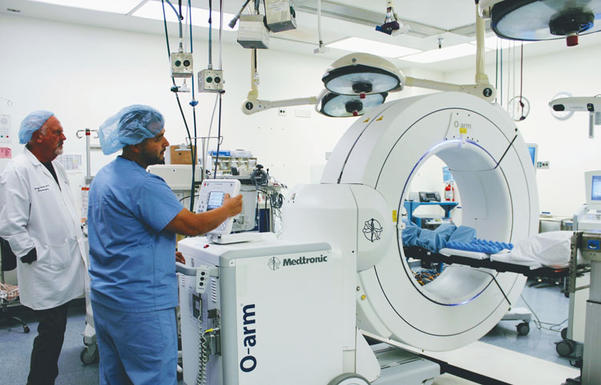 Below, Dr. Barry Ceverha, left, medical director of the Memorial Spine Center, and Luis De La Mora, a radiologic technician, work with an O-arm, a device that acts as a CT scan in the operating room to assist during surgeries. (Photograph courtesy of Long Beach Memorial)
Though a technique has not been decided upon, the Spine Center also is planning to measure patient satisfaction at different intervals throughout their care process – pre-op, intra-op and post-op.
"I think it has a lot to do also with the whole value-based purchasing model of reimbursement in the reimbursement world," Fenton said. "So much of the hospital economics is dependent upon how your patients rate you in terms of different metrics, like their experience. It's an elective population, so you have an opportunity to influence their experience."
Both Ceverha and Fenton agreed that one of the main ways a dedicated spine center improves outcomes is the repetition. Surgeons conduct operations using the same techniques, technology, anesthesiologist repeatedly, illustrating the old adage "practice makes perfect." Fenton noted that research has shown spine center facilities have a better outcome record for that very reason.
Excellent ancillary care, including nursing, operating room, laboratory, emergency room, physical and occupational therapy, is imperative for a spine center to be successful, according to Ceverha. He said he thinks the ancillary care at Memorial is excellent, poising the facility to be a perfect spine center.
"A big problem that we have is that half the surgeons that do spine aren't involved with the Spine Center for their own reasons," Ceverha said. "Ego is a big one. They go elsewhere and have a little spine center at another hospital that they're doing."
Ceverha explained that it's difficult to get surgeons to latch onto new ideas but hopes that proof of success, presented in data form as measured metrics, will entice more surgeons to participate and increase the volume of patients. In order to participate, surgeons must be on staff and follow all Spine Center guidelines and protocols. The organization is very intricate, but the hospital put together the product that is most efficient and cost effective to achieve the best outcomes possible.
Transparency is important to Ceverha as far as data collected so that the consumer can make educated decisions about their health and surgical options. Fenton noted that the Spine Center does not yet have data to share due to the fact that it just finished its first quarter of operations, but that numbers should be released in the next month.
"People come for spine surgery after they have failed all sorts of other modalities. It doesn't have a good rap. Nobody looks forward to it," Fenton said. "[We're] just constantly improving care to improve patient satisfaction through their experience here. Come to the Long Beach Spine Center. We've got your back."