With 30 years of experience in the health care industry and more than 20 of those in executive roles, Dignity Health St. Mary Medical Center is gaining a seasoned professional in its new CEO, Carolyn Caldwell, who starts on June 19.
Caldwell's most recent post was as CEO of Tenet Health's Desert Regional Medical Center, a 385-bed acute-care hospital in Palm Springs, where she served for four years. Prior to that, she was the chief operating officer of multiple hospitals, and was formerly CEO of Centerpoint Medical Center in Independence, Missouri. She began her career as a medical technologist.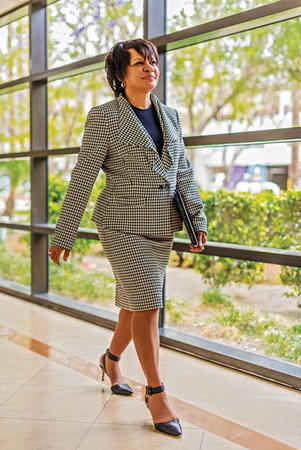 Carolyn Caldwell, the new CEO of Dignity Health St. Mary Medical Center, said she is focused on learning more about the Long Beach community.  (Photograph by Neil Husvar)
"I have been all over the place," Caldwell told the Business Journal. "I started out my career in Alabama, which is where I am originally from. I spent 15 years in Texas, eight years in Missouri, and I have been here in California since the end of 2012."
Among Caldwell's recent career achievements were starting a residency teaching program at Desert Regional and partnering with the Desert AIDS Project on a program called Get Tested Coachella Valley.
"In the Coachella Valley, we had a very high number of individuals who were living with HIV and were not aware of their status," she explained. Her hospital committed $1.5 million over the course of three years to provide HIV testing to anyone in the Coachella Valley who wanted it. "We actually saw a 2.6% positive rate. And the good thing about that is we were able to get 95% of the individuals who tested positive into care," she said.
Like many executives, Caldwell said she often receives calls from recruiters. When she heard about the opportunity at St. Mary, she was already familiar with its parent organization, Dignity Health, but not with Long Beach or the hospital itself.
"When I began to study St. Mary's and some of the things that they were doing in the community, I was very fascinated because it was really very similar to a lot of things I do here in Palm Springs," Caldwell said. She felt taking the position at St. Mary was a great opportunity to marry her skills as a health care executive with her passion for caring for communities, she said.
"When I learned about the community, I did a lot of research and visited on several different occasions," Caldwell said. "I have just been impressed with the diversity of the community. . . . My husband and I have spent a lot of time just riding around going to different restaurants, doing some shopping. And you can tell it's a community that has a lot of culture and a lot of pride, so I think we are going to be extremely happy there."
Caldwell and her husband have secured a lease on an Ocean Boulevard condo and plan to keep their home in Palm Springs. "I plan to be [in Long Beach] full time and become just as engaged in that community as I have in the community here in Palm Springs," she said.
In Caldwell's first year, her goal is to learn as much as she can about St. Mary Medical Center and the community it serves. "I will be working very closely with the leadership team, the medical staff, our community board and our foundation board, as well as our employees, many of whom have been at St Mary for a very long time, so that we can continue our strong sense of commitment to our community," she said.
The hospital regularly conducts a community needs assessment, which Caldwell said she plans to analyze to identify gaps in care in the area. "We always want to make sure we are creating access and value to the community. And I think that's where the community needs assessment will really come into play," she said.
The St. Mary Medical Center Foundation has been raising money to expand the hospital's emergency room for years, an effort that Caldwell said will continue. Through that expansion, she may examine pursuing a dedicated area for seniors, similar to one she spearheaded at Centerpoint.
"Trauma centers are very loud. They are very busy. And oftentimes when seniors [visit] the emergency room, it's very scary for them," Caldwell said. To address this issue, Centerpoint created a section of the emergency room just for seniors. "We had nonslip flooring. It was quiet. We had dimmers on the lights. And it really made their experience much better," she said. "That's something I hope we can also do at St. Mary's."
Caldwell said she is "extremely excited" to be joining the team at St. Mary and Dignity Health. "To have the opportunity to work for an organization where I can utilize my skills as a health care executive but to also fulfill my passion around improving communities is something that I look forward to," she said.