Development News
131 Single-Family Homes Approved By City Council
At its May 9 meeting, the Long Beach City Council voted for the final approval of a subdivision map for 131 detached single-family homes to be constructed at 4747 Daisy Ave, formerly the Will J. Reid Boy Scout Camp.
The gated community by applicant Integral Communities of Newport Beach will occupy a 10.56-acre site bordered by the Dominguez Gap Wetlands and Los Angeles River to the west, 48th Street to the north, the Union Pacific Railroad to the south, and extending just past Daisy Avenue to the east. The residential lots will contain a minimum of 2,400 square feet.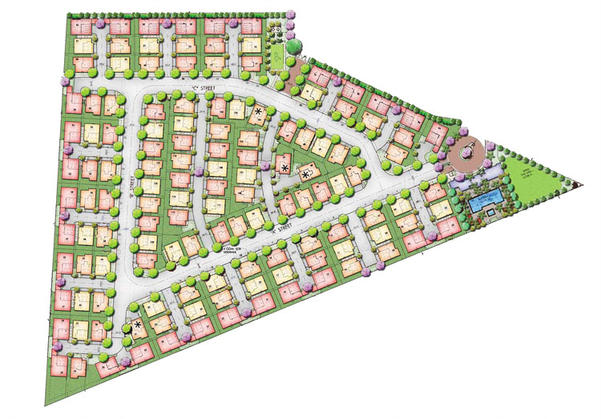 Pictured is the final site map approved by the city council for the Riverwalk development project, which includes 131 detached single-family homes. The Northwest Long Beach site is bordered by the Dominguez Gap Wetlands and Los Angeles River to the west, 48th Street to the north, the Union Pacific Railroad to the south, and extends just past Daisy Avenue at its eastern-most border. (Rendering courtesy of the City of Long Beach)
The project includes 157,941 square feet of landscaping; a small pocket park; a recreation center with a pool, spa and clubhouse; 262 garage parking spaces; and 40 on-street guest parking spaces. The units will be a mixture of two- and three-story homes with a maximum height of 35.5 feet. The project also includes a 6,238-square-foot drainage basin at the northeastern corner of the site.
The housing project will have two vehicular access points located on the northern boundary. Daisy Avenue will be the main entryway, while Oregon Avenue will be an emergency-only access point. A homeowners association will manage and maintain the private roadways, open space and community amenities.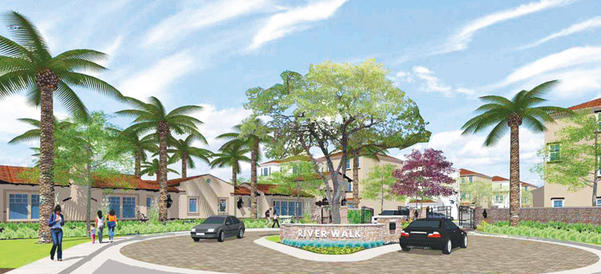 The 131 Riverwalk main entrance at Daisy Avenue. (Rendering courtesy of the City of Long Beach)
The applicant entered into a development agreement with the City of Long Beach that required them to invest in off-site improvements to benefit the community, namely constructing a park at the southwest corner of Oregon Avenue and Del Amo Boulevard. The park has since been named after Molina Healthcare founder C. David Molina and broke ground on January 28. The park will include a turf soccer field, sports lighting, a walking path, fitness stations and a playground.
Harbor Commissioners Approve $102 Million Seaside Fire Stations
The Long Beach Board of Harbor Commissioners voted 3-1 to approve two seaside firehouses worth a combined $102 million at its May 16 meeting. President Lori Ann Guzman was the only dissenting vote, claiming the price tag was too large for stations No. 15 and No. 20 (pictured at left).

Fire Station No. 20. (Rendering courtesy of the Port of Long Beach)
Replacing two facilities that consist of mobile homes brought to the port in the early 1980s, the new stations would be positioned on the outer and inner harbor areas. The high cost of the stations bought much scrutiny to the project that has been in the works for nearly a decade, despite the fact that the port has already spent $70 million on two new firefighting boats.
$2.5 Million Residence Inn Renovations Completed
Residence Inn Long Beach Downtown completed $2.5 million in room renovations earlier this month. The hotel's studio, one- and two-bedroom suites were updated with new carpet, windows and wallcovering to give them a fresh look. Chairs, sofa beds, lights and kitchen tables were also upgraded in the rooms. Renovations were also made to hallway carpet, wallcovering and lighting. Suites still feature complimentary Wi-Fi, fully equipped kitchens, full-sized refrigerators, microwaves, dishwashers, pots, pans and serving ware. The hotel is located on the port side of the Queenway Bay.
6th Street Bike Boulevard
At its May 9 meeting, the Long Beach City Council approved a contract worth more than $900,000 with Sully-Miller Contracting Co. for a 2.5-mile bicycle boulevard along 6th Street between Bellflower Boulevard and Junipero Avenue. A major roundabout will be added at the intersection of 6th Street and Park Avenue, with smaller traffic circles planned at Flint, Ultimo, Havana, Santiago, Roswell, Termino, Grand, Loma, Obispo, Orizaba, Temple and Molina avenues. With curb extensions, bioswales, a bike detector loop and signage, total cost comes to $1.1 million, including the construction contract. Monies from the transportation and capital project grants will fund the bicycle boulevard.
Colorado Lagoon Grand Opening
On Saturday, May 20, the city celebrated the grand reopening of the Colorado Lagoon, located at 5119 E. Colorado St., with a ribbon-cutting ceremony, children's activities sponsored by the Friends of the Colorado Lagoon and live music by Dad Company. Phases 2A and 2B consisted of constructing an open, earthen hydraulic water channel to reconnect the lagoon to Marine Stadium and creating a new subtidal and intertidal habitat, planting eelgrass and re-vegetation using California-native plant species. Phase 2 of the restoration began in fall of last year, while Phase 1, which improved water and sediment quality, was completed in August 2012.
New Dog Park And 2nd District Field Office
On Monday, May 22, 2nd District Councilmember Jeannine Pearce celebrated the groundbreaking for two projects meant to activate Bixby Park. The first project is setting up a field office in the community center at the park, bringing a consistent city presence and deterring shadier elements. The second project is the creation of a dog park to activate an area of parcel one that has received a significant number of drug use complaints. "Our hope is that these measures will greatly improve public safety in the park and will also help the community feel more connected to their district representative, me," Pearce said in the announcement.
Real Estate News
Stepp Commercial Completes Two Multimillion-Dollar Sales
Principal Robert Stepp and Vice President Michael Toveg of Stepp Commercial represented 546 Cherry Waterford LLC in the selling of a Retro Row-adjacent apartment complex. The private buyer from Palos Verdes purchased the complex located at 546 Cherry Ave. for $3.3 million. The two-story building was built in 1963 and includes two studio units, seven one-bedroom units, three two-bedroom units, ample parking, controlled access entry and a laundry facility. "This property was recently renovated and offered the buyer an upgraded, turn-key asset. We received a number of offers and sold at full asking price," Stepp said in a press release.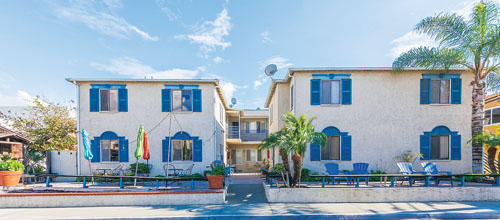 Bay Shore Apartments (Photograph courtesy of Stepp Commercial)
Stepp and Toveg also represented a private investor from Los Angeles in the $4.1 million sale of Bay Shore Apartments, located at 20 Bay Shore Ave. Stepp Commercial Vice President Todd Hawke represented the buyer, who is also a private investor from L.A. The two-story property was built in 1946 and consists of nine two-bedroom units, a front porch, private garages and a laundry facility. "Bay Shore Apartments is just steps from the beach in the prestigious Belmont Shore neighborhood," Stepp said. "It offers the buyer a 15 percent rental upside and sold for full asking price."
Soda And Candy Shop Opens In Belmont Shore
Rocket Fizz, a soda pop and candy shop chain that has more than 80 locations nationwide, celebrated the grand opening of its new Long Beach location on May 13 with a ribbon-cutting ceremony, raffles and soda tasting. Located at 5282 E. 2nd St., the shop carries thousands of unique and fun candies, bottled soda pops, gag gifts and toys, nostalgic tin signs and many other surprises, according to the company website. For more information, call 562/433-8880.