As the coronavirus pandemic ravaged the country over the past year—with Los Angeles County becoming a national hotspot—nursing crews were stretched thin trying to keep up with the constant and exhausting demands of care.
But at a time when their services were most needed, the training of new nurses hit a bottleneck created by the pandemic itself, leaving educators worried about the profession's next generation and scrambling for training alternatives.
The problem is this: to conserve personal protective equipment and minimize the risk of spreading the deadly virus, hospitals have severely limited nursing students' access to their facilities, where they would normally receive practical training during "clinical placement."
Some community colleges have gone so far as to stop accepting nursing students all together because they have been unable to find clinical placements for them, a critical component of nursing education.
This disruption of practical training, experts say, could impact the future state of nursing.
During clinical placement, students learn not only to apply their classroom work in a hospital setting but also how to work under pressure with other health care workers in an emergency situation—skills that can't be taught anywhere else, said Sigrid Sexton, who leads Long Beach City College's nursing program.
Before the pandemic, first-year nursing students at LBCC would spend one day per week in clinical training, while second-year students were in the hospital two days per week.
"Nursing education is very dependent on concurrent experience in hospitals," Sexton said. But when the pandemic hit, the school suddenly lost all of its placement sites. "They really shut us out," she said.
Even prior to the pandemic, Sexton said, finding clinical placements for students was a challenge for community colleges forced to compete with private universities that are expanding their programs. "Nursing education," she said, "is a big, profit-making business."
The training problem has surfaced while interest in nursing has climbed as health care workers have enjoyed a wave of public appreciation for their critical work on the front lines of the coronavirus crisis, and demand has driven up pay and benefits.
Undergraduate applications to Cal State Long Beach's school of nursing shot up 80% between spring 2020 and spring 2021. At LBCC, applications for the associate degree nursing program have doubled during the pandemic.
Both CSULB and LBCC have continued accepting students throughout the pandemic, although in slightly smaller groups in the case of LBCC, which reduced its twice annual enrollment from 40 to 36 students per class. In the most recent cycle, 1,400 prospective students applied. CSULB, meanwhile, accepted its normal 80 students out of 433 applicants.
Students at both schools, however, have been forced to repeat semesters and delay their graduations because they were unable to log the necessary hours of clinical experience.
To make up for that loss of hands-on learning, educators have begun looking elsewhere for training opportunities.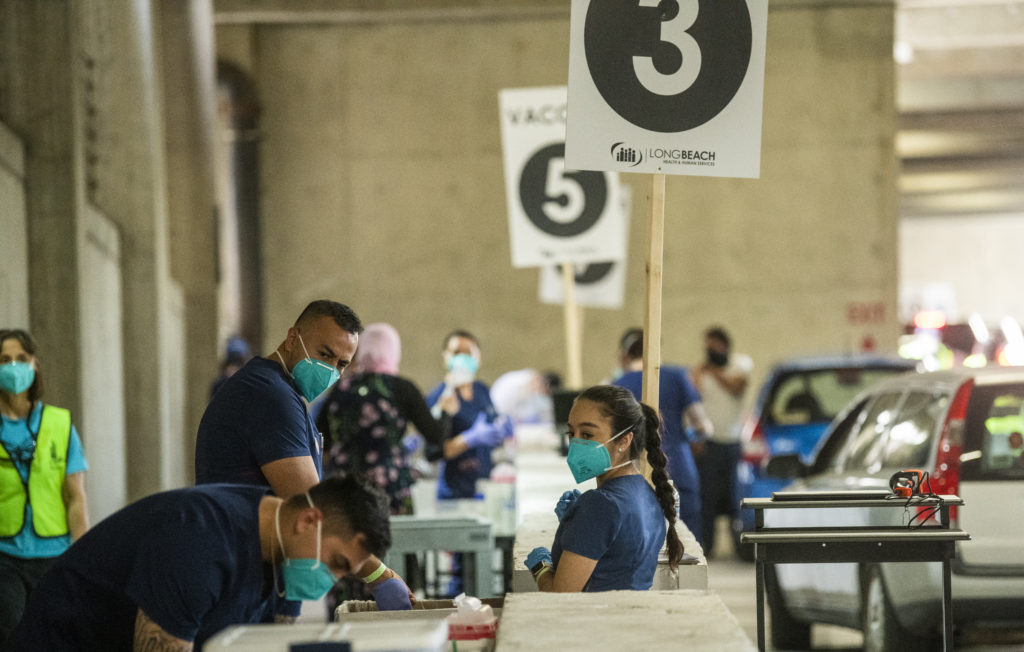 Educators at CSULB and LBCC, for example, dispatched students to assist in community vaccination efforts. Students also have participated in simulations, telemedicine and worked at COVID-testing sites. At CSULB, students have been using expensive hi-tech mannequins to practice a wide range of services, from setting up IVs to monitoring patients' vital signs.
Recognizing the placement problem, the state nursing board is now allowing students to complete a larger share of their clinical training hours through simulations, replacing some of the hours normally spent in hospital training.
Still, health care experts say, there's no substitute for a hospital setting—a shortcoming that's becoming evident in some students.
"Their self-confidence is not there," explained Lucy Huckabay, director of CSULB's undergraduate nursing program. Mannequins can help students practice technical skills, but communicating with a patient, handling their emotions and movements—that's something an inanimate object can't simulate.
Sexton of LBCC, for her part, offered a darker assessment: "The grand experiment is playing out—and it's a disaster." She said recent graduates are far less comfortable engaging with their colleagues and are hesitant to approach patients, requiring longer orientation periods to warm up to the hospital environment.
But there's a light at the end of the tunnel.
With the winter surge behind them, hospitals are once again allowing groups of students to be trained at their facilities, albeit, for now, less frequently and in smaller numbers.
One barrier to clinical placements by hospitals has been the fear that students might become infected. But with vaccinations for the broader public, including nursing students, coming in the near future, a return to regular cohort sizes and more clinical placement days might also be on the horizon, Sexton said.
And while longer orientation periods might be necessary for nursing graduates who missed out on in-hospital training during the pandemic, Huckabay of CSULB predicted that students will eventually make up for the lost hours.
"I think students are resilient," she said, adding that their overall education has still equipped them with the critical thinking and decision-making skills they need to succeed. "Their foundation is very strong."
And in Long Beach, the long-term effects on nursing might not be as severe as elsewhere.
Although the World Health Organization has estimated a global shortfall of some 5.9 million nurses during the pandemic, the nursing corps in Long Beach has remained strong.
"Within two weeks, we had most of the nurses that were needed for patient care," Tony Garcia, chief nursing officer at MemorialCare's Long Beach Medical Center, said of his team's experience during the second, more severe wave of infections that took place in the latter months of last year.
To meet the surge in demand, Long Beach Medical Center contracted with dozens of traveling nurses, offered incentives for staff nurses to pick up additional shifts and retrained pediatric nurses from the associated Miller Children's & Women's Hospital to assist in caring for adult patients.
"If you'd ask me what would we do the next time something like this happened: we would do exactly the same," said Garcia, who added that training and hiring more full-time nurses would not be economically feasible for most hospitals.
Still, Garcia acknowledged that the pandemic may result in the need for more nurses in the future, as news reports across the country trace a worrying trend: experienced nurses dropping out of the profession as a result of their traumatic experiences during the pandemic.
"One very big danger that we're seeing from the pandemic is nurses rethinking their career choice," Garcia said, adding that, luckily, he hasn't yet seen any dropouts among his staff.  "Nurses go into their profession with the goal of saving lives and making people better. Unfortunately, this virus is very vengeful."