Since being forced to stay at home by the coronavirus pandemic, Sherry said she's been thinking about death more than ever before.
"Everything's compounded. It feels heavier because I can't run away from it," said the Long Beach resident. "I'm having panic attacks."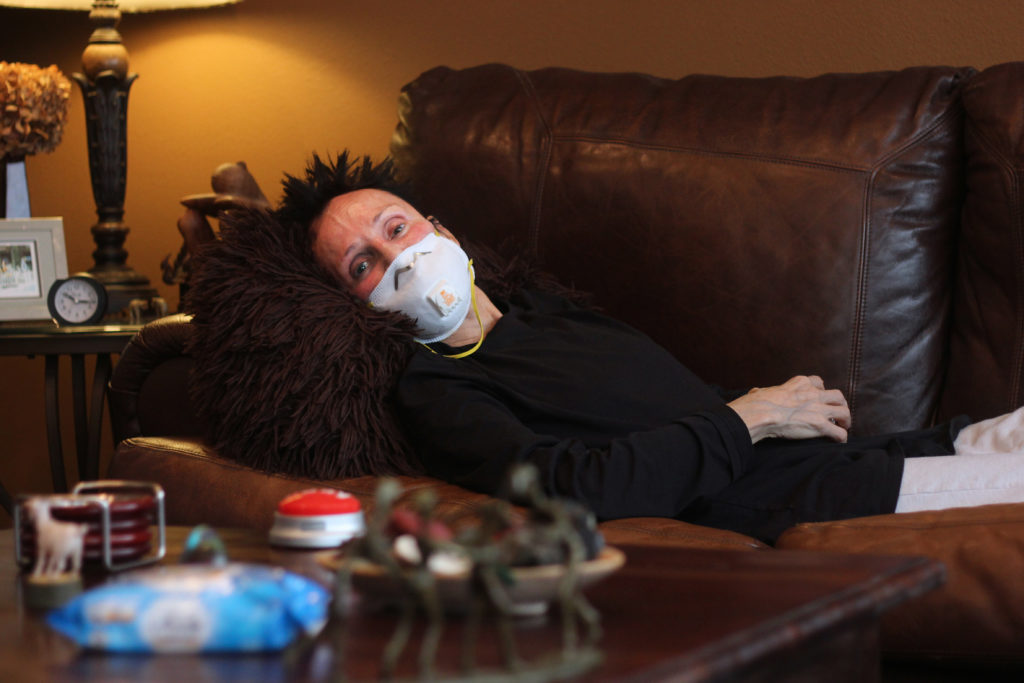 Sherry, who asked to be identified only by her first name to protect her privacy, was diagnosed with depression and anxiety six years ago. A few years later she found out she also had bi-polar disorder. Before her diagnoses, Sherry said she used to think about death a lot, but finally knowing why she felt the way she did eased those thoughts, as did being prescribed appropriate medication.
But COVID-19 and the stay-at-home orders meant to stop its spread have stolen many of her normal coping mechanisms. Sherry would often use menial errands, such as picking up cat food or going to buy a pencil, as means to "walk it off" and interact with people when she was feeling overwhelmed in her apartment. Now that most businesses are closed and everyone has been ordered inside except for necessary travel, Sherry said her mental health challenges have worsened.
"I can't stay inside; it makes me a little nuts. Being shut in can cause anxiety. Too much time alone," she said.
Sherry isn't alone in that feeling.
For those suffering from mental illness prior to the coronavirus pandemic, psychotherapists say mandatory isolation can be a trigger. Suicide prevention experts say it's reasonable to expect increased suicide risk for certain populations during this time.
While physical health has been an understandable priority in the face of COVID-19, state officials and mental health professionals say the side-effects of social distancing and stay-at-home orders can mean spikes in depression and a higher risk of spousal and child abuse.
The side-effects are already apparent in some situations. For example, the WellSpace Health's Suicide Prevention and Crisis hotline fielded 4,713 suicide and crisis calls at its Sacramento office in March. Statewide, calls to the organization increased by 40% over the last two months.
For some, the phone can be a lifeline. Sherry said she is grateful for her once-a-week phone session with her therapist but noted that it is not the same as a face-to-face interaction. Dr. Ethel Daniels, a therapist based in Downtown Long Beach, said she is still conducting about 70% of her sessions in person.
Daniels said she sits at least 6 feet from patients. She has a face mask and sanitizes the space between each client. There are signs posted around the office telling patients they can't attend a session if they have recently been sick.
Daniels said her clients' troubles are being exacerbated by coronavirus safety measures, which have caused stress and removed coping mechanisms like spending time with friends, going to the park or beach, or going out to eat or for a drink.
"If you remove the . . . places that we find comfort, then we're simply redirected back to self," Daniels said. "And if it's hard to sit with self initially—because we have issues—then it's extra hard to sit with self now."
While she said there is no silver lining to the coronavirus pandemic, Daniels said she is encouraging her patients to use this time to reconnect with themselves, despite how difficult it may be. She explained that it is all her patients can do, since escape is not an option. If done properly, and healthily, Daniels said this forced self-reflection could accelerate the healing process.
Daniels stressed the importance of communication and connection for people's mental health, which is why forced distancing can be so detrimental. She said some people, particularly the elderly, only have human interaction during therapy, which is why she maintains so many in-person sessions.
For some clients, Daniels said a phone session works great. She said that having a listening ear, support and reassurance on the other end of a phone can be tremendously helpful for some. But not all.
"It's imperative that I show up face-to-face with some of these clients who don't have any human contact and the phone is not enough," Daniels said. "They need to feel normal or like they haven't lost touch with reality completely."
For those who were not struggling with mental illness prior to stay-at-home orders, stress is still mounting, as well as its impact on the economy and daily life, Gov. Gavin Newsom said during his April 7 press briefing. Unemployment in California and across the country has skyrocketed, schools are closed, gyms are shuttered and all forms of entertainment outside the home are shut down.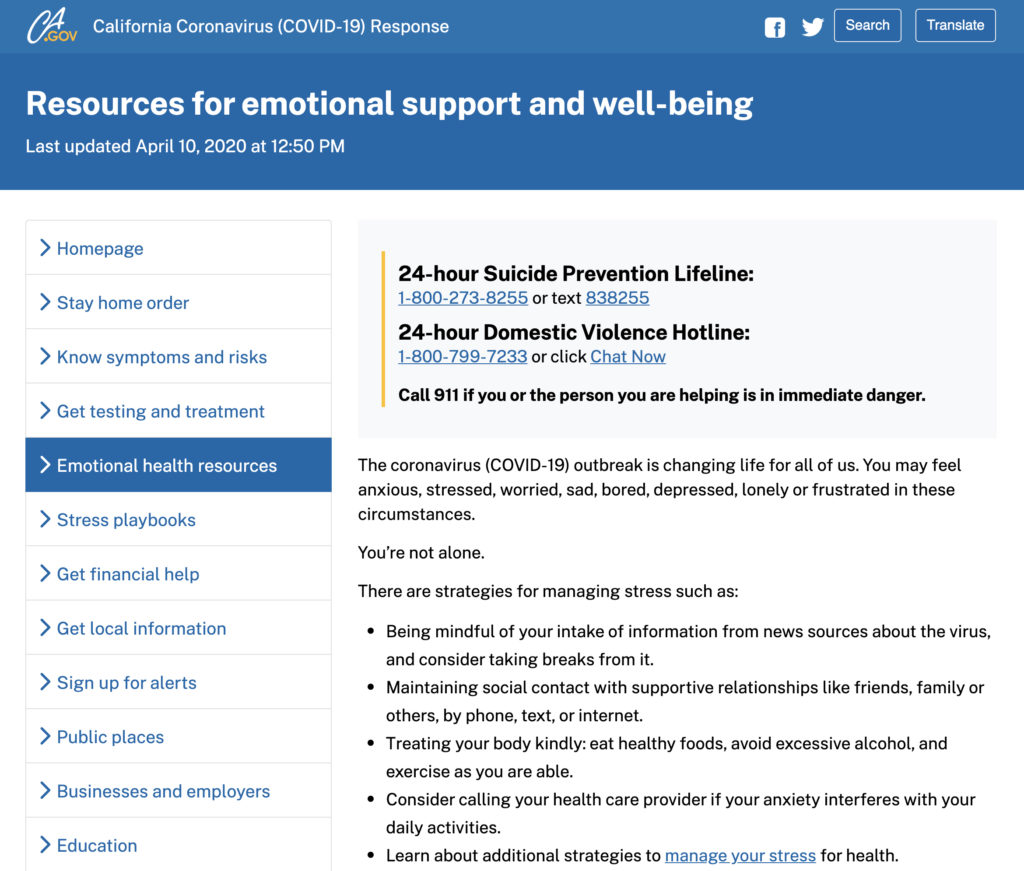 Stress triggers a biological response that increases the body's production of certain hormones, such as adrenaline and cortisol, which can affect people's health, behaviors and emotions, California Surgeon General Dr. Nadine Burke Harris explained. A variety of symptoms can be directly attributed to overactivity of the body's stress response.
"Familiar symptoms include changes in sleep patterns or appetite, mood changes, such as anxiety, depression or anger, increased risk of substance use or dependence, and family violence," Burke Harris said. "However, health conditions, such as headache, abdominal pain and digestive difficulties, increased blood pressure or blood sugar, asthma exacerbation, and increased risk of infection are also associated with an overactive stress response."
"It's important to know that these changes aren't just in your head."
Forced togetherness also causes stress
Though the reason is the same, couples and families face different challenges than individuals. Dr. Tina Tessina, a Long Beach-based couples psychotherapist, explained that while individuals are suffering from a lack of interaction, some couples and families may be getting too much.
For families, increased stress can lead to increased spousal and child abuse, Tessina said. With no other outlets, perpetrators of domestic abuse do not know how to handle the stress except through anger, which results in them lashing out physically or verbally.
"The most important thing you can do is learn how to not react to your partner. Learn how to respond instead," Tessina said. "If your partner says something angry, don't say something angry back."
To help couples respond instead of react, Tessina said it is important to agree upon certain relationship rules, such as allowing each other to call a timeout during a disagreement to keep it from escalating.
Specific to the situation presented by coronavirus, Tessina said it is important for families to have a plan—if working from home, parents should know each other's work responsibilities, as well as their child's online school obligations.
During times of increased stress and long periods of forced contact, Tessina said a weekly counseling session could be beneficial for couples. If not with a professional, then at least with each other. She said all couples should have a weekly "State of the Union" discussion to touch base and air grievances before they fester, becoming true problems.
Tessina encourages couples to use this time to grow together by learning new skills or picking up new hobbies in tandem, such as cooking. Alone time during this crisis is beneficial for relationships as well—taking turns walking the dog, reading separately or staying in different rooms.
"When you come back together, you appreciate each other more," Tessina said.
To help Californians cope with the added stresses brought on by coronavirus, to "thrive and not just survive," Newsom tasked Burke Harris with creating and compiling resources around mental health during COVID-19, as well as a "stress playbook."
The California coronavirus website features emotional health resources, including 16 hotlines for elder abuse, domestic violence, the LGBTQ+ community, substance abuse, alcohol abuse, teens and more. The hotlines are available in multiple languages, in some cases up to 170.
"We all recognize the nature of this moment," Newsom said. "And I just want folks to know that staying at home doesn't mean you are alone.
"We are bigger than anything we face. I know the fear and anxiety we all have, but let us have faith—faith conquers all—and know this will pass. It will pass."