Rising seas, hotter days, worsening air pollution and frequent droughts are in store for the future, according to a report by the Aquarium of the Pacific. The institution recently released a summary of this report that contains some advice for how the City of Long Beach can adapt.
In 2015, Mayor Robert Garcia requested that the Aquarium take the lead in creating a report analyzing the resiliency of the city to climate change. The Aquarium worked with experts from regional universities and government agencies to create the City of Long Beach Climate Resiliency Assessment Report, which was released at the end of 2015.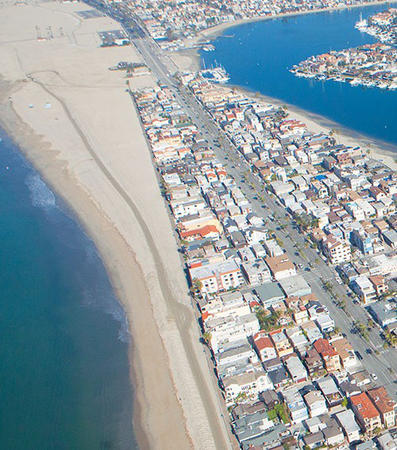 Long Beach's peninsula in Belmont Shore is one of several areas that are at risk for flooding due to severe weather and sea level rise caused by climate change, according to a report by the Aquarium of the Pacific. (Business Journal photograph)
To provide a more accessible, user-friendly document, the Aquarium brought on Tom Bowman, president-elect of Sustainable Business Long Beach and owner of Bowman Change, Inc. A summary report detailing the main impacts of climate change to Long Beach, the city's vulnerabilities and potential means of adaptation was released in February.
"We decided that the original report was too long and too dense, and a lot of the people we would like to read it just don't have time to do it," Jerry Schubel, president and CEO of the Aquarium, told the Business Journal. Hard copies were mailed to elected officials and city management, and a digital version is available to download here.
"We think Long Beach has a great opportunity to really develop a model [for climate resiliency] because we're a small enough city to be manageable [but] we are a large enough city to have national impact," Schubel said. "We experience most of the aspects of climate change. For example, we not only have the ones that happen on land but we also have the changes that happen in the ocean."
As a coastal city, Long Beach will be impacted by rising sea levels, according to the report. Increasing oceanic temperatures due to climate change are causing seawater to expand, which, in addition to melting glaciers, is causing rising sea levels, the report stated. "Sea level in the Long Beach-Los Angeles area is expected to rise nearly one foot by 2030, up to two feet by 2050, and as much as 5.5 feet by 2100," the summary report stated.
"If we cut off all greenhouse gases tomorrow, which we obviously can't do, sea level would continue to rise for decades and perhaps longer," Schubel said.
While this is a long-term threat, climate change also affects coastal communities in the short term, Schubel pointed out. "What's an immediate threat when you have these coastal storms superimposed upon temporary rises of sea level, whether they are king tides or El Niño, those are the ones that are doing the damage now," he said. "And the damage they will do in the future only gets greater because they are superimposed upon a higher stance of sea level."
Such instances have already occurred. For example, the summary report noted that in 2014, Hurricane Marie caused 20-foot swells in Long Beach waters that caused $10 million in damage to the Long Beach Middle Breakwater.
Areas currently most vulnerable to coastal flooding include the Peninsula, Alamitos Bay, Belmont Shore and the lot north of Alamitos Bay Marina, according to the report. While seawalls and additional breakwaters could help temporarily, eventually "retreat inland will be the only viable option," it stated. The report suggested conducting a thorough review of where previous storm damage has occurred, a survey of sea walls and drainage infrastructure to create hazard modeling, and a review of all assets at risk of flooding.
While Schubel acknowledged that the Port of Long Beach and the city have made strides toward reducing air pollution, he believes air quality is bound to become worse, regardless. "Air quality gets worse as the temperature goes up. And Long Beach already has some bad air quality, even though it's much better than it was 20 years ago," he said.
"We have among some of the highest asthma rates, particularly for those people who live along the 710 corridor. We need more data. We need better studies," Schubel said. "I think the Long Beach Health [and Human Services] Department and California Department of [Public] Health need to collaborate on those. But we also need to continue to reduce the emissions from the port. They have done a lot. They should be applauded. But there is an awful lot more to be done."
The use of trucks fueled with biodiesel could aid in reducing fine particles in the air, Schubel pointed out. "Biodiesel burns at a higher temperature, so it emits far fewer particulates than conventional diesel. And it's one step above clean trucks," he said.
The summary report includes a list of local initiatives to reduce air pollution, including the San Pedro Bay ports' Clean Air Action Plan, an effort by the City of Long Beach to plant 10,000 trees, and more. According to Mark Taylor, chief of staff for Mayor Garcia, the city has been working to expand its use of green vehicles, and it has encouraged the use of electric cars through an electric car charger giveaway and by installing more charging stations.
Schubel views an expected increase in drought length and frequency as the most difficult climate change challenge facing the region. "We all felt a relief when we had so much rain this winter. But all of the studies suggest that the pressures on our water supply will increase as the earth warms," he said.
According to Taylor, the mayor's office has encouraged water conservation programs in partnership with the Long Beach Water Department. The city has also initiated the Long Beach Municipal Urban Stormwater Treatment (MUST) project to reclaim and reuse stormwater for irrigation and industrial uses, he noted.
The city is actively pursuing the creation of a Climate Action and Adaptation Plan, and it has partnered with engineering firm AECOM to "help guide the city's assessment/inventory of GHG [greenhouse gas] emissions and approaches to reduce them with specific goals and targets moving forward," Taylor said via e-mail.
In recent weeks, President Donald Trump has taken executive action to roll back environmental regulations put in place during the Obama administration. Trump's order revoked one executive order and three presidential memoranda from the previous administration, and rescinded the former president's 2013 Climate Action Plan and a strategy to reduce methane emissions. It also initiated reviews of other policies, including the Clean Power Plan, and an analysis of the "social cost of carbon."
Trump's executive action also removed a ban on leases for coal operations on federal lands and initiated a review of regulations for oil and gas development.
"I do have concerns because I think the actions we take over the next decade are going to be very important in limiting the potential impacts of climate change," Schubel said of the president's recent actions related to the environment. "So we will step up our programs."
Schubel added, "And as we have seen, the president doesn't always get what he wants. And so I think we can continue and will continue to work on the science behind all of this and [building] an educated public, because the educated public then can influence what their congressional representatives do."