The Broadway corridor is the new testing ground for Long Beach's latest step down its environmentally conscious path – the Can Your Butts campaign. The program aims to stamp out cigarette butt litter along city streets, and on March 31, city officials unveiled its first cigarette waste receptacle at Gallagher's Pub & Grill.
"We know that people are still smoking. As much as we would like to encourage you not to do that, people are," 2nd District Councilmember Jeannine Pearce said at the unveiling event. "And we want to make sure that we are keeping it as clean and safe for our community as possible."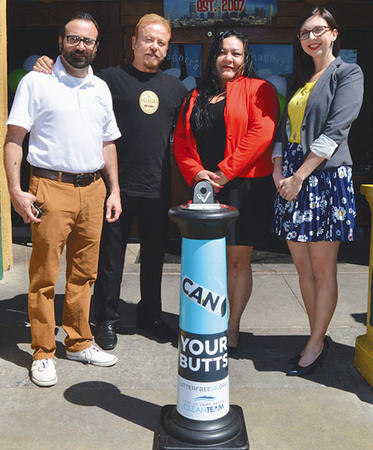 The Broadway corridor is the first to take part in the city's Can Your Butts pilot program, which aims to eliminate cigarette litter along city streets. The program launched on March 31. Pictured from left: Diko Melkonian, Long Beach Environmental Services Bureau (ESB) manager; Gallagher's Pub & Grill Owner Ciaran Gallagher; and ESB recycling specialists Elisa Calderon and Leigh Behrens. (Photograph by the Business Journal's Larry Duncan)
According to city data, 65% of cigarette butts, which are not biodegradable, become litter. These butts leach chemicals into the environment and are poisonous to children, pets and wildlife if ingested. The state spends $419 million annually to clean up cigarette butts, which make up one-third of all litter found on roadways, public spaces, beaches and waterways nationwide.
Ciaran Gallagher, the Northern Irishman who opened his pub in Long Beach in 2005, partnered with the Long Beach Environmental Services Bureau (ESB) Clean Team, as part of the Department of Public Works, and the City of Long Beach to become the first participant of the pilot program. The campaign, which was developed by the Clean Team over the last six months, will provide eligible businesses with free cigarette butt receptacles.
"We are proud to be part of this wonderful community. We're excited to be the first business to join the new Can Your Butts campaign," Gallagher said. "Working together with the city through this initiative helps businesses like mine promote a clean, safe and litter-free Long Beach."
According to Leigh Behrens, a recycling specialist with the ESB, 33 businesses along the Broadway corridor – between Alamitos and Redondo avenues – are eligible for the free, voluntary pilot program. She explained that initial outreach indicates that most businesses plan to participate and will sign up in the coming weeks.
Environmental Services Manager Diko Melkonian explained that the target businesses are mostly bars, restaurants and barbershops – places where people tend to smoke the most.
"Broadway is a very busy business corridor. If you look around, it does have a little bit of a litter issue," Melkonian said. "It's a great opportunity. We talked to a lot of the business owners up and down the street, and a lot of them showed a lot of interest in participating. So we thought it was a great place to start."
Melkonian said that disposing of cigarette butts in proper receptacles is only the first step in the litter abatement program. The campaign also encourages participating businesses to utilize free cigarette waste recycling through TerraCycle. The New Jersey-based company provides shipping labels for companies to ship extinguished cigarettes, cigarette filters, loose tobacco pouches, outer plastic packaging, inner foil packaging, rolling paper and ash to be recycled. Ash and tobacco are turned into compost, while filters can be melted down and used to make industrial products such as shipping pallets.
More than 9,800 locations participate in the program, according to TerraCycle's website. For every pound of cigarette waste collected, the company donates $1 to the Keep America Beautiful Cigarette Litter Prevention Program.
In addition to the full-sized receptacles, eligible businesses can receive free resources from the city such as posters and pocket ashtrays.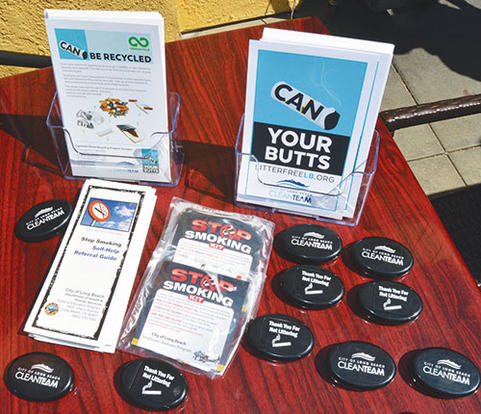 –
"Rather than allowing them to go down the storm drains and into the waterways, we're trying to be proactive and give people the opportunity to dispose of them and recycle them," Melkonian said. "Studies have determined that if you give people opportunities to dispose of them properly, they will."
Along with being environmentally friendly, city brochures for the Can Your Butts campaign note that retail establishments and restaurants that sell tobacco products or alcohol for consumption on the premises are legally required to provide and empty cigarette waste receptacles in all areas that smoking is lawfully permitted. Businesses also are required to keep properties and adjacent areas, including sidewalks, streets, gutters, catch basins and alleys, litter free.
About 38% of cigarette litter is associated with the number of ashtrays available and the amount of existing litter, according to city data. It's estimated that for each receptacle added, the litter rate decreases by 9%. Additionally, 41% of employees who smoke report that no cigarette receptacles are provided by their employer.
"This is an opportunity for Broadway, again, to take the next step in becoming a corridor that's really clean and leading the way in describing the kind of city we want to be," Councilmember Pearce said. "So we're encouraging business owners to get educated on the Can Your Butts campaign and take the opportunity to get one of the receptacles."
For more information on the Can Your Butts campaign or to request a receptacle for an eligible business, visit litterfreelb.org. For more information on TerraCycle's cigarette waste recycling program, visit terracycle.com.