We are familiar with Promenade Square Park. It's a small grassy area adjacent to the Bike Station and the 1st Street Transit Mall that is often used for concerts. But there are no benches in this park, or a sand box or anything resembling a children's playground.
So why is it that on the cover of a recent mailer 2nd District city council candidate Joen Garnica states that "She built a playground" there? Built as in done. She even shows a slide on the cover of the mailer.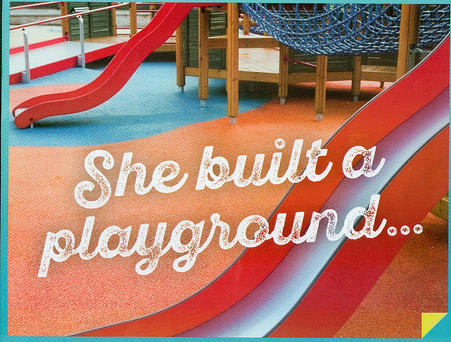 (Cover of a recent campaign mailer paid for by Joen Garnica For City Council 2016)
The mailer states: "When Joen was told there was no money in the city's budget to install playground equipment at Promenade Square Park, she set out to find the funding needed to make it happen. She partnered with neighborhood leaders, local businesses, and elected officials to raise close to $170,000 to build the playground. Thanks to Joen's hard work, kids and families in the area now have a safe place to play."
"Now have?" Really?
We repeat: a playground has not been built. Nor will it be, according to a spokesperson for the city's parks department. But a tot lot looks promising – although the project needs more funding to move forward.
The actual credit for getting this project moving forward does not rest with one person, but a group of residents, including Garnica as a committee member. From articles we've read (including LBPost, August 17, 2015), at least two other people did most of the work over a three-year period.
For those of you wondering why a business publication would challenge a small businessperson running for office – after all, we certainly need more pro-business people on the city council – the answer is ethics. We don't want business owners who stretch the truth or twist words to benefit themselves. Elected officials represent the people of Long Beach, so, yeah, ethics matters. So does integrity. Transparency matters. Honesty matters. If a candidate exaggerates the truth – and we're being generous with that phrasing – that person will continue that practice if elected.
Now, about the park. Here's the current status according to Meredith Reynolds, the city's park development officer. First, plans are not for a playground, but instead a tot lot – a play area typically for children ages 2 to 5. The area will include a bench, a special surface, a slide and several climbing pieces, including a climbing rock. A tree will be removed to make space for the tot lot. There is no sandbox or swing or merry-go-round. The project is $22,000 short, but evidently a local health agency and Los Angeles County have informally agreed to cover the money needed. The project is on the agenda of the April 21 parks commission meeting. If approved, and the cost is covered, it goes to the city council in mid-May. If all goes well, construction could begin in June.
Running for elected office is not easy, but all candidates must earn the voters' trust based on their own achievements. Real ones.