The City of Long Beach is rolling out new environmental initiatives this year, some of which are prompted by state and federal mandates, to reduce greenhouse gas emissions and divert waste from local landfills.
Environmental initiatives are a primary focus of Mayor Robert Garcia, who signed on to the "Compact of Mayors," a worldwide coalition of city leaders launched two years ago at the United Nations Climate Summit to address climate change.
Over the past year, the city has committed to adding more solar panels to city facilities, planting thousands of new trees, requiring Leadership in Energy & Environmental Design (LEED) standards for new private and government development, supporting urban agriculture and expanding bicycle and pedestrian infrastructure.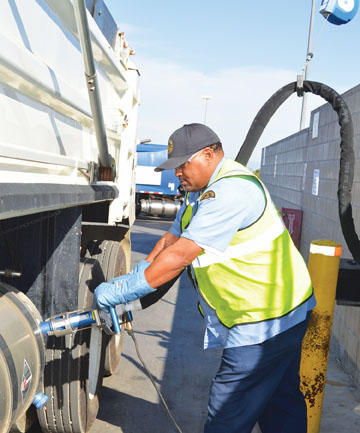 Robert Guyton, an employee for Long Beach fleet services, fills up the tank of a city vehicle with renewable liquid natural gas (RNG), also known as biomethane. Last year, the City of Long Beach transitioned street sweepers and refuse trucks to using RNG, which is 100 percent renewable and sustainable since it is not a fossil fuel and is made from nonpetroleum resources such as natural fats, vegetable oils and greases. The city expects to reduce more than 6,000 tons of carbon emissions per year by switching to the renewable fuel. (Photograph by the Business Journal's Larry Duncan)
Last year, the city launched a citywide LED (light-emitting diode) streetlight retrofit program expected to reduce carbon dioxide emissions by 7,297 tons annually and save $1 million in energy and maintenance costs.
Over the next three years, Long Beach plans to take a more comprehensive look at addressing climate change through collaborative efforts by the city's office of sustainability, planning department and consultants.
The city is expected to complete a citywide "greenhouse gas inventory" to estimate how much greenhouse gas the city emits as a whole from all sources, including building, transportation, port, airport and water treatment activities. The city will then set reduction targets and develop climate change "action, mitigation and adaptation" plans.
The city is also preparing for a new state mandate going into effect next month that requires that certain businesses start recycling organic waste, which includes spoiled food items and tree trimmings.
Assembly Bill (AB) 1826 requires that, starting April 1, businesses generating at least eight cubic yards of organic waste per week must arrange for the materials to be picked up and recycled separately from trash or regular recyclables.
At first, only large grocery stores and restaurants will be affected by the legislation, but eventually smaller operators will be required to comply as the regulations gradually expand over three years to businesses with smaller amounts of organic waste.
In the City of Long Beach, where nearly 75 percent of waste is diverted from landfills, the city already offers organic waste hauling and composting services.
The city has also started using renewable fuels for more than 18 percent of its vehicle fleet. In February, the city announced that renewable fuels now power 393 of the city's 2,185 vehicles.
While Long Beach has long been recognized as the first city in the nation to use liquid natural gas (LNG) street sweepers, last October some street sweepers and refuse trucks transitioned to using renewable liquid natural gas (RNG), also known as biomethane.
In addition, all of the city's diesel vehicles, including refuse trucks, boats, tractors and paramedic vehicles, in addition to some equipment, are now using "renewable diesel."
Like biodiesel, renewable diesel is 100 percent renewable and sustainable since it is not a fossil fuel and is made of nonpetroleum renewable resources such as natural fats, vegetable oils and greases. Such fuels also cost the same or less than conventional fuels and don't require any modifications to city vehicles or fueling infrastructure.
By switching to renewable fuels, the city estimates that 52 percent of all fuel purchases in 2016 will be renewable, resulting in a potential reduction of more than 6,000 tons of carbon emissions per year, according to city officials.
In addition, the City of Long Beach's Sustainable City Commission is developing policy recommendations to the city council for expanding electric vehicle (EV) infrastructure throughout the city.
While the state's building code already requires that new residential and commercial development incorporate a number of EV plug-in charging stations based on a percentage of parking relative to the size of a development, Long Beach is expected to propose a local initiative that would increase the minimum requirements for new development.
In addition, Southern California Edison (SCE) announced earlier this year that the utility company has launched a pilot program to install up to 1,500 EV charging stations throughout its service territory. SCE is expected to provide about 40 new EV charging stations in Long Beach while offering rebates of between 25 and 100 percent of the base cost of the charging stations and installations.
Businesses large and small are also doing their part to protect and improve the environment. Wells Fargo, for instance, recently provided a $50,000 grant for a project to restore 18 acres of the degraded wetlands known as the Colorado Lagoon near Alamitos Bay in Southeast Long Beach.