Whether looking to see a professional theatrical or musical performance, catch an act by a well-known comedian, or take in stunning works of visual artistry, Downtown Long Beach has it all. From community arts groups to professional theater companies, small art galleries to internationally renowned murals, there is no shortage of options for soaking in some culture in the city's downtown.
One of the newest groups on the scene in the arts community is the Long Beach Landmark Theatre Company, a theater organization that grew out of the historic First Congregational Church at 241 Cedar Ave. Executive Director Mark Wheeler said the organization officially debuted in 2017 and has since produced two musicals per year. The organization is adding a third annual performance to its seasons.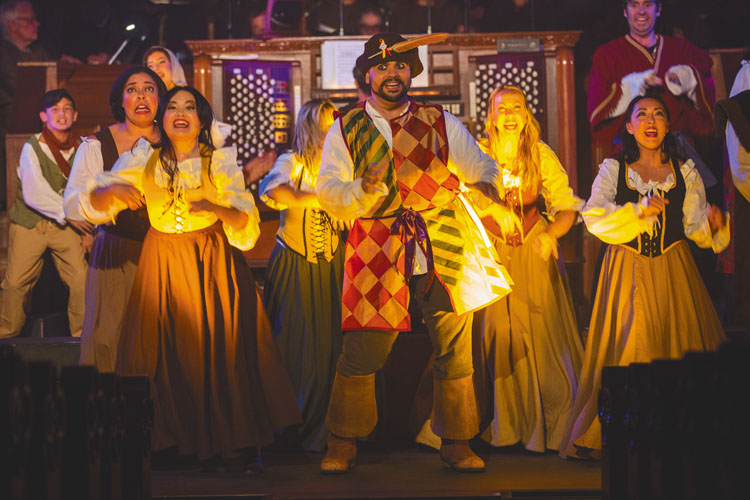 Wheeler and Artistic Director Megan O'Toole first came up with the idea for the new theater company when they realized how many of their fellow churchgoers were talented performers. "We started doing a couple things, and it quickly evolved into a desire to do more, growing into more of an outside entity," Wheeler said, explaining that the organization operates under the umbrella of the church's nonprofit entity. "We still have ties to the church, and we do performances there, but it's a freestanding entity now."
Landmark publicizes auditions in the theatrical industry publication Backstage West, opening them up to artists well beyond Long Beach's borders. While actors are unpaid volunteers, Wheeler and O'Toole hope to be able to pay them through grants and donations in the future. Musical performances do include a paid professional orchestra, as well as professional lighting and sound. "We go big. We always have a live orchestra," O'Toole said, noting that the historic church venue makes for a beautiful backdrop.
One of the longest-running theatrical companies operating in Downtown Long Beach is International City Theatre (ICT), which calls the Beverly O'Neill Theater at the Long Beach Performing Arts Center home. When ICT moved downtown in 1996, the Beverly O'Neill Theater – then called the Center Theater – had been underutilized for many years, according to ICT Artistic Director/Producer caryn desai.
"I have to believe ICT's success in the space attracted other groups who are now utilizing the space on a regular basis," she said. "With the [Long Beach] Opera, Musica Angelica, Camerata [Singers] and Musical Theatre West, along with ICT, the Performing Arts Center lives up to its name. There is great synergy and community participation in our beautiful theaters." The groups desai named committed to annually producing multiple productions at the theater starting in 2016.
"International City Theatre has built a reputation for producing quality theatre that includes musicals, comedies, classics and dramas," desai said. "More than half the works produced over 33 years have been premieres. There is something for everyone."
For those seeking smaller productions, 66-seat The Found Theatre at 599 Long Beach Blvd. in The Streets shopping center produces multiple original plays each year. The nearby Garage Theatre, located at 251 E. 7th St., is also known for showcasing original and alternative theatrical productions.
The Long Beach Performing Arts Center, which includes the Terrace Theater, is part of the Long Beach Convention & Entertainment Center complex. Located on Ocean Boulevard and the end of Long Beach Boulevard, the Terrace is host to a variety of entertainment throughout the year, including performances by local professional groups such as the Long Beach Symphony and Long Beach Ballet.
John Braun, assistant general manager of the convention center, noted that the theater is quite popular among comedians. "It goes way back to when Richard Pryor had first [performed there] in '78," he said. "And it's a good venue. It's 3,000 seats, so it's kind of a sweet spot for comedians." In 2019, comedians scheduled at the Terrace thus far include Tom Segura on February 7 and Jim Gaffigan on May 19. Braun also expects Sebastian Maniscalco to return to the venue sometime next year.
But the Terrace isn't just for comedians. On the books next year is the popular scientist Neil DeGrasse Tyson on March 25. Traveling performing arts and cultural groups regularly perform at the center, including the Chinese cultural group Shen Yun, Dancing With The Stars, Disney on Ice and others. And before the end of 2018, Long Beach Ballet will yet again delight audiences with its annual production of holiday favorite, The Nutcracker.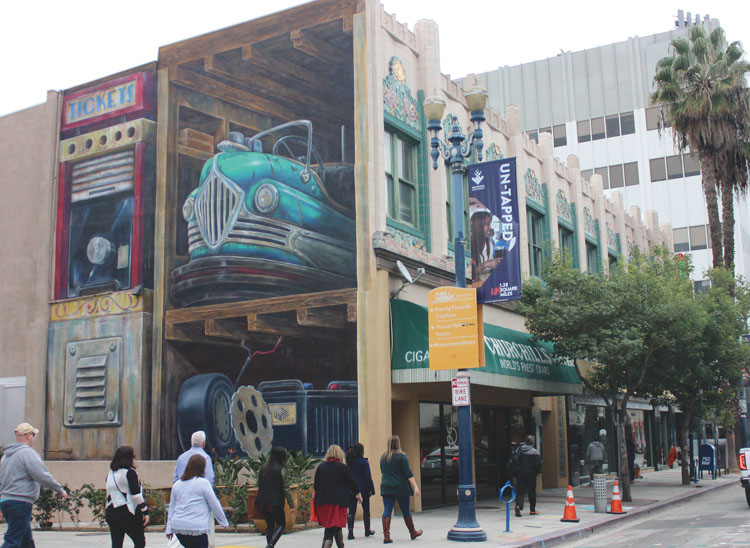 The visual arts are thriving in downtown, primarily concentrated in the aptly named East Village Arts District. The neighborhood features a number of independent galleries, one of the newest being C Gallery at 441 E. Broadway. The area is known for artist lofts, its monthly second Saturday Art Walks, and an eclectic mix of retailers, some of which sell wares by local artisans.
The East Village Arts District is home to two major arts organizations. The Arts Council for Long Beach, a nonprofit funded with support from the city, has its offices in the East Village. The organization serves the local arts community by providing grants to individual artists and to organizations. It also runs arts education programs and supports public art.
Nearby, LBMAx – formerly known as the Art Exchange – houses artists in residence, operates a gallery showcasing local living artists and provides arts education programs. LBMAx is a series of four connected historic buildings at 356 E. 3rd St., which has operated under the umbrella of the Long Beach Museum of Art since summer 2018. "There are plans for changing, expanding and upgrading the physical space," Sue Ann Robinson, curator emerita for the museum, told the Business Journal. She added that LBMAx's gallery presents an opportunity "for emerging artists to have their work seen."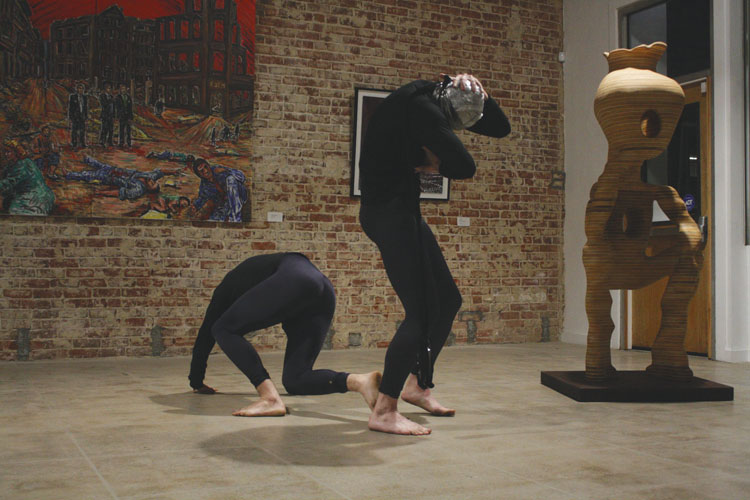 "Since 1950 – we're about to celebrate 70 years – we have always worked closely with living artists and we have always supported living artists creating their work, exhibiting their work. And LBMAx is another opportunity to continue doing that," Robinson said.
The museum's director of education has been working with the Long Beach Unified School District to develop a program for school children in the area. "So far we have had two schools involved, and the program is called 'Walk, Talk, See,'" Robinson said.
Thanks in large part to an annual mural painting event that began in Long Beach nearly five years ago, massive, colorful murals by both international and Long Beach artists are found throughout the downtown area. The event, POW!WOW! Long Beach has thus far blanketed the city with 74 murals and counting. Supported by downtown advertising agency interTrend Communications, LBMA, the Long Beach Convention & Visitors Bureau and other local entities, POW!WOW! is returning to city streets again in summer 2019.
"It has elevated the public art here in Long Beach because we do bring artists from all over the world," Tokotah Ashcraft, regional director of POW!WOW!, said. "These are people who are not only professional artists who have showed in museums, but also have major ad campaigns, whether it's with Tiffany & Co. or Vans. . . . These are really talented people who are donating their time to something that they believe in and to brighten up the city."
At the end of the day, Ashcraft said, the goal of POW!WOW! is "to beautify cities and bring communities together." She added, "We want to give a platform to locals and international artists. That's really important."