New development opportunities in Long Beach are cropping up as several sales of former redevelopment properties have been finalized in the past year, according to city officials.
After the California Department of Finance (DOT) approved the City of Long Beach's Long Range Property Management Plan for the disposition and use of real property of the former Long Beach Redevelopment Agency (RDA), the city last year began selling off vacant former RDA properties.
Acting as the successor agency to the former RDA, the city has also issued requests for proposals (RFPs) for larger properties categorized as "future development," totaling more than 25 acres of vacant property mostly in Downtown, Central and North Long Beach. The city's total inventory of former RDA properties, including those kept for government use, encompassed 259 parcels at 71 sites.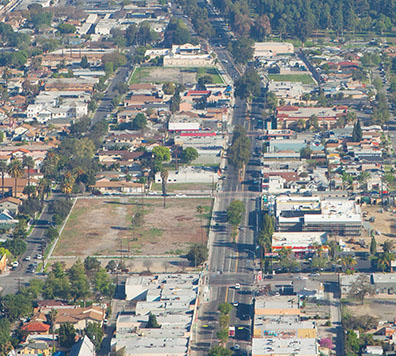 A vacant piece of land at the 5800 block of Atlantic Avenue in North Long Beach is one of many former redevelopment properties being sold off as part of the city's redevelopment dissolution process. Many of the empty properties are slated for new development, including a stretch of properties on Atlantic Avenue acquired by Lab Holding, LLC, which plans to develop a commercial center at the North Village corridor. (Business Journal photograph)
A majority of buyers have expressed interest in submitting plans for new development, including proposals for a new hotel and small residential projects in downtown. An RFP for a site at Ocean Boulevard and Pine Avenue above the historic Jergins Tunnel, for instance, calls for a "high rise mixed use" development.
Michael Conway, the city's director of economic and property development, told the Business Journal that the former RDA's successor agency and oversight board has approved a total of 36 "for sale" properties for disposition. Nearly a dozen of those property sales have already closed escrow and have received state approval within the past seven months, he noted in a spreadsheet.
Some transactions, however, are still in negotiations, including a deal with Lab Holding, LLC, a socially conscious and environmentally friendly developer in Orange County that is considering acquiring a large block of properties in North Long Beach.
The assemblage of properties span nearly 2.5 miles along the North Village corridor on Atlantic Avenue from just south of Bixby Road to just north of East Market Street, where Lab Holding is considering a creative commercial development that would mesh with the fabric of the local neighborhood.
The predominant use for vacant for-sale properties, however, is residential development, Conway said, adding that most commercial properties will maintain their use. He noted that some properties had to be relisted and put back on the market.
Out of a total of 16 RFPs for future development that have been released since last year, four are proceeding with parties that the former RDA was in prior negotiations with, Conway said. The latest RFP was issued last month for an empty lot at Artesia Boulevard and Atlantic Avenue.
For more information on RFPs out for bid, visit www.planetbids.com. For information on the disposition of former RDA properties, call the Long Beach Economic and Property Development Department at 562/570-5282.