The next time you answer the door, don't be surprised if a hovering drone instead of a human being delivers the item you ordered 30 minutes prior online. Or if the item itself didn't even exist until you ordered it. Or if the person who made the device is sitting halfway around the world.
A Jetsons-esque vision, perhaps, but rooted in today's technology.
Driverless vehicles, drones, three-dimensional printing and advanced robotics are changing the face of industrial real estate, the labor force, the manufacturing base and every other facet of the supply chain. And the rate of change is increasing, experts say.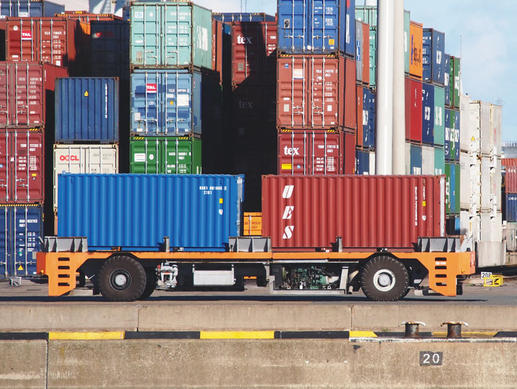 Automated guided vehicle container movers, such as this one at the Port of Rotterdam, are beginning to find their way onto ports around the world.
"People should be thinking about this now – the future is here," says Yehuda Bassok, an expert in supply chain management and chair of the Department of Data Sciences and Operations at the USC Marshall School of Business.
Two key technologies already are reshaping the supply chain in ways that are dramatic now and promise even more revolutionary revisions in the near future. Automated vehicles of all sorts promise lower transportation costs for more rapid, more widely ranging deliveries of inventory and individual purchases. And 3D printing will force industry to rethink the entire concept of inventory, manufacturing and procurement.
The latter, 3D printing, is in the stage of adoption by industry as the costs of the production process tumble, says Kurt Strasmann, senior managing director/Southern California industrial market leader for CBRE. In 3D printing, a machine builds a part by layering material, one thin sheet at a time, according to a computerized three-dimensional map. The potential advantages are easy to see. On-the-spot production of parts eliminates the lead time for ordering items and eliminates the costs associated with production delays, importing and transportation.
"Long lead times can be expensive. You can produce it on the spot and in the numbers you require, rather than placing the order, having it made and having it shipped," Strasmann told the Business Journal. "It can allow you to produce a part as needed and at the last minute, which is always critical. It provides you extreme flexibility.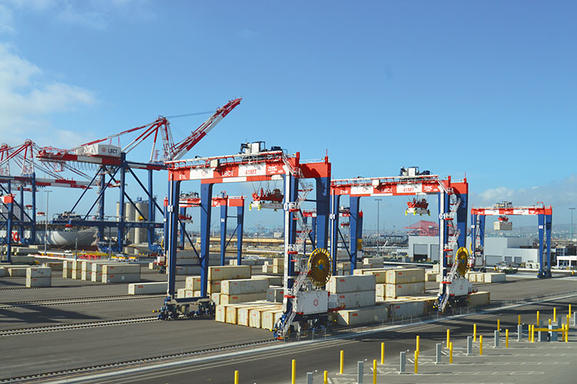 The Port of Long Beach's Long Beach Container Terminal features automated stacking cranes, which move and stack containers on the dock. (Photograph by the Business Journal's Larry Duncan)
"In theory, you could inventory less because you can produce parts on the spot. You could take less space and need less gigantic distribution facilities out in remote areas. You could have smaller facilities in infill sites and more quickly deliver products to your customers."
"It's already starting to change the nature of what goes on in logistics facilities," says John Husing, a research economist who serves as the chief economist for the Inland Empire Economic Partnership. "You can actually get a combination of assembly and parts manufacturing going on in a logistics facility. Logistics is becoming really another piece of manufacturing."
3D printing also offers the potential of having employees in one place create a part in an entirely different place on the planet. An operator in California with a computer can program the three-dimensional map for a part into a machine in China, or vice versa.
"I will be able to produce things in my house . . . while someone is operating the machine from India or China or wherever. We will be able to use low-cost employees from around the world who will be able to produce things in our towns," Bassok told the Business Journal. "I can produce whatever I want to produce wherever I want to produce it."
This technology has dramatic implications for infrastructure. Goods will not have to be moved; they can be created near the customer.
"This means we may not need large boats because we don't need to import as much. It's a complex question. The entire supply chain will change," Bassok says. "People don't think about it, and I see that. And I think, we're talking about boats, and we don't have enough capacity now. And I'm saying, be careful because maybe in 20 years you will not need this capacity."
Automated vehicles offer the potential for eliminating one of the most expensive elements of the distribution network: the human being. Whether it is a drone that delivers a small package to a doorstep or a truck that can travel hundreds of miles without human intervention, automation means lower transportation costs for the finished product. That has significant implications for real estate locations and operations.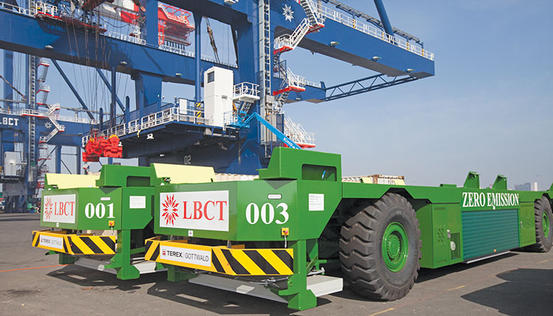 Long Beach Container Terminal's operations at the Port of Long Beach's Middle Harbor now feature a variety of automated equipment, including these zero emission automated guided vehicles that shuttle containers throughout the terminal. (Business Journal photograph)
"Everyone talks about driverless cars, but the real economic impact is in driverless trucks," Strasmann says. "There are three stages to this. There's developing the technology. Then there's a driverless vehicle with an operator in the truck who can multitask for the most part while the truck is driving, which makes the driver much more efficient. The third phase is fully automated trucks, and that's a ways off, but there are gigantic potential cost savings. I think you'll see a great deal of investment in this area.
"In theory, you would need fewer facilities because you have automated vehicles that can deliver to a larger area with lower costs. In infill areas, you could go to smaller facilities to better serve your clients because the major warehousing operations are more and more in remote locations. The buildings have to be much more sophisticated to handle all the data needs. Companies like Amazon have robots that do all the picking and sorting. Those kinds of operations really take advantage of the clear height increases in buildings."
The rate of change is staggering. Husing cites the Skechers shoes operation in the Inland Empire as an illustration of a futuristic facility where humans are not required.
"It is a 1.8 million-square-foot facility. It is 50 feet high, and for all intents and purposes, nobody works inside the building. It is entirely automated. It is all robotics," Husing told the Business Journal. "There are 600 people who work there, and their job is the care and feeding of the technology. They are paid more, but they have to know more. They have to be able to repair and calibrate all of this equipment. They have to know software. That is the future.
"The technology is most efficient at those sizes [of facilities]. And a lot of what we're talking about is e-commerce. Most of what is being built [in the Inland Empire] is e-commerce because they are huge operations. They are packed with people, though their functions are becoming more and more replaced by robotics."
Replacing employees with robots in these functions is something that causes economists concern. The jobs that will disappear are the ones that have a proven track record of moving people from the lowest socioeconomic strata into solid middle-class lifestyles, Husing says.
"The greatest employment potential loss from automation will be truck drivers as you get into automated vehicles. Right now, truck drivers are in short supply. They make very good pay. And as you move into driverless trucks, that is a good-paying job that takes people out of poverty and into the middle class that will be eliminated by automation," Husing says.
"Honestly, this particular round of automation is the greatest threat to upward mobility into the middle class for the marginally educated that has existed in my lifetime. The speed at which this is changing is accelerating."