Though the closure of Boeing's C-17 production line in Long Beach last year signaled an end to an era of aircraft manufacturing in Southern California, the region's legacy of aerospace still carries on, as commercial space flight companies, such as Virgin Galactic, have planted roots while suppliers maintain a strong presence.
Commercial aviation also continues to prosper with Southwest Airlines planning to offer flights from Long Beach while the city considers international travel at the request of JetBlue Airways. General aviation, meanwhile, has seen positive growth with executives purchasing larger corporate jets and businesses continuing to train pilots of the future.
It's a diverse mix of operations at the Long Beach Airport, which has daily flights of commercial airlines and commuter aircraft, along with general aviation tenants, including corporate jet charter businesses, fixed based operators (FBOs), small private airplanes, helicopters and flight schools.
Commercial Aviation
Though commercial flight activity declined last year, causing the airport to raise rates and charges on airlines in an attempt to recoup a near 25 percent drop in revenue, flight activity and seat capacity have "stabilized" so far this year, said Bryant Francis, director of Long Beach Airport, in an e-mail.
"As of now, we expect a slight increase in passenger enplanements this year versus 2015," he said, adding that approximately 1.3 million passengers are expected to board commercial flights in Long Beach this year.
Should the forecast for future enplanements be as strong as expected, the hope is to maintain current rates for Fiscal Year 2017 as revenue begins to "rebound," Francis said.
The airport, meanwhile, has allocated nine additional flight slots to three commercial air carriers, including Southwest Airlines, which received four slots and which plans to become the newest airline at the airport.
JetBlue Airways, which holds 32 slots as the main air carrier at the airport (considered its West Coast hub) since 2001, received three new slots. Delta Air Lines, another existing air carrier, received two new slots.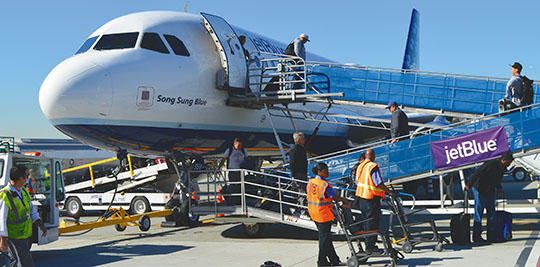 Passengers deplane from a JetBlue Airways jet at Long Beach Airport. The New York-based airline has requested that the airport consider adding a U.S. Customs and Border Protection facility to offer international flights. A study on the feasibility of such a facility is expected to be released in July, with two public meetings to be held for community input. The Business Journal strongly supports a customs facility. (Photograph by the Business Journal's Larry Duncan) 
The additional flight slots were allocated after a recent noise analysis determined that more slots could be offered under the city's airport noise ordinance as airplanes have become quieter through technological advancements.
Francis said the airlines have up to six months to begin service of the new slots, pointing out that a potential increase in revenue for the airport may not be realized until fourth quarter 2017.
Future flights and destinations at Long Beach Airport, however, are largely dependent on whether the city moves forward with a U.S. Customs and Border Protection or Federal Inspection Services (FIS) facility to offer international flights.
About a year after JetBlue formally requested that Long Beach city officials consider applying for international flights, the Long Beach City Council approved an agreement on January 19 to hire consultants to study the issue.
The airport plans to hold two community meetings on the subject with results of the study expected to be available this July, after which the city council will determine whether to proceed with the project.
While JetBlue and general aviation tenants have asserted that such a change would be a boon for the local economy, a group of airport adjacent residents who have long fought airport expansion have expressed concerns it would legally threaten the noise ordinance.
Morgan Johnston, spokesperson for JetBlue, told the Business Journal in an e-mail that adding international flights at the airport would enable the New York-based airline to use its existing slots fully for flights to popular leisure and business destinations to the south.
"Demand for international travel continues to grow, and, to that end, we hope to be able to better serve our focus city of Long Beach with international service if and when the city requests such a customs facility from the federal government," he said. "More flights equate to more revenue for the city from the airport as well as more jobs, more tourism and more economic growth for the city."
"Getting a customs facility is a no-brainer," said Business Journal Publisher George Economides. "It does not add flights, it does not add noise. It is another asset that will continue to propel Long Beach forward and attract more businesses to locate in the city. This should be fast-tracked. We know the Feds can move quickly on this, but can, will Long Beach?"
Corporate Aviation
In recent years, corporate aviation activity in Long Beach has steadily grown at the airport, according to airport operators.
John Tary, general manager of AirFlite, Inc., an FBO operating as a fully owned subsidiary of Toyota Motor Sales, Inc., said the corporate aviation operation, which offers hangar space and other services, has seen a "slight increase" in activity year over year over the past five years.
Although issues remain on the horizon that have the potential to stymie general aviation activity, such as the Federal Aviation Administration's (FAA) recent push to privatize air traffic control, the hope is that the positive trend will continue, he said.
"We have been cautiously optimistic for the future," Tary said. "We definitely are seeing positive growth in all sectors, including charter business use."
He said private use of aircraft, however, has been fairly stagnant if not declining, a trend seen across the nation, mainly because it has become more expensive. However, Tary said the drop in fuel prices might help reduce expenses to encourage more private users.
Curt Castagna, president and CEO of Aeroplex/Aerolease, which has leased hangar space out to tenants at the airport since 1984, said corporate aviation activity continues to improve over the recession years.
Though Long Beach Airport is still considered by corporations a "middle market area" between Los Angeles and Orange County, the hope is that the city evolves with economic development, attracting more business and becoming more of a destination, he said.
"What we're really hoping for is an evolution of Long Beach from an economic standpoint, targeting corporations to be here and that the airport, of course within the confines of the noise ordinance, plays a vital role," Castagna said.
He added that corporate aviation tenants at the airport as well as the city as a whole will benefit economically if a U.S. customs facility is provided at Long Beach Airport as international corporate executives would be able to fly directly into the city without having to check in at LAX or other airports first.
"All we hope to do is maximize these business ventures within the confines of what the noise ordinance is," Castagna said. "We are very supportive of the noise ordinance but at the same time within those regulations we want to maximize business and we look to the airport as our landlord to facilitate that."
Gulfstream Aerospace Corp., which provides completion services for newly manufactured business jets with exterior paint and interior installations, along with service and maintenance support, expanded operations at the airport last year.
The Georgia-based corporate jet manufacturer moved to a hangar space at the airport at 3521 E. Spring St., previously used as a modification center for Boeing C-17 production.
According Becky Johnson, vice president and general manager of Gulfstream Long Beach, the new building, dedicated to aircraft maintenance, encompasses a 19,000-square-foot hangar and nearly 10,000 square feet of shop support and office space.
After Gulfstream added about 50 employees last year, the operation, which outfits new G650s, G650ERs and G550s, employs more than 800 people including contractors in Long Beach, she said.
"As the anchor for Gulfstream's West Coast operations and also a supporter of customers in Asia, we simply needed additional space," she said in an e-mail. "In 2015, Long Beach technicians serviced more than 1,100 aircraft at the facility or on road trips to nearby general aviation airports, including Van Nuys, one of the busiest in the U.S."
General Aviation
General aviation tenants, such as flight schools, have seen positive growth as well.
Angel City Flyers, Inc., which has operated as a private flight school at the airport for nearly 11 years, has seen more sales during the second and third quarters of last year and more activity is expected at least through the end of the first quarter of this year, according to operations manager Erick Bryant.
"It's been fantastic," he said. "We've been definitely seeing an uptrend over the last few years. Last year turned out to be a strong year for us and 2016 looks even more promising."
Bryant said that about 20 percent of customers are people looking to become professional pilots while 80 percent are those seeking to fly for recreational or business reasons.
He added that business is booming in demand for light six-seat, two-engine jets that have become safer, easier to fly, more reliable and more fuel efficient through technological advancements.
Candy Robinson, owner of Long Beach Flying Club & Flight Academy, which has been providing flight training services for 35 years, said her business has seen a 7 to 10 percent increase in sales last year, defying national trends of decreasing general aviation activity.
She said foreign students from countries such as England, Korea, the Philippines and Italy, make up about 15 percent of her customer base while the other 85 percent come from the local area. However, foreign students, who require visas to train, often take up more flight hours since they are more serious about becoming pilots for airlines in emerging countries.
"We're supplying pilots to the industry as one of the biggest U.S. exports of education," Robinson said. "We're educating the world right now."
Aerospace And Defense
High-performing aerospace and defense industry businesses, meanwhile, have found a way to stay profitable despite the loss of Boeing's C-17 manufacturing plant that has been a major blow to the city and regional economy.
One sector taking off is the commercial space flight industry.
Virgin Galactic, partly owned by Sir Richard Branson, moved to a 150,000-square-foot facility at Douglas Park near Long Beach Airport last year. The facility houses the design and manufacturing of the company's small satellite launch vehicle, LauncherOne.
Somewhat similar in design to SpaceShipTwo, Virgin Galactic's reusable vehicle for space tourism, the satellite launch vehicle is designed to be "flexible, affordable and responsive" so that it can be launched from an aircraft for commercial and governmental customers.
Christine Choi, Virgin Galactic spokesperson, told the Business Journal that the company, which employs 150 people in Long Beach, doesn't require direct access to the Long Beach Airport since flights of LauncherOne, which have yet to be publicly disclosed, are expected to take place in Mojave.
She said Virgin Galactic's decision to move to Long Beach had to do with the facility and Long Beach's "enduring contributions to aerospace" along with the "high quality aerospace professionals and candidates who call Long Beach home."
"Southern California has always been a hotbed of aerospace and, with the growth of the entrepreneurial space industry here, the future looks promising," Choi said.
Although aircraft manufacturing has left the region, many aerospace and defense companies still rely on the large pool of talent and suppliers in Southern California.
Rubbercraft, for instance, which supplies rubber and composite parts mostly to aerospace and defense companies, such as Boeing, Northrup Grumman, Gulfstream and Space X, moved to Long Beach from Gardena about five years ago and finished last year with double-digit growth, according to CEO Larry O'Toole.
The company, which relocated simply because it needed more space and a better facility with close proximity to the airport and aerospace businesses, is expected to see the same "robust" growth this year, he said, adding that the company added about 16 managerial engineering positions last year and is hiring this year as well.
O'Toole said Southern California is still viewed as a "global player" in the aerospace and defense market if for no other reason than because of the large presence of suppliers. While original equipment manufacturers (OEMs) aren't as close as they used to be, parts can easily be delivered to other states or overseas, he said.
"Even though some of the large aircraft are no longer being made here, that doesn't say that the world-class suppliers that have been here aren't still here," he said. "When you think about what's going to happen in the space industry . . . I don't think the legacy is going to go away any time soon. It's just being carried on in a different way."
Shimadzu Precision Instruments, Inc., (SPI), a Japanese manufacturer of aerospace assemblies and components, relocated from Torrance to a new facility with twice the floor space at Douglas Park in Long Beach last year.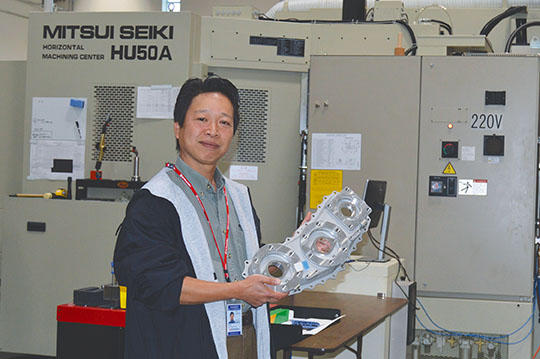 Kiyotaka (Kiyo) Ihara, president of Shimadzu Precision Instruments, Inc. (SPI), which manufactures aerospace assemblies and composites, is seen holding an engine gearbox component created using machining equipment at the company's new plant at Douglas Park in Long Beach. The company relocated last year from Torrance to a building with twice the floor space than its previous location. (Photograph by the Business Journal's Larry Duncan)
Kiyotaka Kiyo Ihara, president of SPI, stated in an e-mail that the company expects more than 30 percent growth in 2016 and more than 10 percent growth in 2017. He said the company employs about 60 people in Long Beach and plans to hire 10 more employees this year based on operational growth.
Ihara said the company, which services Boeing's commercial aircraft division in Seattle and Honeywell Aerospace engine division in Arizona, moved to Long Beach in order to add new functions of in-house part machining and surface treatment capabilities.
He said a plus for operating in Southern California is the region's rich experience in the aerospace business and skilled labor.
Still, Ihara noted that operating costs are "relatively high" and the company is always competing with businesses that have lower operating costs in other states and other countries, such as China, India, Brazil and Canada.
Long Beach city officials, meanwhile are in the process of transitioning Boeing's now empty C-17 Globemaster III assembly plant, which once provided nearly 5,000 direct jobs, into productive use.
Mayor Robert Garcia recently announced that the city will be working with The Rose Center for Public Leadership, jointly operated by the National League of Cities (NLC) and the Urban Land Institute (ULI), to develop strategies for economic development, industry attraction, job retention and workforce training to transform the site into a "hub for emerging technology and innovation."
Garcia and Rose Center representatives made a presentation to the public about the study on February 12, presenting preliminary findings.
"Repurposing the Boeing site is a priority for the city and the continued development of Douglas Park as a business and technology center," Garcia said in a statement.
The city is seeking a development strategy for the facility to be developed, acquired and planned for furthering emerging technology and innovation uses. The study area is about 130 acres, including the Boeing-owned assembly plant, portions of Long Beach Airport and parcels around Cherry Avenue.