Soon, former Mayor Beverly O'Neill's name will grace a new marquee for the home of International City Theatre (ICT) at the Long Beach Performing Arts Center.
In late September, the Long Beach City Council voted to support ICT's suggestion to rename the Center Theater after O'Neill due to her significant contributions to the city and the arts.
Inside the theater's lobby, O'Neill – who served as mayor from 1994 through 2006 – sat with longtime friend caryn desai, artistic director and producer of ICT, to reflect upon the honor. desai and Mort Stuhlbarg, vice president of the ICT board of directors, surprised O'Neill with news of the name change when they took her to lunch about a week before the city council voted.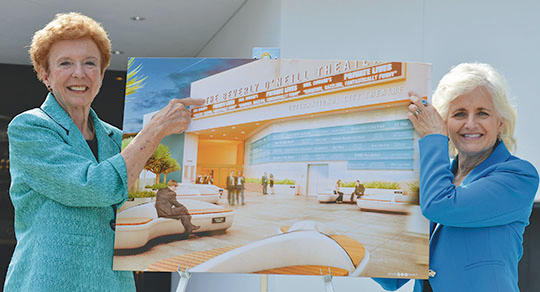 Former Mayor Beverly O'Neill said she is thrilled and proud that International City Theatre's (ICT) venue at the Long Beach Performing Arts Center is going to be renamed in her honor. Pictured, O'Neill, left, and caryn desai, ICT artistic director and producer, reveal what the theater will look like once facade improvements, including the addition of O'Neill's name, are completed. (Photograph by the Business Journal's Larry Duncan)
"I was delighted. I didn't know whether I should accept it," O'Neill recalled. "I will admit, it makes me nervous because as people come to the theater, there's my name in lights," she said. "I am greatly honored, of course. And I love having my name associated with something that I believe in and that I have loved participating in as an observer for so many years. So I take it with great pride."
desai called O'Neill "a guiding angel" through the theater company's history. "Beverly has a long history with International City Theatre," desai said. "International City Theatre got its start on the campus of Long Beach City College when she was the president of the campus. She had the foresight and the belief [in ICT] and gave the permission for it to move ahead," she continued. "It was the first time ever that there was a professional theater on a junior college campus, and it was under her leadership."
"I personally think the arts are essential to our community," O'Neill said. "And any time they can grow and become more recognized, the better."
The name change comes at a time when the theater is undergoing a facade remodel to boost its visibility from the street below, which is heavily trafficked with passersby headed to events at the Pacific Room at the Long Beach Arena. desai said having O'Neill's name replace the former Center Theater moniker will also help boost its visibility in the community.
"We are thrilled to name the theater the Beverly O'Neill Theatre," desai said. "And in Long Beach, what better person to carry that name? Especially with Beverly's support and love of the arts. It's appropriate and deserved."
Next year's ICT season will kick off with a grand opening event to celebrate its first season at the renamed Beverly O'Neill Theatre. For more information, visit: www.ictlongbeach.org.